6:05 p.m. on December 12, 2011 (EST)
Patman

2,170 reviewer rep
2,169 forum posts
I said I was going to branch out into some winter backpacking this year and so it's begun. Although technically still Fall, winter conditions prevailed on this trip. I found out that Trailspace moderator and backpacking stalwart Gonzan was aiming for Stratton Bald in Joyce Kilmer Memorial Forest on a Saturday, and via PM on Trailspace arranged to meet him and Tipi Walter atop the mountain. There should be three overlapping reports if TW and G post also. Gonzan should have the best pictures with his excellent Nikon camera, and artistic eye. (no pressure…)
I was fortunate enough to get an early start on Friday after work and after a two+ hour drive began hiking from a roadside pull-off of the Cherohala Skyway in Eastern TN.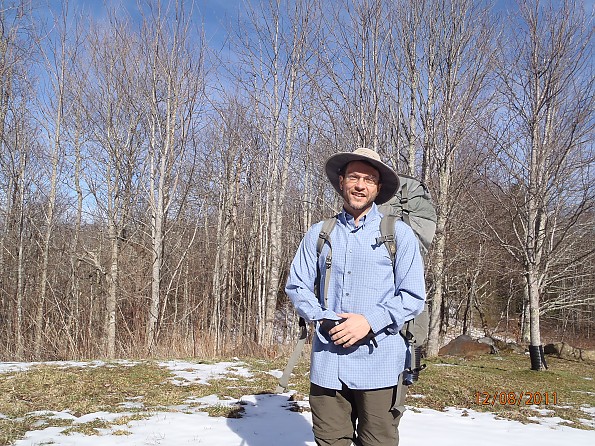 It was a cool, sunny, and snowy start at Beech Gap.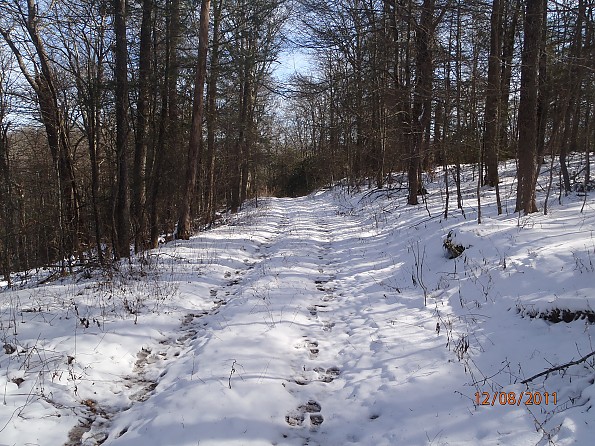 The trail starts as on old logging road.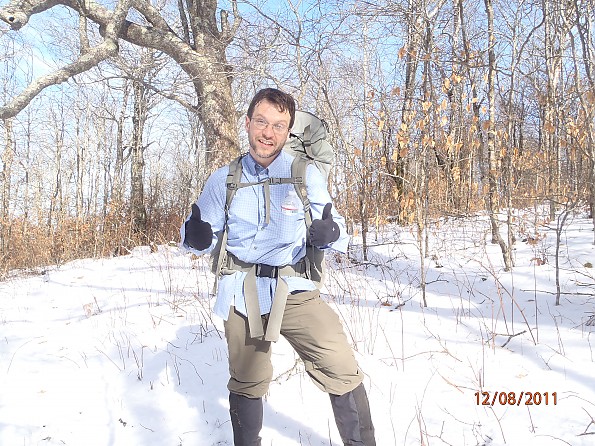 Wow, the weather was just beautiful and it made for fabulous hiking.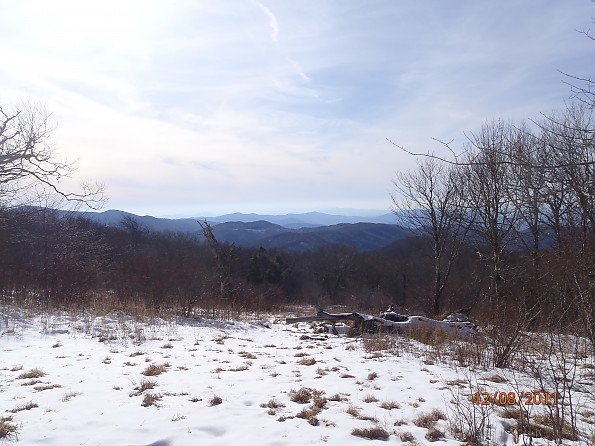 This shot was passing by Stratton Bald (day 2 camp for me).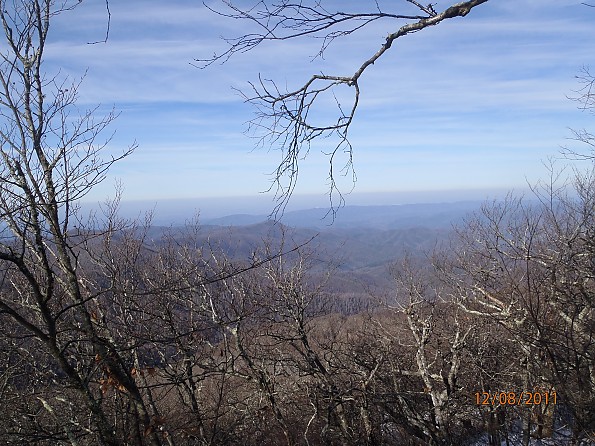 And this was passing by a place called Naked Ground. After I passed a certain point there were no human tracks in front of me and I got to make the first ones in the crisp white snow. Excellent!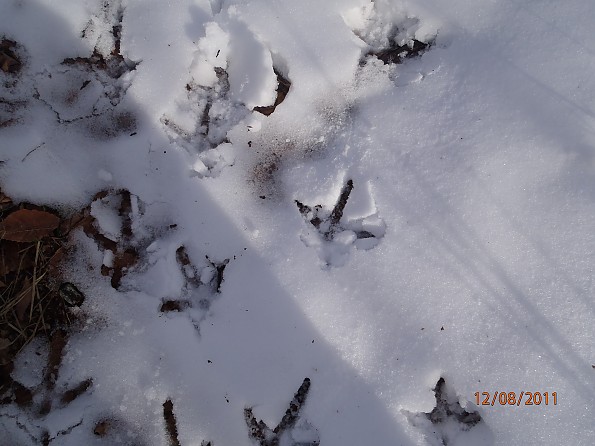 Turkey Tracks below Haoe Peak...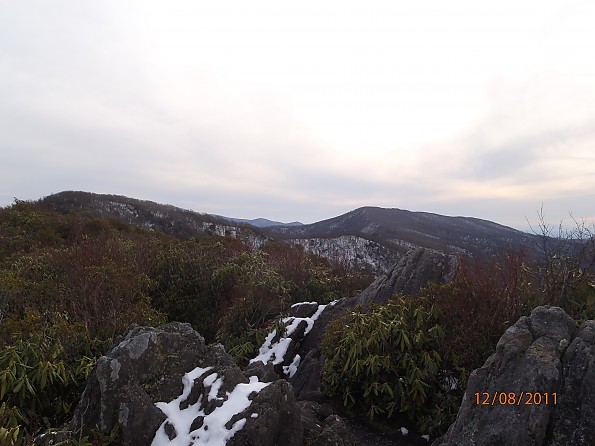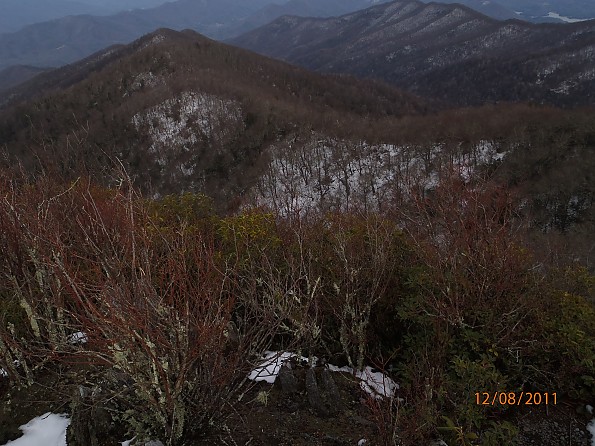 I made it out to the Hangover overlook a couple hours before dark, and had the whole area to myself all evening.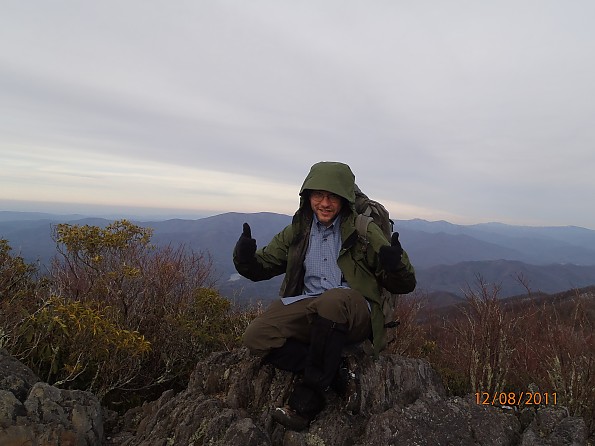 There was enough wind to compel me to put on some Goretex but still quite comfy!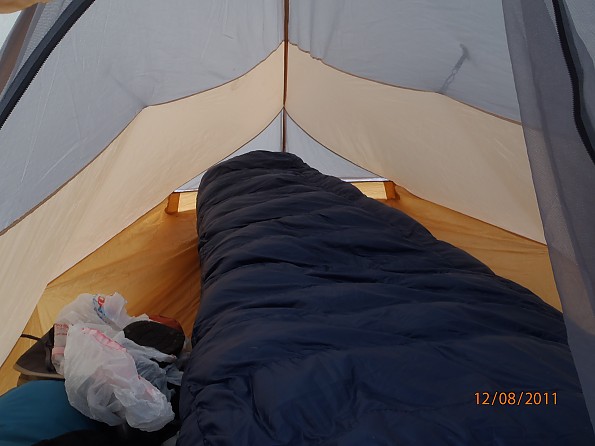 My first use of a new piece of winter gear: a Western Mountaineering Lynx bag (rated to -10 F). It filled up my little tent! This piece of gear worked great. Underneath it was also a new Neo-Air All Season which also performed very well. In fact I got a bit too hot both nights and had to open the bag up.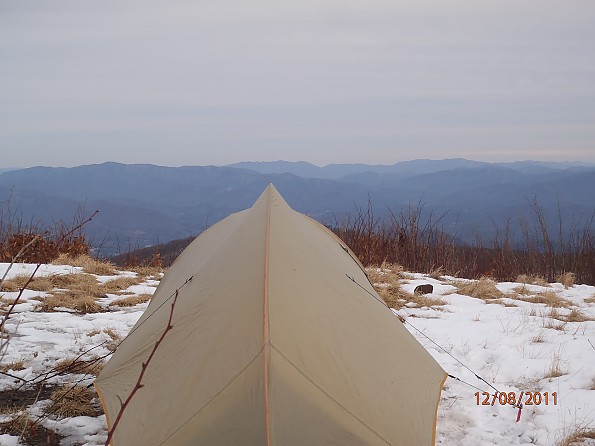 I had pitched in a clear cut on the ridge top. Some risk of exposure but an awesome view!
 I first awoke in the middle of night with frost on my nose and bag collar; I had dosed off before closing the tent fly. At a more normal time I awoke to a nice wide sun rise in front...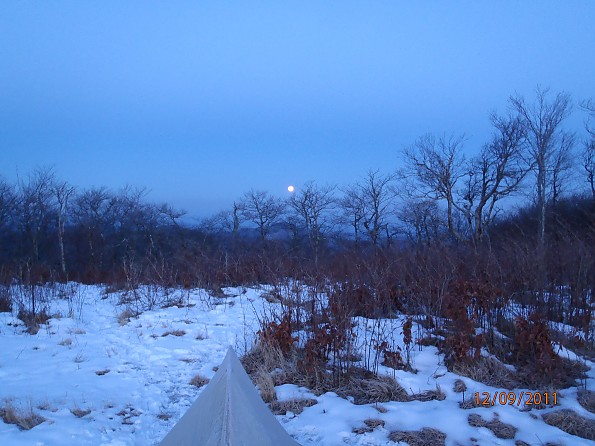 And the moon still visible behind me…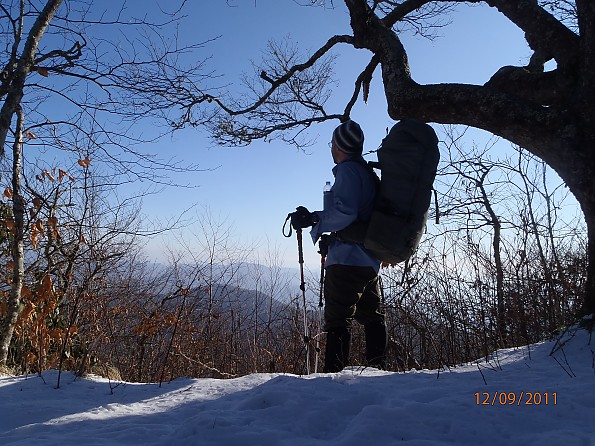 After another morning hike out to the Hangover and back I began working my way back up the ridge. I wore my new micro-spikes on the icy north side of the mountain and I was impressed; they performed as advertised.
I had stopped to get water and take a break when my first ever internet spotting happened: a couple backpackers walked up and a fellow I didn't know said "hey,are you Patman?". He had recognized me from Trailspace. They were experienced 'packers John and Shawn from Nashville and knew Tipi from trips past.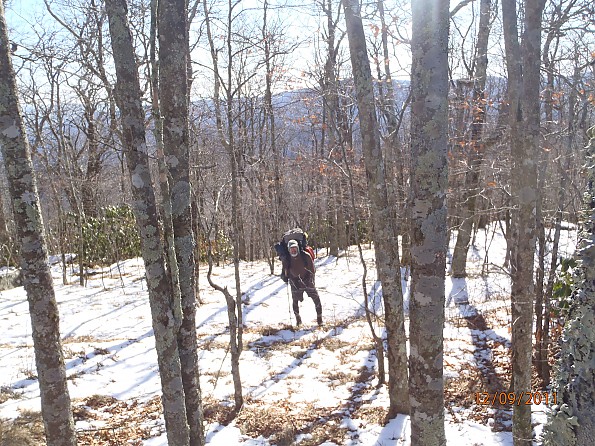 I left the ridge top to explore a trail down to a place called Wolf Laurel and saw a giant backpack floating up the mountain side. Wait, no, it was that Tipi Walter wild man of internet notoriety.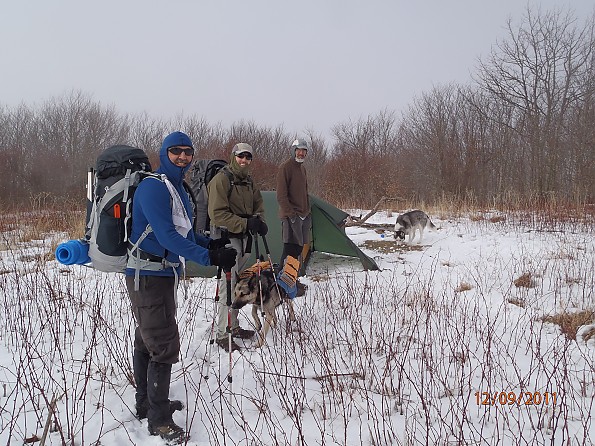 Tipi and I hiked back up to Stratton ridge on a magically beautiful afternoon. The electric blue skies and sunshine made the snowy top trail a great place to be. We were eventually joined by John (Frogman) and Shawn from Nashville who decided to forego the long loop they had planned and return to the Bob.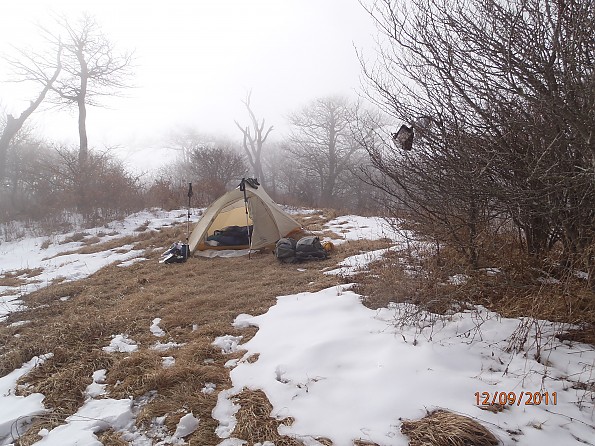 This was my "mid-Bob" camp site (it was sunny when I chose it). While I was finishing camp I heard someone walk up and say "Hey Patrick"; Gonzan had arrived!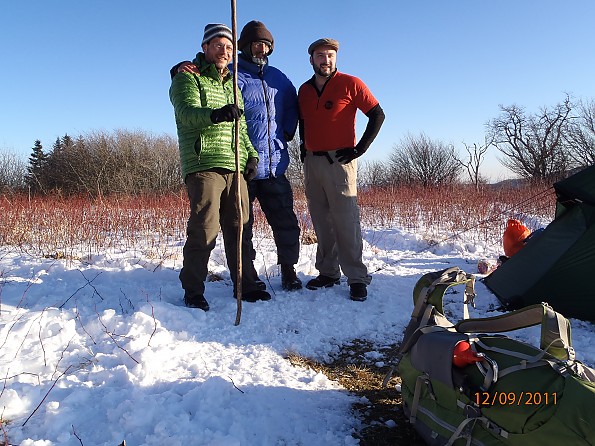 And here we have the Trailspace crew of me, Tipi and Gonzan posing for three cameras! Funny stuff...Gonzans camera timer was set on about 30 minutes, so we solved a few world problems while waiting for it to flash. :)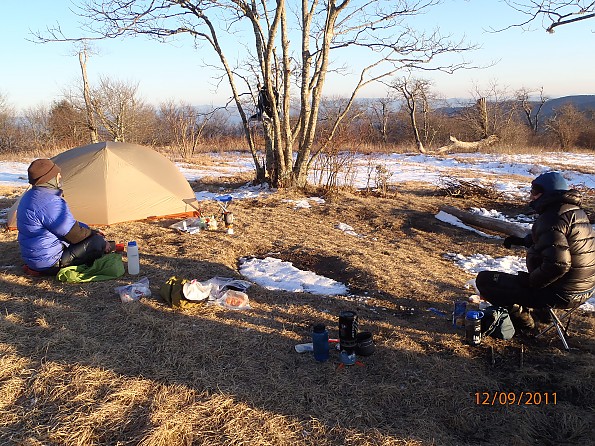 The Trailspace three went down to Frogman and Shawn's camp to make dinner together.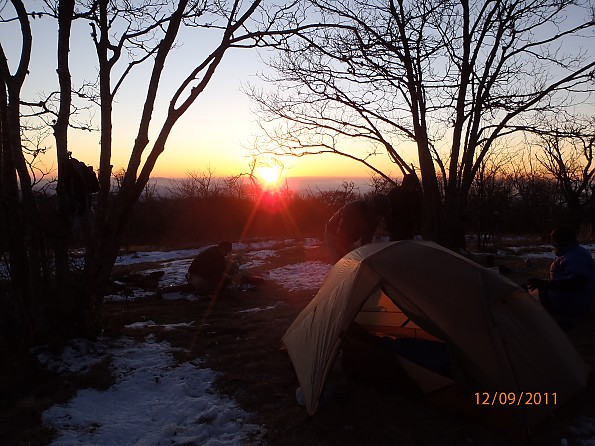 We had a fun evening of laughter and fellowship as we all finished dinner and enjoyed a beautiful sunset. The moon was incredibly bright that night and lit up the bald during all my conscious hours. I think Gonzan wandered the area with his camera for a couple hours on the frigid mountain top.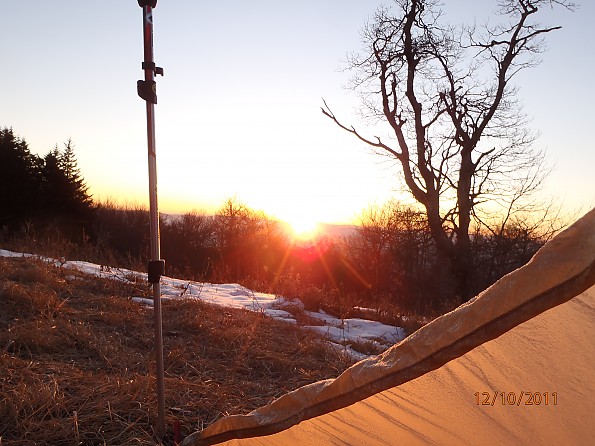 The next morning I pretty much stayed in the tent until the sun rose above the ridge in the distance; it was still very, very cold.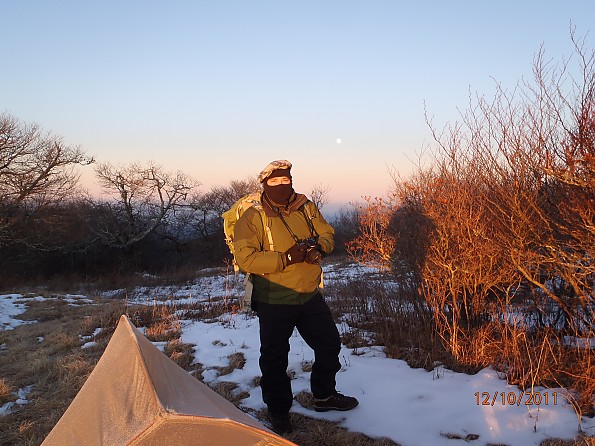 My fist human visitor of the morning was Gonzan; he had camped in trees above the main area and was traversing the bald on the way down to make breakfast at the main camp site. I must note here that Gonzan earned my sincere respect and simultaneous sympathy for this: he forgot his sleeping pad and spent a sub 20 degree Fahrenheit night with not much between him and the cold, cold ground. But his attitude was quite superior as he endured without complaint. Very impressive and I truly admire the positive disposition. :) But dang…..
 "Breakfast with mutants above 5000 feet". We all have those moments in life when we look around us and think "Just how did I arrive here at this moment with these people?", right? lol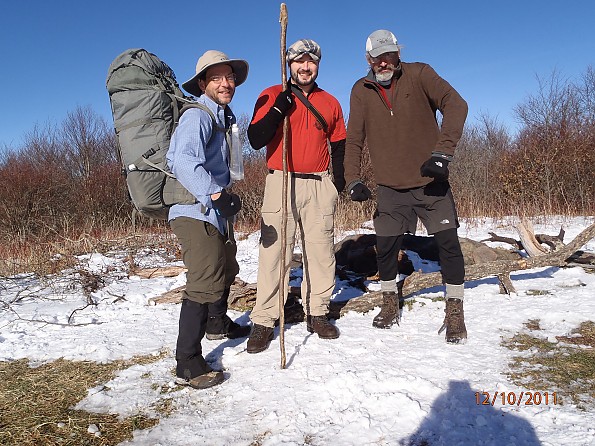 I was trying to get everyone to do a power pose but instead, Tipi and I look like something bad is happening to us (internal cramps etc...).
 We said our goodbyes as Gonzan headed out on a long day of hiking; Tipi and I went the other direction towards Beech Gap.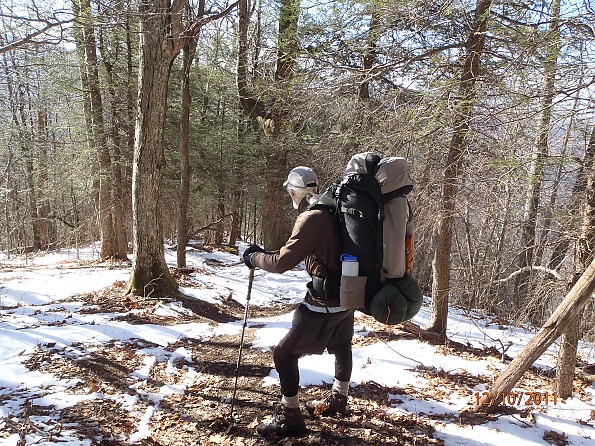 We carefully stepped our way down the steep and often icy ridge and eventually parted ways as Tipi continued up Flats mountain trail on his 13 day adventure.
This was a special trip for me in that it was a wonderful combination of beautiful surroundings, outstanding weather, and convivial company. What an awesome feeling it was to blaze a trail through fresh snow on a crisply pulchritudinous mountain ridge. I can't imagine a better way to branch into winter trips. I still have much to learn about winter trekking but I'm an eager student for this curriculum! I'm looking forward to the other reports…
Happy Trails!