1:39 p.m. on January 11, 2012 (EST)
Rick-Pittsburgh

1,711 reviewer rep
3,962 forum posts
There is just something about a winter hike to me that cannot be matched by backpacking in the warmer seasons.
Maybe its the solitude that comes with the colder seasons; maybe its the way the trees talk to you when you are on a ridge when the wind is blowing through them; then again maybe its that bite in the air that one experiences in the morning and the inside of your tent looks like it is "frosted."
Whatever it is winter is one of my top 2 favorite seasons(fall being the other.)
This ended up not being one of my typical trips. It wasn't a thru-hike. It was more of a dysfunctional foray through the hills in my most familiar stomping grounds. 
There was no planning... Let me rephrase that. There were no plans as to exactly where I was going in any specific order. That all kind of panned out as the trip progressed. 
Typically I would either start at the south and end north or vise-versa.
Not this solo trip. 
This trip was different. I would find myself meandering around the hills with no plans, no schedule, etc other than what time I had to make my pick-up point.
This was quite different than my typical planned out trip. Simply put there was no rhyme or reason to any of it and I loved it.
Day 1 starts(or should I say night?)
My initial plan was to stay at the route 30 shelter site, then head south to the turnpike shelter to meet up with Dane Cramer who wrote a book on the LHHT called "Romancing the Trail" and a few of his hiking buddies that were doing an over-nighter.
So I started at route 30. I ended up getting up there when the sun was setting so I had a choice. Hike to the shelter which was a half mile away or trudge through the frozen terrain to the next shelter site at night miles away.
Lets see, its dark, well below freezing, everything is covered in snow & ice, and I am full of energy...
Seemed like an easy choice to me. Its obviously the right conditions for a solo night hike. So let the fun begin.
Off I went into the darkness...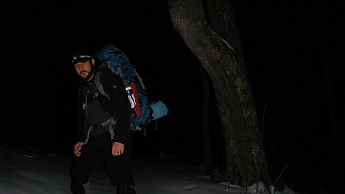 It looks as though I am not the only one that thought a night time stroll on the trail was a great idea. Kinda nice having someone... well make that some critter blazing the trail for me.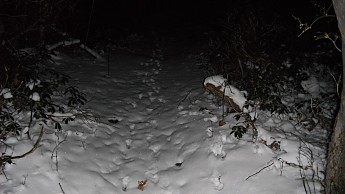 Instantly the trail gave me a heads-up that I was in need of more traction. I found this out by doing an unintentional split on the trail. Now for those out there who have not experienced the pure joy and excitement of doing a split on ice with a gimpy leg, and a 60lb+ pack let me tell you that it will definitely raise the voice a few octaves.
After my best impersonation of "Dancing with The Stars" out came the Hillsound Trail Crampon Pros. This should even the playing field a bit.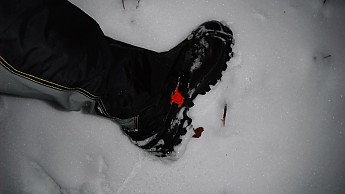 I ended up hiking for 4 miles or so when a nasty wind storm kicked up. Seems like the wind always kicks up when I am on the trail. So I sat on a log and pondered my options. Should I keep on trudging to the shelter site in sub freezing temps, at night, in some hairy weather solo or should I set my tent and hunker down for the night?
With all the crackling of the trees, my limited visibility overhead, and the thought of a widow maker possibly crashing down on my noggin I opted to set camp for the night. Estimated wind gusts were in the 50mph range and I just didn't want to take any unnecessary chances. Solo hiking in these conditions at night is just an unnecessary risk as far as I am concerned. The trail will still be there when I wake up.
So I found the best area I possibly could in a pinch and set camp. 
The next morning the weather was making a change. I woke up to absolutely no wind and the sun was beaming bright down on me.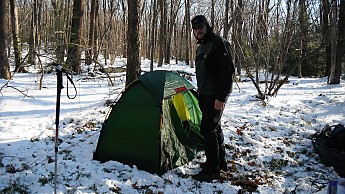 I made some coffee, ate a few granola bars, and headed south to meet up with Dane and the rest of the crew.
Let me say. It was a beautiful day for a hike.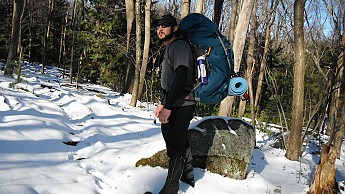 I strolled around on the trail for awhile and came across an interesting site on the trail. The saying "these shoes were made for walking" came to mind. I just couldn't figure out where the owner went lol.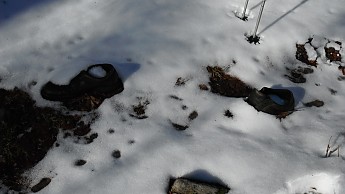 I eventually made my way to Beam Rock. This is a great spot for a great view and climbing if that is what one likes to do.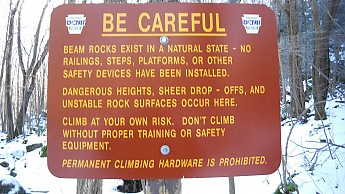 These rocks are a bit larger than what they appear in the pics. They are around 80ft at their tallest point.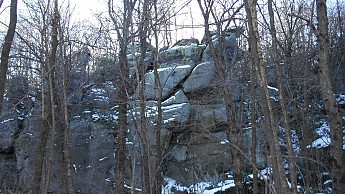 Now as I was making my way through this area I saw something that totally disgusted me. I am not going to say what I personally feel but I am sure after one look at this you can get an idea of what I feel towards this "senseless garbage."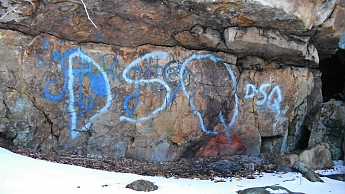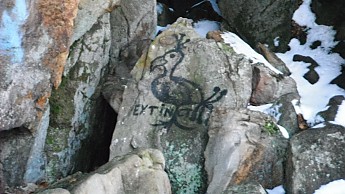 I eventually got over my utter and complete disdain for whoever decided that their "artwork" was needed on the trail and proceeded along my way.
The turkey now took the lead.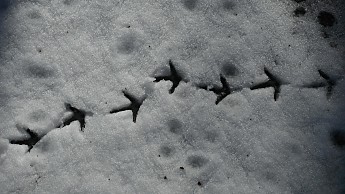 I made my way to the shelter area where I dumped my pack and sat for a bite to eat. I decided to name my pack "Big Blue" at this time because I thought it was fitting and it was simple.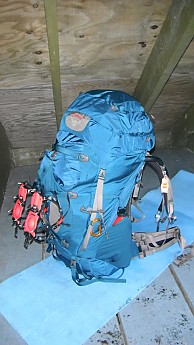 At this point I met up with Dane, Rick(Legs,) and a few other gentlemen arrived a short time later. We all sat in Dane's shelter getting acquainted and gabbing about gear, and just talking. Dane & Rick had a great fire going and the temp was dropping. 
After awhile I felt my eyes getting heavy so I told them I was going to set up my tent. They graciously offered to let me crash in their shelter with them but due to a snoring issue I have at times I politely told them that I would just crash out in my tent and see them in the morning. 
The next day I awoke to an empty camp... at 11am. Woah, I didn't plan on sleeping in that late. I missed Dane & the guys rolling out. I really wanted to get a group photo. I am sure there will be other times.
They were all really a great bunch of guys.
So I have some coffee, shovel a bit of oatmeal down my throat, and off I go north. It was alot warmer today(low 40s)and the snow has slowly been melting. By mid day except in a few areas of higher elevation most of the snow had melted. This made for a soupy mess in some areas but all the same it was just a peaceful walk in the hills.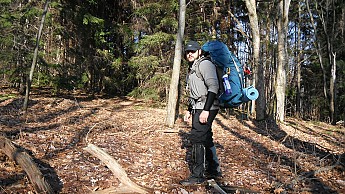 Towards the latter part of the day the clouds rolled in blocking the sun and the temps dropped back below freezing. The wind was also kicking up again. I added my Windstopper jacket and gloves. I eventually ended up back at the rt30 shelter area and set camp.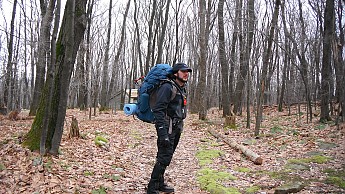 So its a new dawn, a new day.
I decided to stop and shoot a pic of an old road that I crossed. I have many times wondered if the trees could talk what stories would they tell and I once again found myself wondering the same thing about this road.
I am sure there are countless stories it could tell if it had the ability to do so.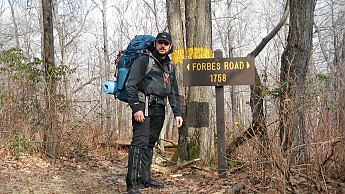 As I traveled I decided to acquire myself a seat to just sit and soak it all in. The song that the trees were singing to me was quite a familiar one that I have heard many times over.
Its a tune I just cannot seem to get enough of.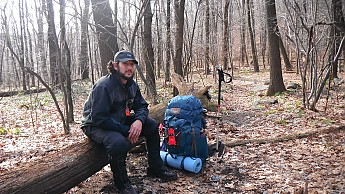 So after I sat and absorbed my surroundings I again donned "Big Blue" and proceeded on my way when I came across this feather. It kind of got me thinking that if I found enough of these I could maybe make my own down bag, or sweater. Hmmmm... ;)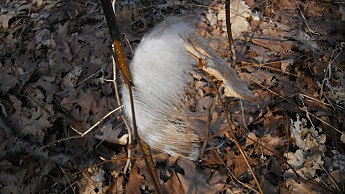 After giving this a great deal of thought(I'm serious) I once again proceeded on my way through a rocky area(Rocksylvania go figure.)
This was a tight squeeze for me and "Big Blue."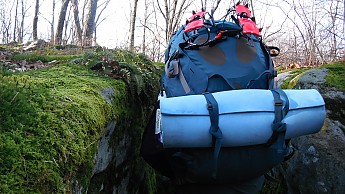 Here is another shot of my "tight quarters."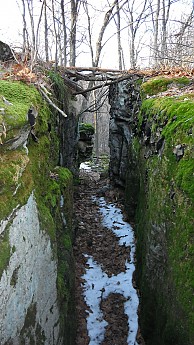 No lack of ice lol...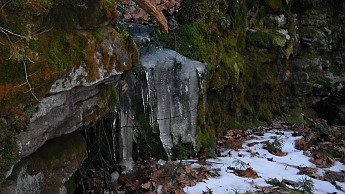 As I made my way along the trail I found what I believe to be a bobcat track.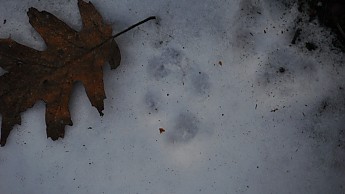 Well its time for a bit more night hiking. I don't mind it at all. Its just so peaceful on a moon-lit night with snow on the ground. 
The sun was dropping fast so I caught this shot of the sun going down before nightfall completely set in.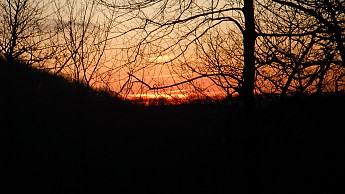 I then grabbed my headlamp & gloves for a 5 mile night hike on the crust.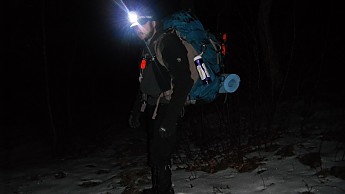 As I made my way through the darkness of night and approached the shelter site I found something new on the trail that wasn't here in October when I was on the trail. Someone was busy.
Now this is a cairn lol.
I also found this pretty cool looking black fungus growing on a dead-fall tree branch.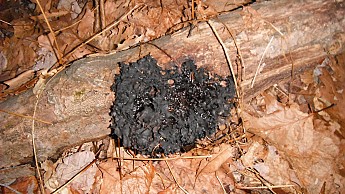 So I arrive at camp, do my ritual of grabbing some warm grub, and checking my eyelids for holes.
The next day was bright and sunny. I packed up my gear and headed out on another day on the trail. I snagged a few shots of the shelter area as I left.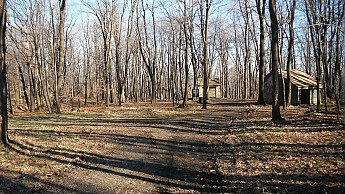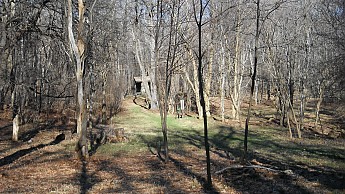 Eventually the sun started to drop and I decided it was a good idea... well my stomach decided it was a good idea to have a warm on-trail dinner.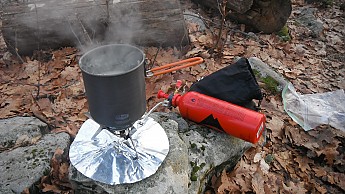 As I traveled I came across a vista. The moon looked awesome but the pics didn't come out quite as good as I had hoped. I think I need to get better acquainted with my camera but nevertheless here are a few shots with the camera on different settings.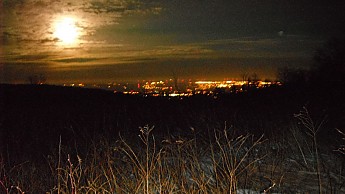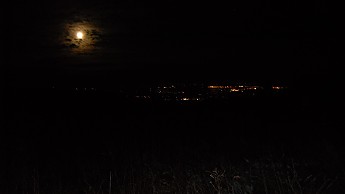 I once again made my way to the shelter site with the wind howling across the ridge. My sleeping bag seemed like a really nice place to be at this time. 
I arrived at the shelter area and called it a night and I was right. My sleeping bag was a REALLY nice place to be.
The next day was once again clear so I decided to make my way up the ridge and take a peek at the lookout tower and other various towers in this area. The tower is non-accessible due to a chain link fence around it.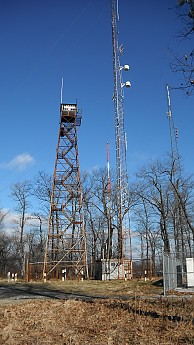 More various towers in the area.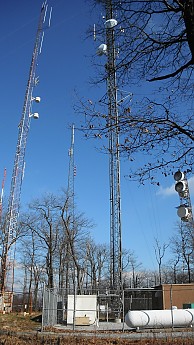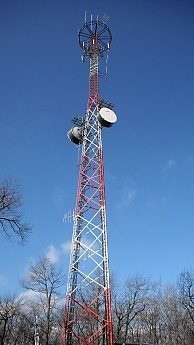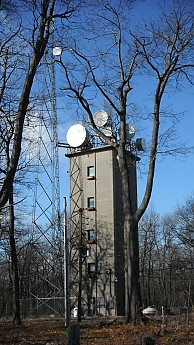 Here is a pic of what I refer to as "toilet paper fungus." I am not sure how I came up with this reference but either way...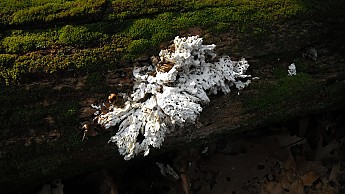 So as I am soaking up the last day of my trip I slowly meandered down the ridge and just absorbed my surroundings. I love the trail but I also knew in a matter of hours it was all coming to an end. I can honestly say I was saddened by this but as they say "nothing lasts forever."
As I made my way towards the end of the trail I found myself becoming trigger happy with the camera. 
I thought this was a nice shot and alot of these pics wouldn't happen in the warmer seasons due to leaves.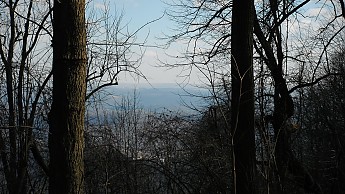 I stopped to take a few slugs of water from the bladder.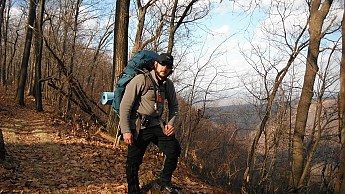 Another one of those shots that wouldn't happen if leaves were brought into the equation.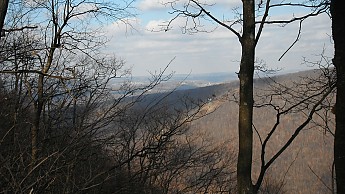 If ya look hard at the bottom of the ridge there is a road down there.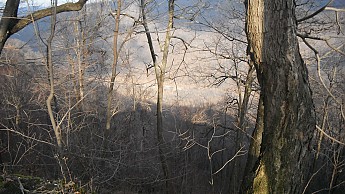 Here is a shot of the Conemaugh(river) gorge.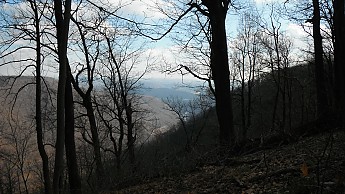 A few more miles and it will soon be coming to an end. :(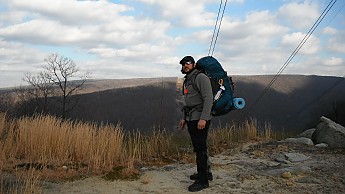 I decided to pop off another pic of the power line.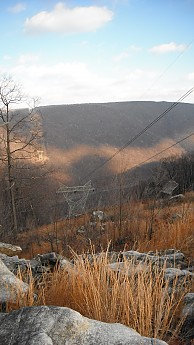 Halfway down the ridge I encounter what I refer to as "the hook." I find myself wondering what was the point or use of this hook in a rock and how it landed here. If anyone has any idea what the purpose of this is please feel free to fire away. I'm almost certain its something simple that I just cannot figure out.
Rhodo alley...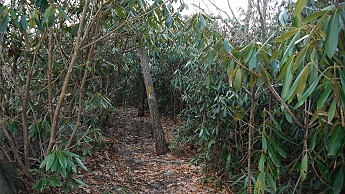 Making my way to the final mile marker(70) by the trail boards.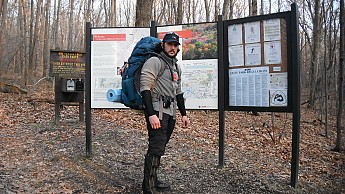 LNT as displayed at each TH. I wish others would pay more attention to these principles.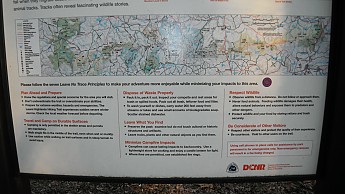 Well as I stated earlier; all good things must come to an end.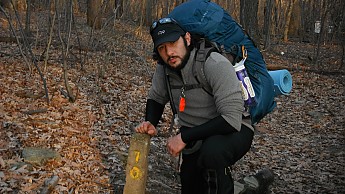 Over-all it was a great trip. A great deal of good weather, some bad weather, but most importantly I have more memories to add to the mental scrap book.
This trip did have its times though. 
Like when I was going through my gear for a new set of batteries for my headlamp and realized I packed AAs instead of the AAAs I needed. Luckily one of the guys that was with Dane threw me off 3 new batteries.
Then I get all the way home and cannot find my camera to save my life. In panic mode I make the 1.5hr trip back up the mountain to the main gate where I was picked-up to look for it. After I didn't find it I was literally about to cry.
So I get back home at 3am and was pretty upset. I couldn't sleep so I decided to unload my stuff sacks and what not.
Well during this time I pulled the Hille out to dry a bit and guess what falls out of my tent.... MY CAMERA !!!
From one of Gonzan's previous trip reports I knew Hilles have an appetite being Tipi's tent tried to eat him but this is rediculous. 
Hey, on the bright side its just another one of those things I can laugh at later on down the road. 
I'm such a goof.
I hope you enjoy the trip report and the pics. 
Happy hiking everyone.