7:03 p.m. on February 14, 2012 (EST)
Patman

TOP 10 REVIEWER
REVIEW CORPS
3,048 reviewer rep
2,246 forum posts
 I intended to squeeze in a quick two night / two day trip after work that would require a short night hike to get started. I had been ill recently and wasn't at full strength but went forward anyway. The temps dropped and the weather called for rain on Friday night: I'm willing to hike at night and I'm willing to hike in the rain but decided to not hike at night and in the rain. My route included several sections previously unseen which can be good and bad of course.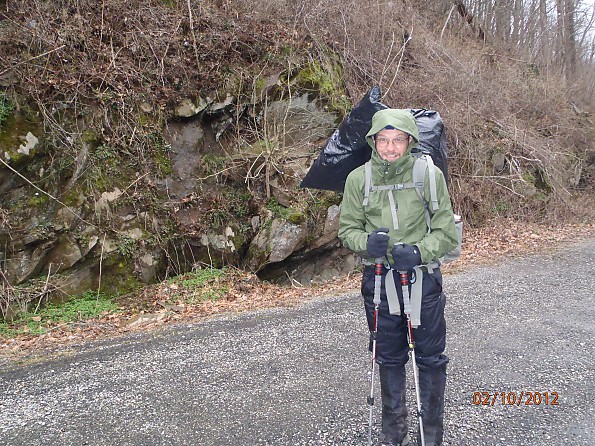 So, I got up early and drove the 1.5 hours to the Tapoco trailhead at the end of the Tail Of the Dragon. My pack cover fits too snug when I've got it too full, so I went with a garbage bag (not well secured yet). I'm a little funny looking anyway and this just adds to it…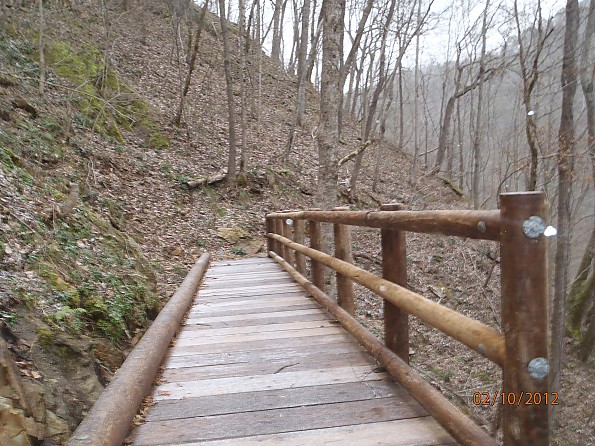 About a mile in I start to smell oil. Surprisingly this bridge was the source of the smell. Whatever they sealed it with is serious stuff.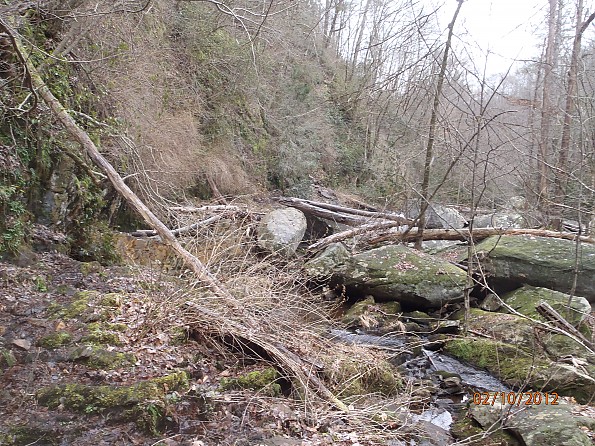 After dropping down to Slickrock creek, the trail turns nasty and rough. (hmm, glad I didn't try to night-hike this)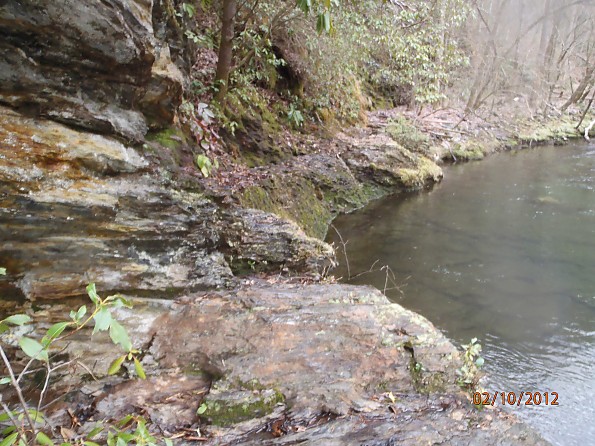 Check out the rock ledge to tip toe across. You don't wanna fall in at these temps (mid 20ies).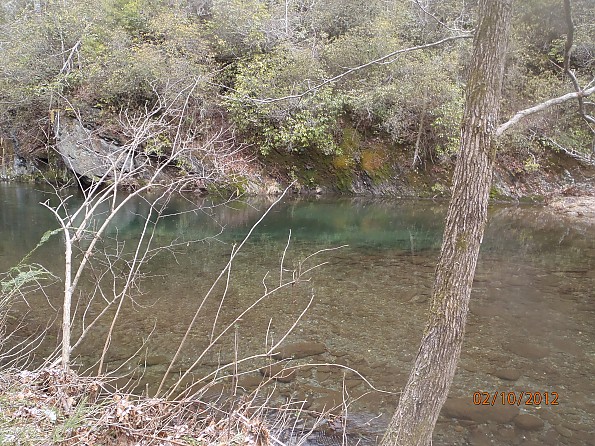 This looked like a nice spot to return to in warmer times.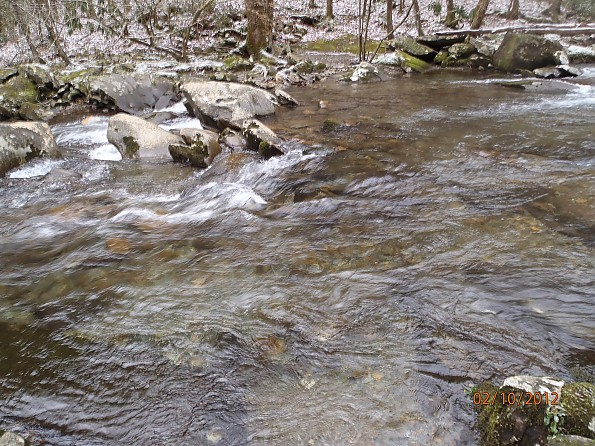 Ah well, the crossing begins. I wound up pulling three crossings with ambient temps about 25 degrees. I had to take my pants off for the last two crossings because they were so deep; I'll spare you the "chicken leg" photos. That stuff takes the fight right out of you. At some point after the first crossing I lost the trail once and had to back track to pick it up.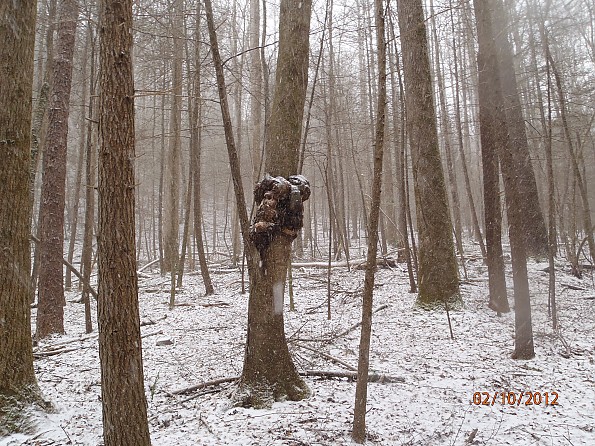 I passed this cool (but slightly creepy) rams-head growth on a tree going up the "Stiff-Knee" trail. The snow was really picking up about then and having never been there before I gave full attention to staying on the trail.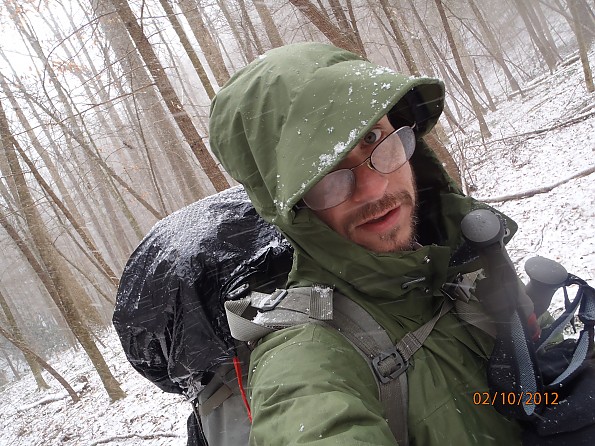 Just had to post this google eyed photo. Too funny.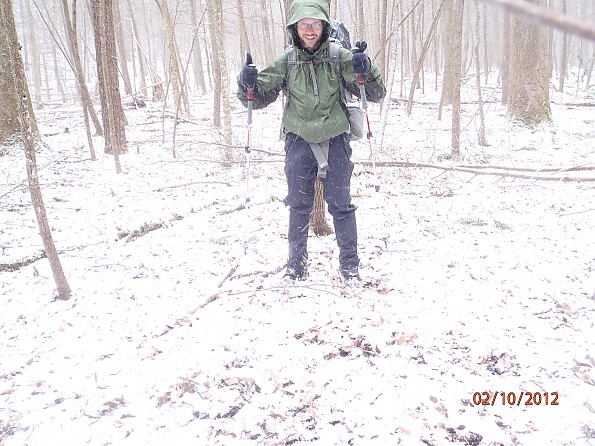 I'm standing on the trail. Can you see it? I barely could.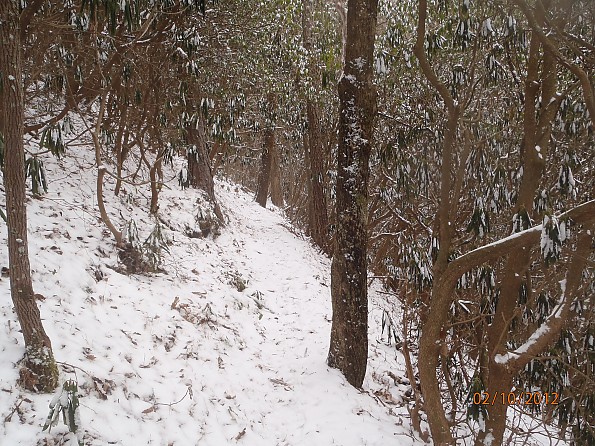 After rounding "Farr Gap" the climb began in earnest. I honestly had a moment through there were the wind was blowing so hard, and I was so exhausted that I started eyeing all the semi –flat spots as potential campsites. I was thirsty but my water bottle threads had frozen shut and while trying to clean my glasses a lens popped out. I suppose every backpacker has those moments on windy, snowy mountains where you think: why did this seem like a good idea? lol
After a few miles I heard a strange bellowing sound that was quite unnerving. Upon investigation it was coming from a green snow covered tube. Fearing the worst I began digging and digging and ……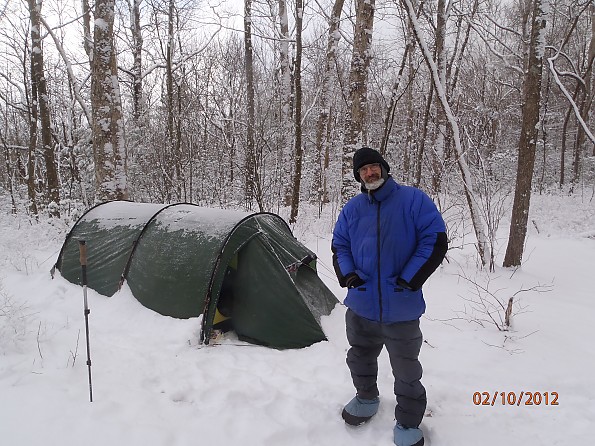 Out popped Tipi Walter all warm and smiling in his down suit! He was so warm looking and happy that I completely forgot about my anxiety a few moments earlier!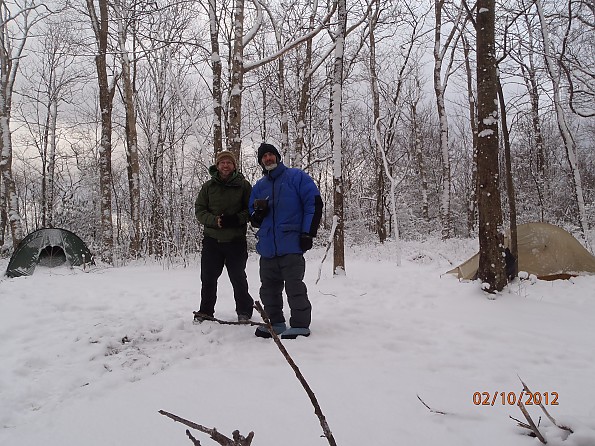 Yeah, I know my tent was "out of season" there, but I'm working on it. After making our greetings, Tipi told me where to find an excellent spring just down the mountain. We caught up for a while but it eventually got down to about 10 degrees (zero with the wind chill, I reckon) and I had to go get in my sleeping bag so as to get the digits warmed up. Hey Hiking Jim, you're right: Gas canister stoves don't work well in those temperatures.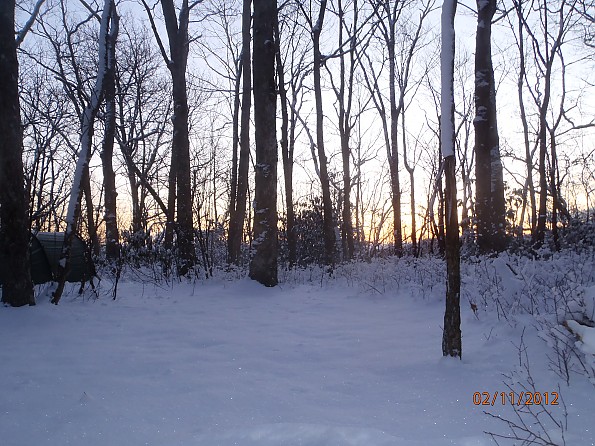 I tried to get a photo of the first light over the mountain but my camera didn't work well in those temps either. I had to put it in my bag for a while before it recognized the battery.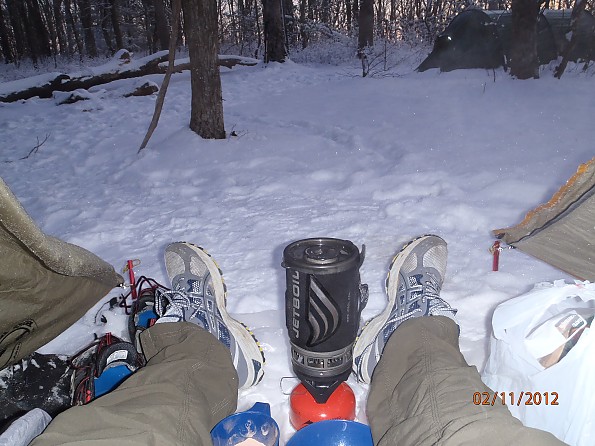 I also slept with my fuel canister so I could have a hot breakfast. (Really stretching out the three season gear huh?)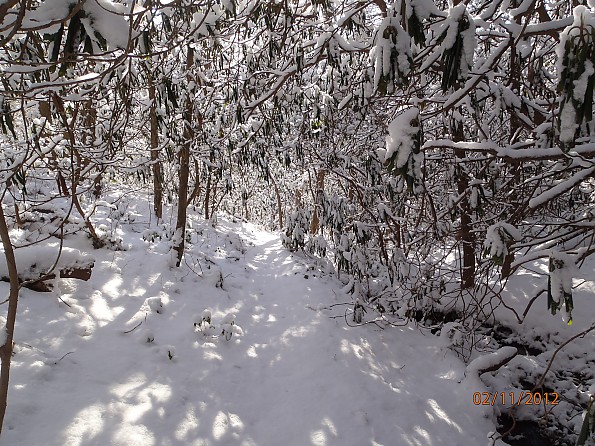 After shooting the morning breeze with TW, I bailed down the Big Stack Gap trail on my loop hike. Oh yeah, Tipi said to say Hi to all you Trailspacers. (He'll be out there for two more weeks!)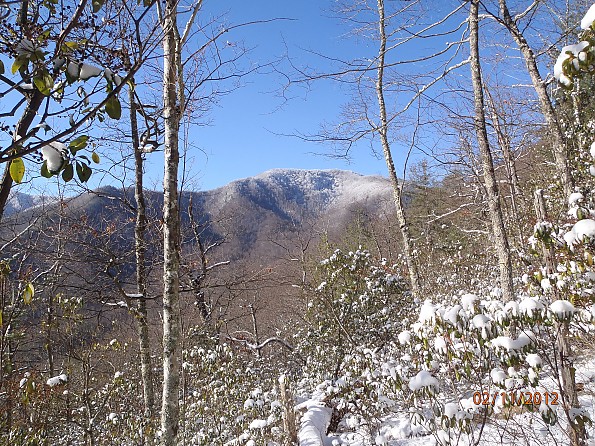 You gotta love the frosty mountains.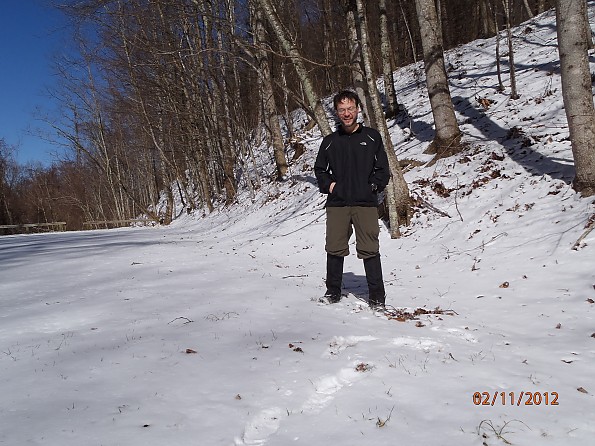 I had made it to Big Fat Gap (parking lot is empty due to winter road closure…nice) where I stopped for lunch. The sunshine didn't do much to keep me warm so I started going again pretty soon.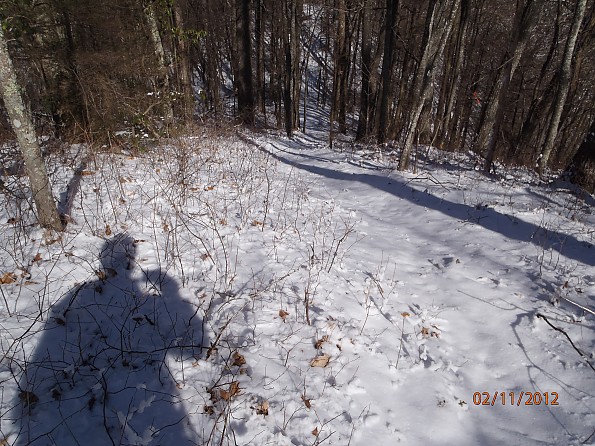 When I told Tipi that I was going to hike the Hangover Lead North trail, he said something like "Why would you do that?". And then he said something else about it being "hellish". OK, I get it now. Good grief...I could not capture in photos how steep that descent was (mostly because it took my total concentration to keep from falling and sliding). I should listen better.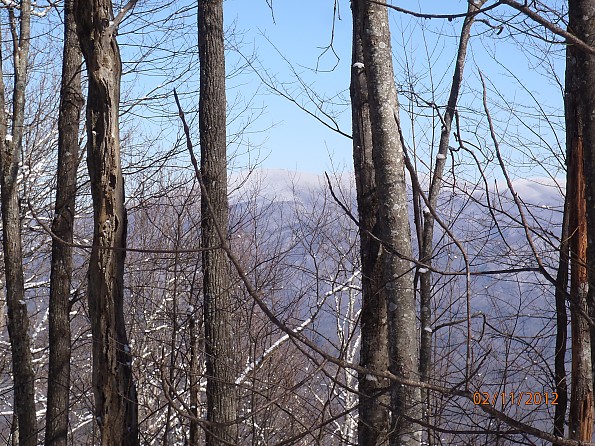 It did however offer this rare vantage of the Smokies. That is Gregory Bald to the right. I admit that I was really glad to get off that lead when I finally did.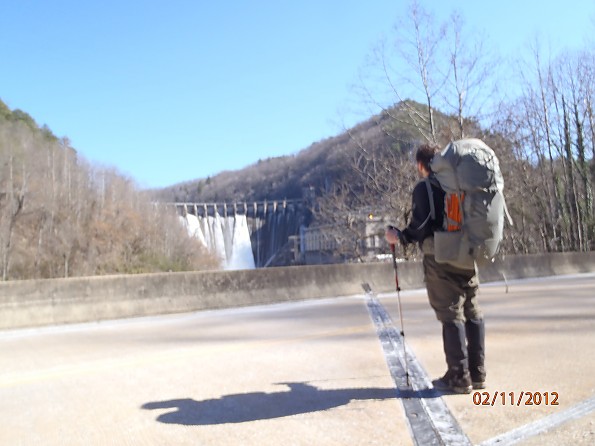 And finally I arrived back at Cheaoh Dam near my car.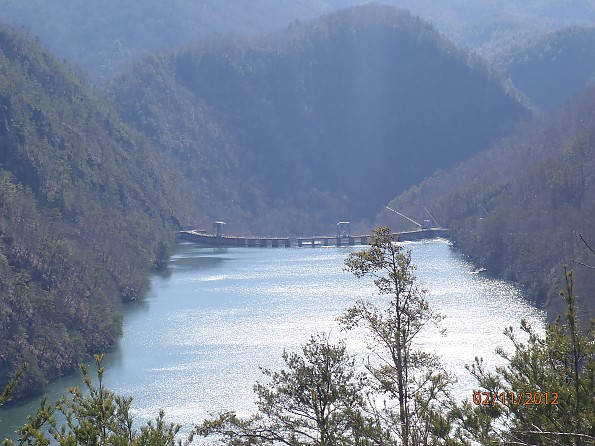 I hate to end on a blurry photo so here is Calderwood Dam (I think) as seen from the Tail of the Dragon.
Happy Trails!