6:04 p.m. on August 19, 2012 (EDT)
soleful2001

1,341 reviewer rep
157 forum posts
Had to leave the grind behind and set out on a quick trip to the Uwharrie Montains, the oldest mountains in North America (I think).    These hills top out at 1000' and can range down to elevations as low as below 400 feet.  The area I most commonly hike top out at around 650 feet.  I love the Uwharries for their unique scenery, wildlife, and proximity to home.  I can travel anwhere from 30 miles to Birkhead Wilderness, or 1 hour down to the Southern Section trailhead.  I have hiked the area many times and I thought I might share this quick trip with you.  8/18 to 8/19/2012
Apologies, here, could not figure out how to rotate it.  I had rotated it in my software, but it seems to pick up the original settings instead. 
This is the trailhead for Dutchmans creek, where I will form an 11 mile loop with the Uwharrie trail.  I love this place.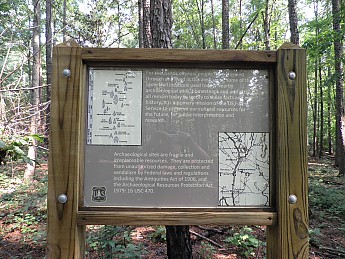 These signs are new.  They are "informative" signs warning people not to poach artifacts.   These signs were oddly spaced along a section of the trail about 300 yards apart or so.  There were several of them all identical.  The placement of these signs makes me wonder if they might not be an unintentional hint to would-be poachers on where to look for the good stuff.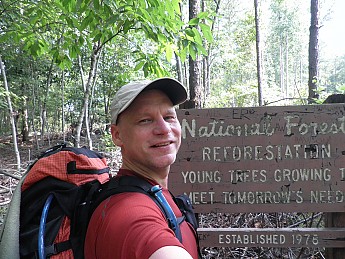 Reforestation sign ca 1978 I generally stop here and take a picture.  Recent logging obliterated one of my favorite campsites nearby.  Loggers left heaps of brush along the perimeter. Is this acceptable practice?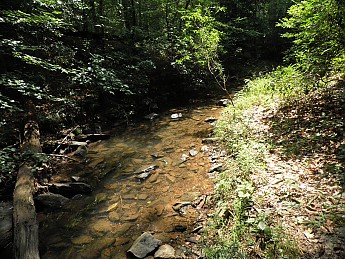 This is Big Island Creek.  A nice campsite here.  I stopped this day to have lunch.  The water is very low due to a local drought this summer.  Most of the minor streams are completly dry.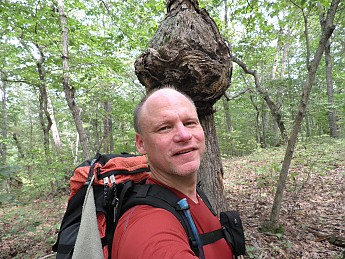 I came upon this burl some years ago and the tree was alive.  The tree has since died and I have photographed it every time I pass by.  Every time I expect this tree to be down, but still standing. 
Did I say AT?  meant UT! This old truck frame, I believe to be a Model T and according to Alan De Hart's guide book reference, it is.  Years ago I hiked by this thing many times.  Then an ice storm in the 90's choked up this section of trail and was subsequently rerouted to higher ground.  I camped nearby and was happy to find it again.  Video is pending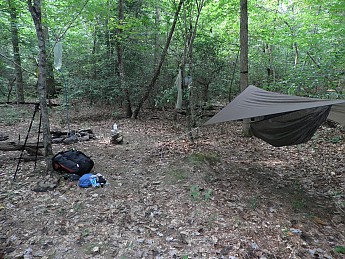 My humble campsite for the night.  Spent a somewhat sultry but dry night here, then awoke to a forboding pit pat on my fly.  Had to pack up quickly in the rain sans breakfast and head out.  The bottom fell out abut 1/2 hour from the trail head.  Anyway, could have been worse, and there is something to be said about woods and rain.