1:31 p.m. on November 7, 2012 (EST)
Ashleigh

4,096 reviewer rep
603 forum posts
Jay and I took off work on Oct 17-19 to drive to central VA. Our first destination was McAfee Knob, one of the most photographed places along the entire Appalachian Trail. It took us about 4.5 hours to get to the trailhead in Catawba, VA.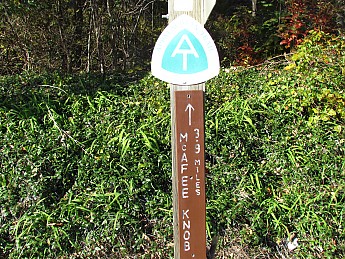 At almost 7.8 miles roundtrip, this was a perfect dayhike. We gained about 1200 ft in elevation on the way there. That isn't too bad spread out over 3.9 miles! Don't get me wrong, it was not easy by any means, but it wasn't terribly tough. We were blessed with a beautiful day!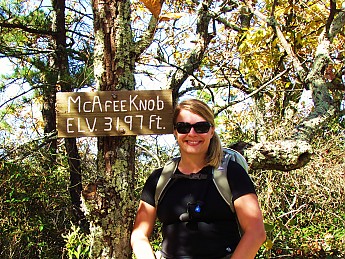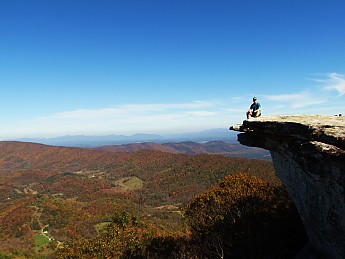 Jay on top of McAfee Knob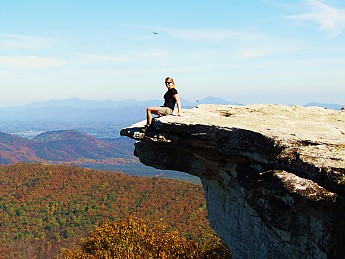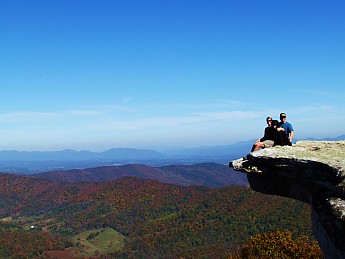 Family photo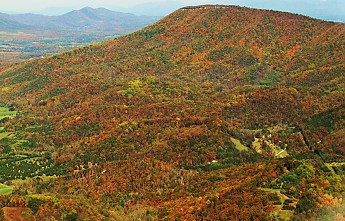 Beautiful view! This place is truly epic.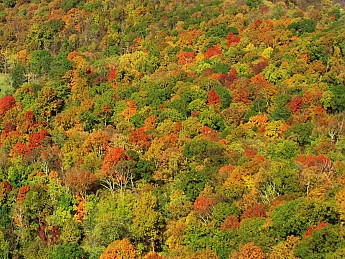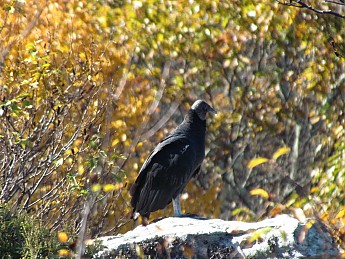 This guy perched on a ledge pretty close to us. His buddies were flying all over the place!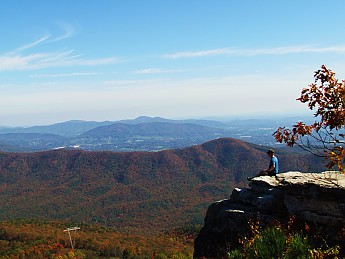 A sub-ledge that you can go on if you go just past the main ledge.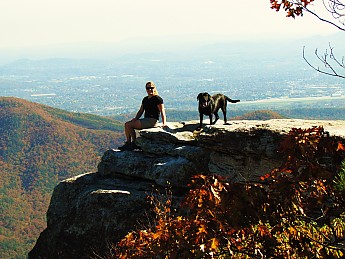 After we finished McAfee Knob, we hopped on the Blue Ridge Parkway and headed to Peaks of Otter. Peaks of Otter is an area near Buchanan, VA, that has two main mountains, Sharp Top and Flat Top. Sharp Top supposedly is the best hike of the two, so we decided we would hike to the top and camp there. We strapped on our packs at the trailhead and then saw a sign that said no camping and no fires, so we stayed in the campground at the base of the trail. 
At 5AM, we got a wake up call from Brice. He slept in the vestibule and SHOT out of it after a deer. After he was convinced that the deer was gone, he came back to the tent and we slept for about another hour or so. We packed up camp to head out to do a sunrise hike to the top of Sharp Top.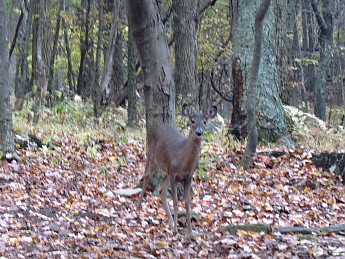 She came back to the site, once she realized that Brice was secured in the Pathfinder!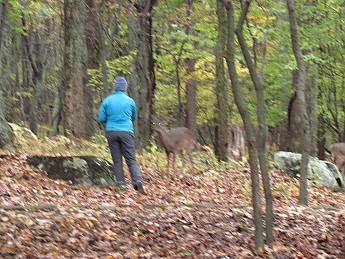 She was very friendly! She even brought a buddy.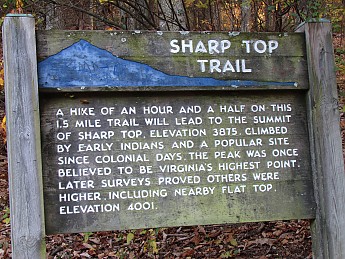 Trailhead shot. I didn't take any pictures on the way up because it was so foggy that you couldn't see anything. This trail is one of the toughest 3 mile RT hikes that I've ever done! It was STRAIGHT UP! Almost 1300 ft in 1.5 miles.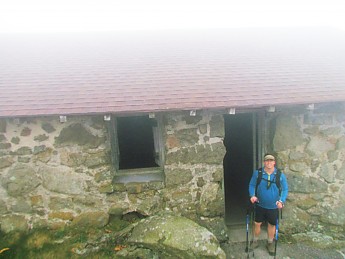 Jay posing at the hut on the summit...which coincidentally has a fireplace and seems like a perfectly suitable place to camp.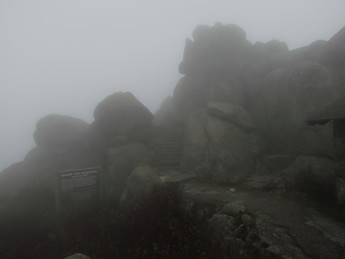 I hate that it was so foggy. This is one of the coolest summits we have ever been to. The rock formations are fantastic.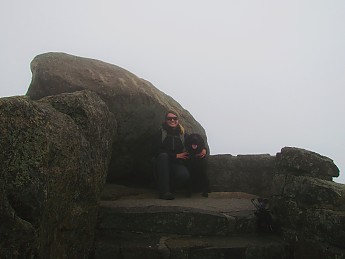 Brice loved this one! I wish I had his stamina!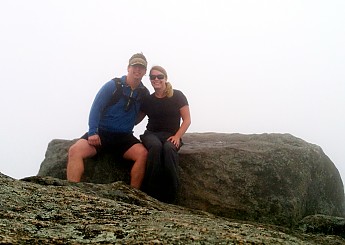 Summit picture of both of us, courtsey of the Gerber Steady, shown below. Such a very handy multi-tool!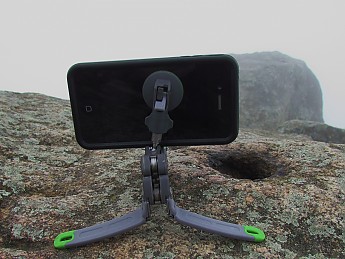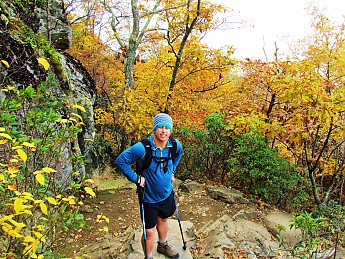 The fog finally started to burn off, so I decided to take a picture while we could see some color. This ends the Peaks of Otter pictures.
After Peaks of Otter, on Thursday morning, we headed to our hotel in Waynesboro, Va. After we got checked in and settled, we headed to Humpback Rocks. Waynesboro is a great place to stay. It is five miles from the intersection of Skyline Drive (where Shenandoah NP begins) and the end of the Blue Ridge Parkway. It is also very close to tons of vineyards and breweries! Humpback Rocks is on Milepost 5 on the BRP, so it was very close to the hotel!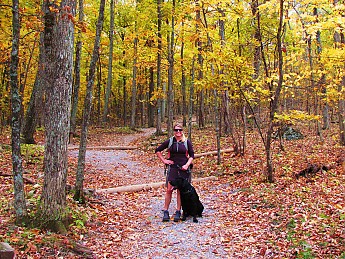 Here Brice and I are at the trailhead. The colors were very vibrant!
This trail is also straight up. It is only one mile, but it gains 800 ft. The trail is very well maintained. The AT is very close to this trail, but does not actually go to the rocks. This one wasn't so bad for me though, because Brice pulled me all the way to the top!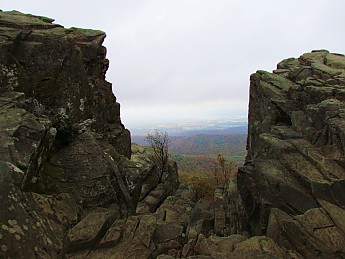 Here is the first view of the rocks.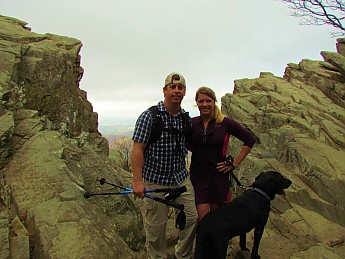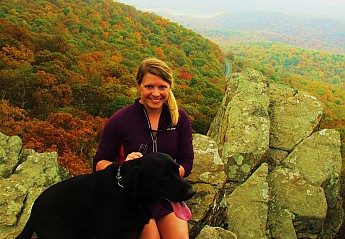 Brice and I with the Blue Ridge Parkway in the background.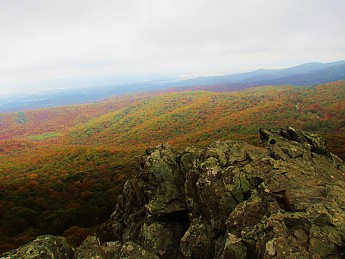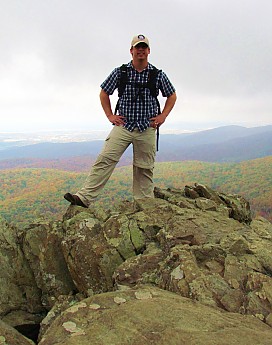 Jay on the summit, elevation 3080 ft.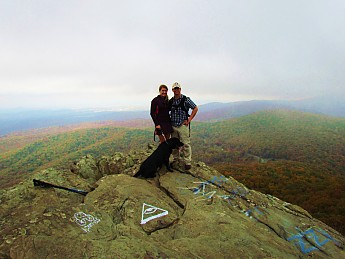 Such an amazing place. I can not believe that anyone would have the nerve to draw graffiti on these beautiful rocks. There were a lot of strange people there though.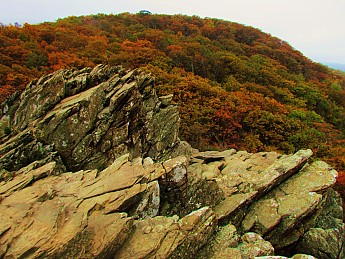 After we left Humpback, we took the short drive to Afton and ate at the Blue Mountain Brewery. http://www.bluemountainbrewery.com/
We had a flight of their beers and some Spicy Thai Burgers. We were very pleased! The atmosphere was wonderful! We would have loved to have stayed longer, but since we had Brice, we decided to go back to the hotel as soon as we were done with dinner.
On Friday morning, we got up early and headed to Shenandoah National Park. Since we had a 6.5 hour drive home, we decided to only do one hike, but we drove the bottom 1/3 of the park and stopped at multiple vistas.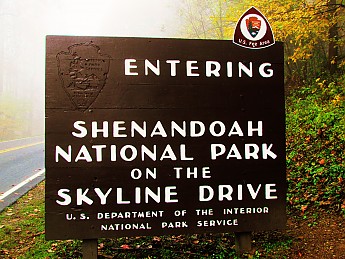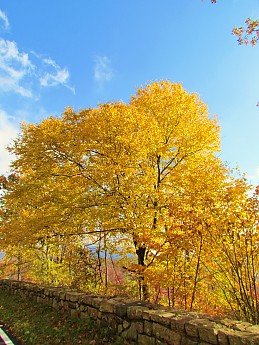 Beautiful tree on Skyline Drive!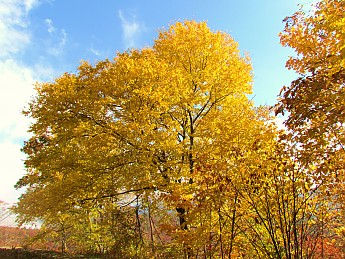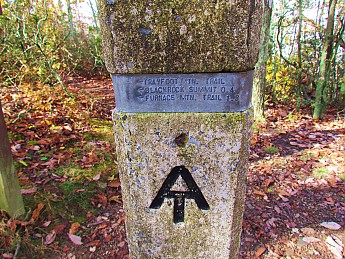 Blackrock was the hike that we decided on. It was very short, only about a mile round trip with very little elevation gain. This marker is near the trailhead.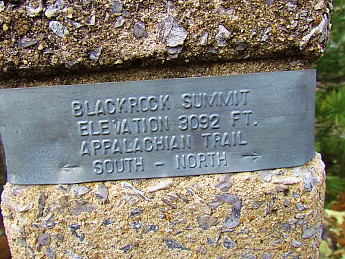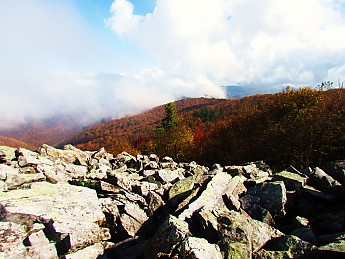 When we got there, this summit was covered in fog, just like Thursday morning. We decided to wait on it to burn off. GOOD DECISION!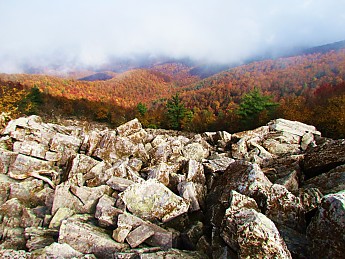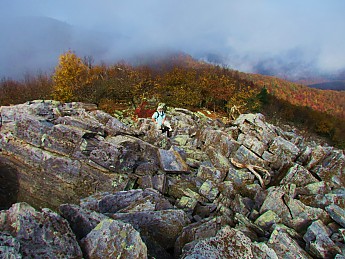 Jay and Brice on the rocky summit. We did not climb all the way to the top, because it was a little too dangerous in my opinion!
Very cool part of the AT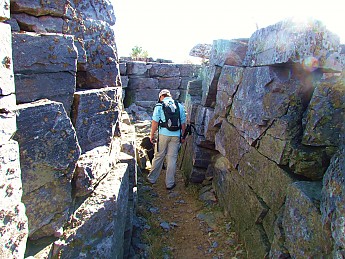 On the drive back, we stopped by the Virginia Tech campus, since we had never seen it. It was beautiful and definitely worth the short detour!