11:04 p.m. on November 18, 2012 (EST)
Peter1955

1,379 reviewer rep
1,339 forum posts
Had a stringer from the Weather Network turn up on Saturday morning to see what we do on weekends.

http://www.theweathernetwork.com/news/storm_watch_stories3&stormfile=Snowshoes_in_Edmonton_18_11_2012?ref=ccbox_homepage_topstories
I hate the closeup (shows my wrinkles) but that's me running away at the end.
Then the rest of us we went for a walk.
The Moss Lake trail is a 13 km loop through the forest that meanders around frozen ponds and far back into the woods near Elk Island.
I managed to screen out a few of the weaker people who'd signed up by making it an absolute requirement that everyone have snowshoes. Last year, we did the first 8 km on packed trails, only to encounter deep snow for the last few. Very, very difficult.
It's a good thing I did; within the first kilometre, everybody had put theirs on, as we plowed through soft powder and skittered up and down the frozen hills.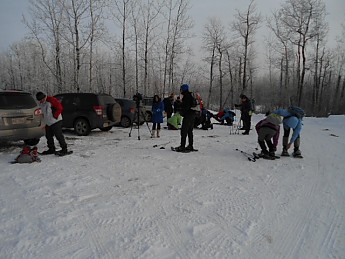 Reporter in background and people tending to the more important matter of getting their bindings adjusted properly.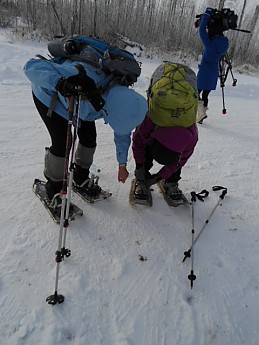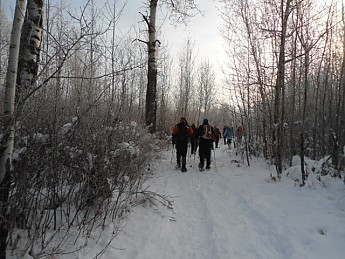 Lots of adjustments, but eventually we were flying right along.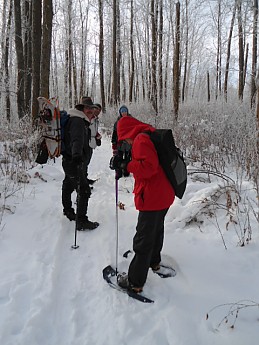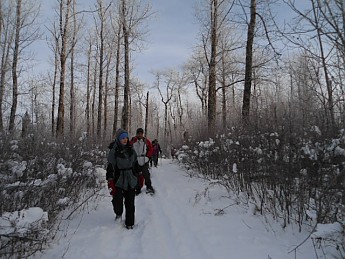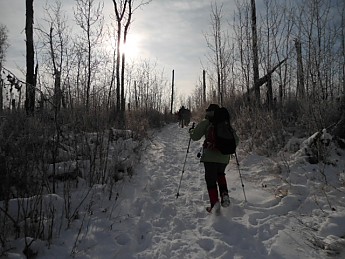 Animal tracks and snow drifts.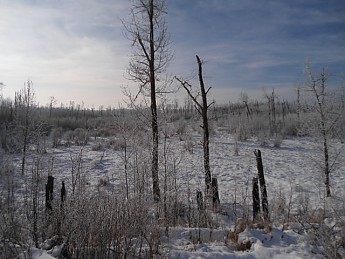 Lots of areas where elk and bison had been digging under the snow to forage.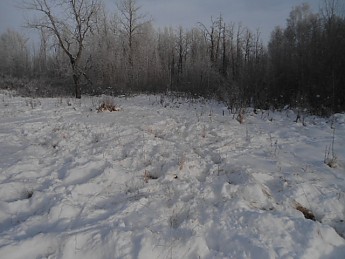 Quite a mixture of terrain, from aspen forest to spruce to meadow to frozen marsh.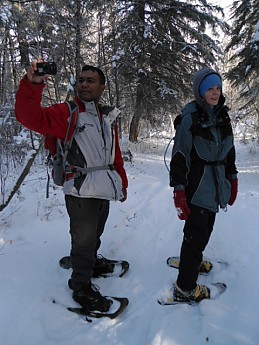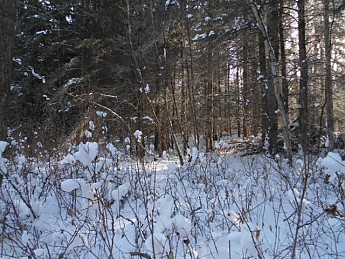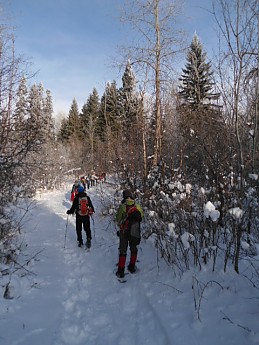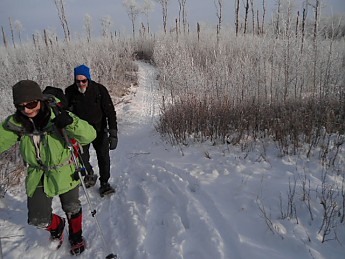 By the end of the first 3 or 4 kilometres, the conversation had begun to lag - never a good sign - and I realized people were already getting tired. We stopped at about 7.5 km for a snack and a short rest...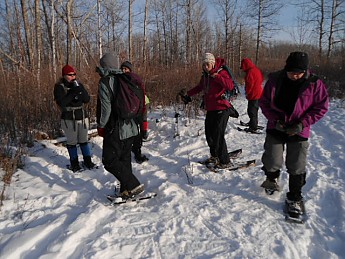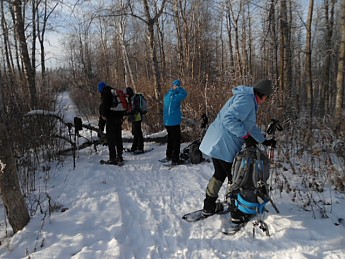 ..then got going again.

 Lots of nice scenery but we kept up a steady pace.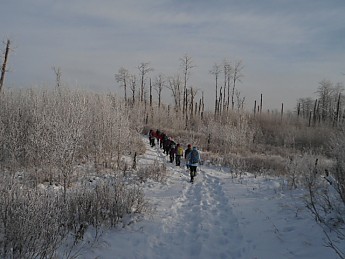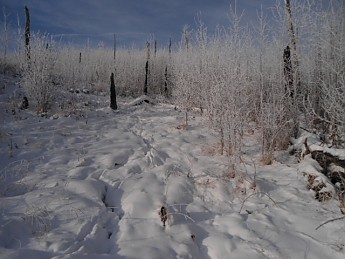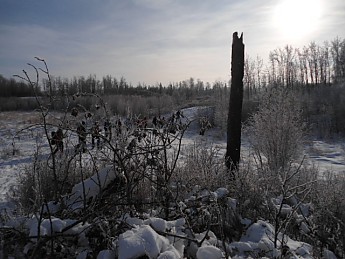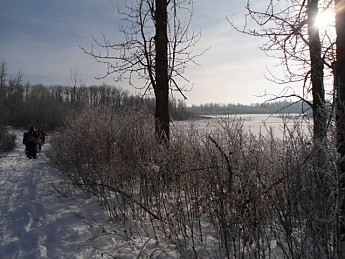 The sun goes down around 4:30, so while there wasn't a real rush, we couldn't stop very often.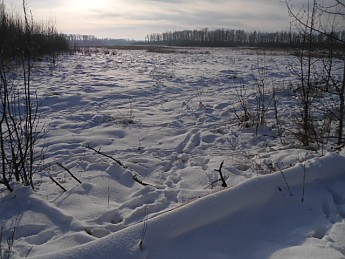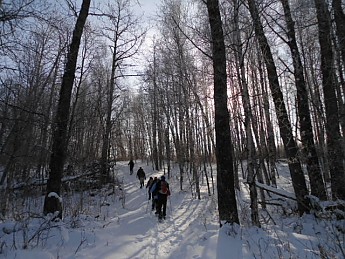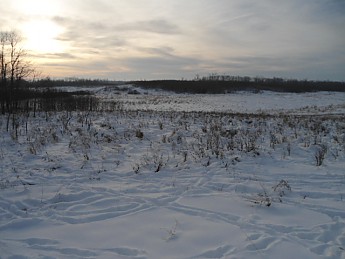 Trail marker for the last kilometre - nice to see.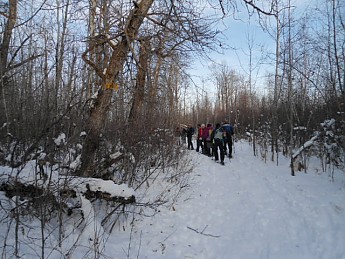 With the TV interview, we didn't start until 11:00am, and it was about 3:30 by the time we finished. Allowing half an hour for breaks, that puts our speed at around 3 kph, not very fast, but for the snow and trail conditions, quite respectable.
Review from a newby:
"It was a great hike. My first real winter hike and first attempt at snowshoeing, which was fun. Lessons learned included not to try to step/walk backward in snowshoes and that the small bit of water that lingers in the hose of a hydration bladder freezes very quickly!"
Review from a military lady (you think she'd be used to this stuff!) was:
"Holy guacamole! Snowshoeing 13km DOES feel like more..a LOT more."
It did - anything much farther than that in deep, soft snow, and it would have been nasty. I figure the last half was more 'Will it never end!" than 'Oh, what fun!". A nice day, but certainly challenging.