LoneStranger
TOP 10 REVIEWER
REVIEW CORPS
10,823 reviewer rep | 1,688 forum posts
3:14 p.m. on July 16, 2014 (EDT)
Ran off to the Pemi for a quick loop last week.  Short version with only too many pics to follow.  If you want the long version with way way too many pics check it out on my bandwidth http://lesstraveledby.net/adventures/pemi-july14-report/
The planned itinerary: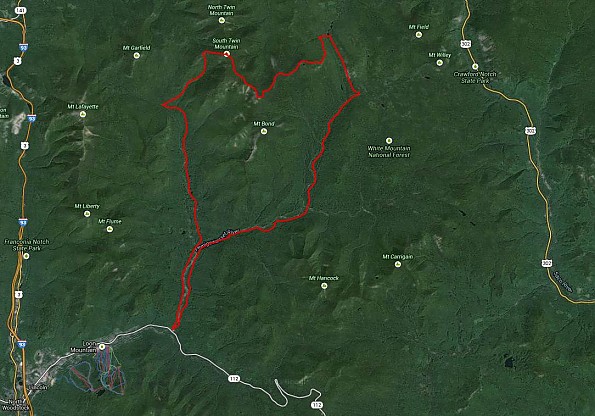 Day 1: Lincoln Woods TH to Franconia Brook Trail to the 13 Falls campsite.  Roughly 8 miles of gentle climb
Day 2: Up the Twin Brook Trail to Galehead then along the Twinway (AT) Trail up to South Twin, past the Bond area, across to Zealand Peak and down to Zealand Falls.  Picking up Ethan Brook (AT) out to the Thoreau Falls Trail. Roughly 12 miles with some serious ups and downs.
Day 3: Thoreau Falls Trail to Wilderness Trail to Eastside Trail back to Lincoln Woods TH.  Roughly 8 miles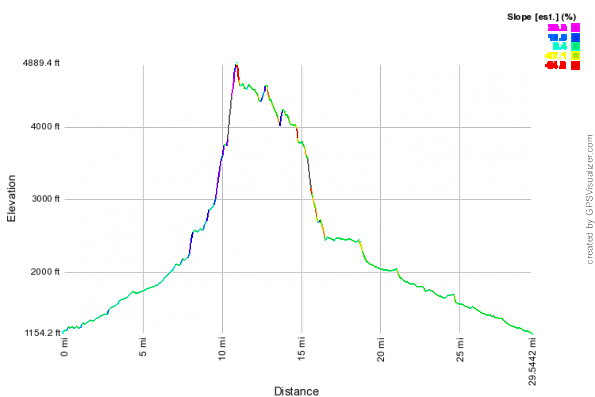 The pointy bit is the trip up to South Twin and across to Zealand
The Trip: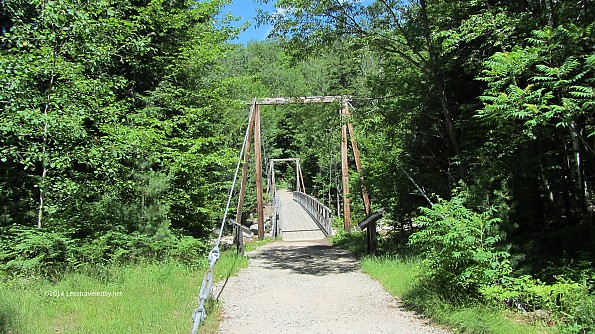 Unlike last month this time I got to start the trip by crossing the big footbridge near the trail head.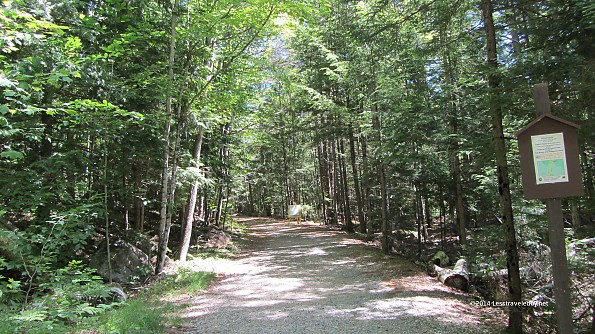 Just like last time the trail started out like something in an urban park.  Lots of day hikers of all ages out to splash in the brook in this section.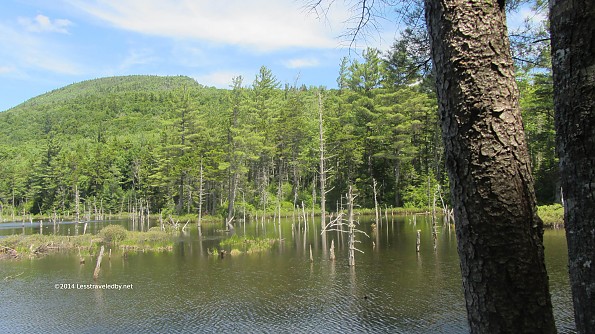 Great little pond right on the Franconia Brook Trail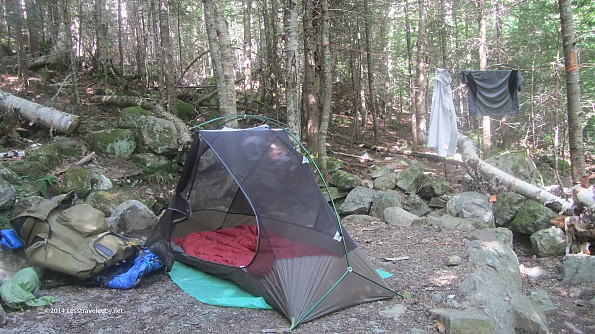 My fancy $8 AMC tent site at their 13 Falls camp. I got in early and snagged the most remote spot which isn't very remote I'm afraid.  The sites at this camp are pretty much right on top of one another with a rocky path running down the middle.  It was the perfect spot to be when I woke up though so I gave it a shot.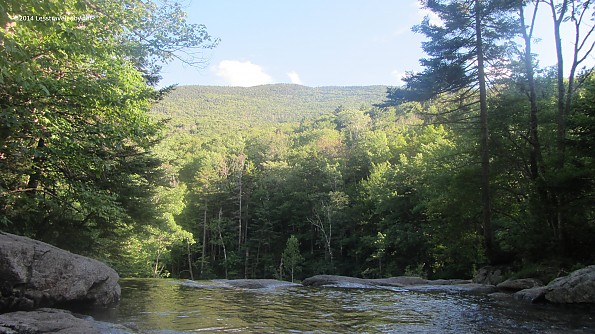 I can see that splashing in the waterfalls here could make for a relaxing day so maybe we'll come back with The Tot when she is old enough to walk this far.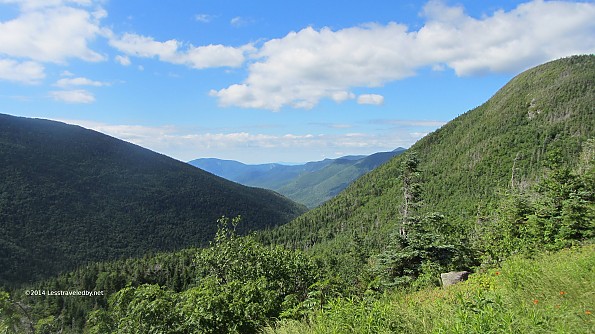 The near valley is where the Twin Brook Trail had come up for the first part of the climb. The one after that is where I hiked in the day before.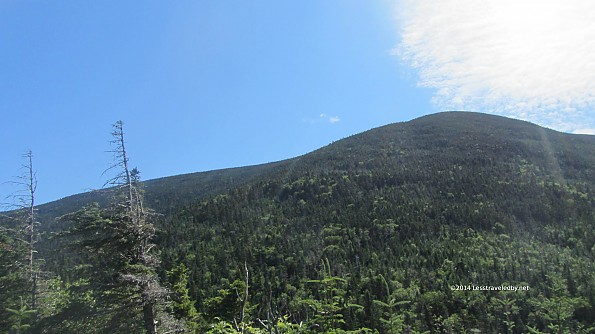 South Twin from just below at the Galehead Hut. Less than a mile with about 1100' of gain. Perfect for the second climb of the morning.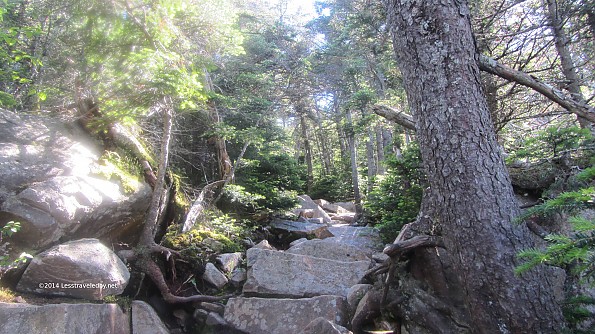 Well maybe not perfect, but classic NE AT rocky road for sure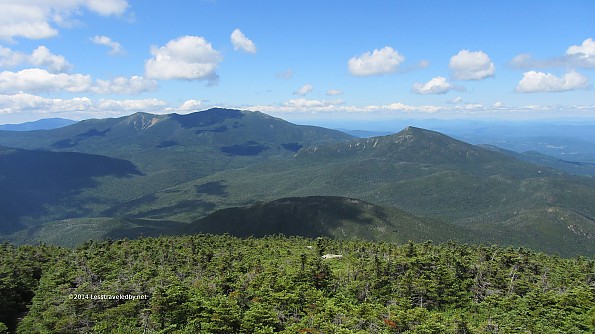 Looking back over Galehead to Garfield on the right and then Franconia Ridge with Lafayette and Lincoln. It had been a bit clearer the day before but still views worth puffing up mountains for.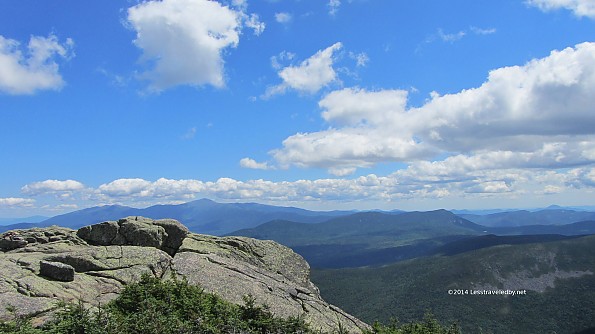 On top of South Twin looking towards Crawford Notch and the big Presidents beyond.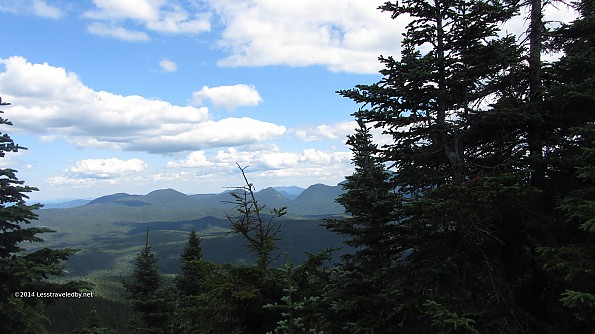 This was near Zeacliff looking towards Carrigain I think but I have to admit I have no recollection of taking this picture.  Was pretty bushed by this time and stopped taking pics until...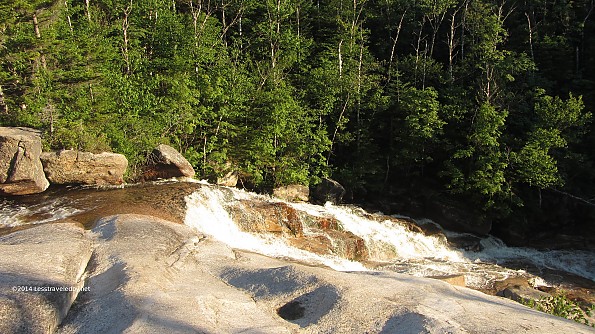 Thoreau Falls!
Spent a very quiet night alone on the Thoreau Falls trail with a playful moon and a babbling brook.  Headed out the next morning which was Saturday and started running into folks on the trail before I even reached the footbridge.
The rest of this trail was covered in my report back in May so you can look that up if you need info on this section.  Lots more pics at the link up top here if you want to see more pics of peaks and clouds.
Other important details:
May have worn out my knee coming down Zealand. Waiting to see if it heals in time for the Baxter trip that starts on Sunday or if I need to go to the shop for a replacement. 
On a more positive note the shrimp pasta with half italian sauce and half fiery red pepper sauce was excellent. Next time I'm saving it for a night I can afford to have some wine with dinner :)