8:41 p.m. on August 4, 2014 (EDT)
Sean Van Cleve

GUIDE/OUTFITTER
TOP 10 REVIEWER
REVIEW CORPS
10,181 reviewer rep
446 forum posts
Dolly Sods Wilderness: Monongahela National Forest WV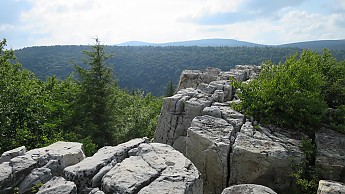 One of the most popular areas within Monongahela National Forest is the Dolly Sods Wilderness. This is one of the most diverse areas you can find in the east, all between 2500-4800 feet above sea level. Expect to find yourself in wonder as you blink between grassy meadows, sphagnum bogs, heath barrens, and more. Stands of conifer forests stain the creek red, which winds its way through lush mountain laurel, rhododendron forests, beech trees and countless acres of blueberries. Along with all of these spectacles, come the crush of hikers. Spring and autumn, expect to find yourself along with hundreds of others each day. I hoped to find less people in summer, which came at a price… Despite the frequent rainstorms and high relative elevation for the area, summer will still be summer. Temperatures topped 90°F along with 100% humidity under canopy, every rock sweating, playing its part. Stepping out into the meadows provided no comfort, either to be pummeled by the sun's rays, or the insistent threat of lightning striking.
Mountain Laurel coming into bloom!
TRAIL INFO
Red Creek Trail Head - Laneville
TR 514- Red Creek Trail
TR 511- Blackbird Knob Trail
Unmarked trail along tributary
TR 553 – Breathed Mountain Trail
TR 513- Big Stonecoal Trail
TR 554- Rocky Point Trail

This three night/two day trip ended up being a quick 25-30 mile BP, I hope you enjoy a few photos!
See ya Baltimore!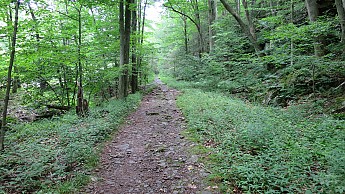 Red Creek TrailHead- Laneville, WV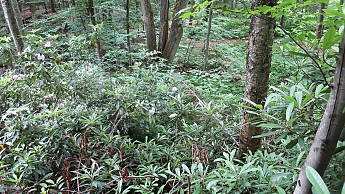 Rhododendron welcomes all as the trail begins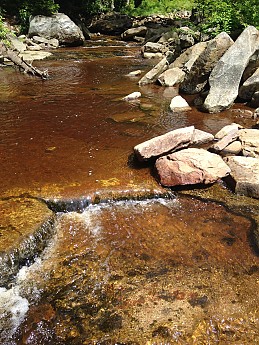 My biggest mistake on the trip was not bringing enough acid reducer; the pH of the water killed me!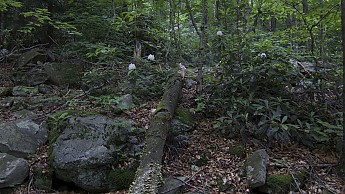 The lower Red Creek Trail has a pretty dense canopy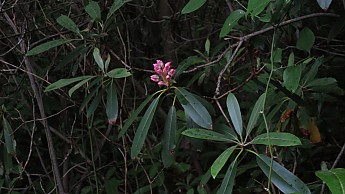 Most Rhododendron was still to pop
Dahle->Dolly
Johann Dahle (1749-1847) was a German immigrant who raised sheep and cattle on this land. Eventually the land came into use by the US Army during WWII as a practice artillery and mortar range.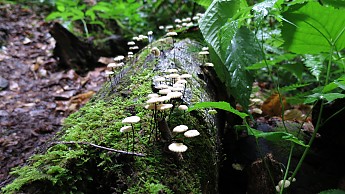 Wish I had more knowledge of flora and fauna...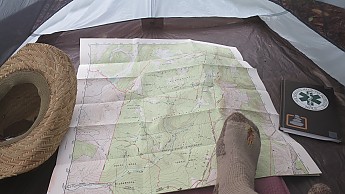 The decision making process can be so much easier by yourself!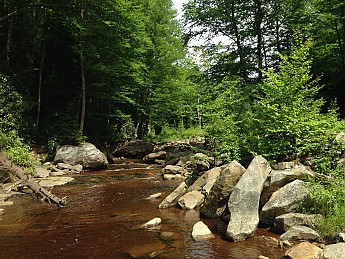 Lower Red Creek
Short break, time for a refill!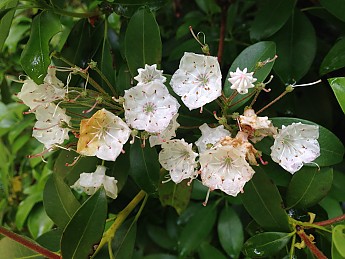 Mountain Laurel was plentiful since it is toxic to all but the bees.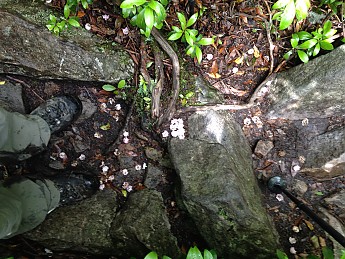 Surely makes it nice looking at your feet!
David Hunter Strother wrote an early and somewhat breathless travelogue of the area, published in Harper's Monthly magazine in 1852:
"In Randolph County, Virginia, is a tract of country containing from seven to nine hundred square miles, entirely uninhabited, and so savage and inaccessible that it has rarely been penetrated even by the most adventurous. The settlers on its borders speak of it with a sort of dread, and regard it as an ill-omened region, filled with bears, panthers, impassable laurel-brakes, and dangerous precipices. Stories are told of hunters having ventured too far, becoming entangled, and perishing in its intricate labyrinths. The desire of daring the unknown dangers of this mysterious region, stimulated a party of gentlemen . . . to undertake it in June, 1851. They did actually penetrate the country as far as the Falls of the Blackwater, and returned with marvelous accounts of its savage grandeur, and the quantities of game and fish to be found there."
Cited from www.wikipedia.org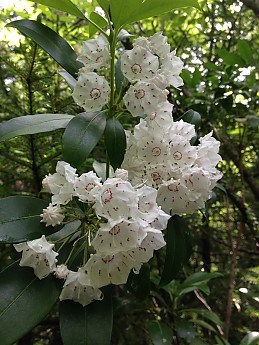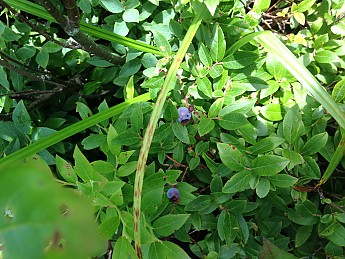 Berries were just starting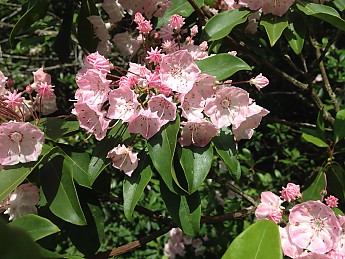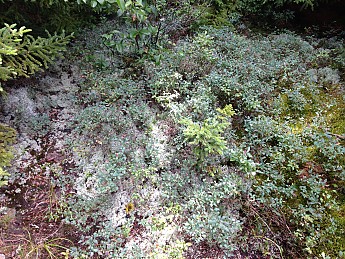 Some kind of moss, I think? It was growing among the blueberries near clearings. Anyone?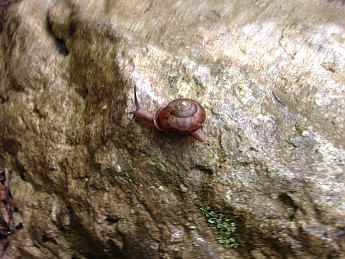 Sorry I almost squashed you, lil fella!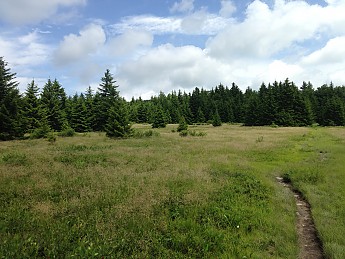 Upper Red Creek Trail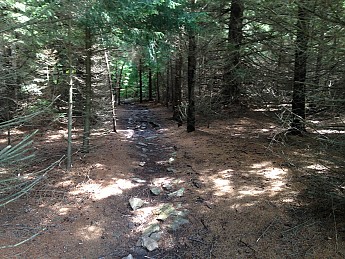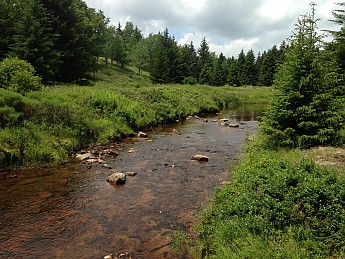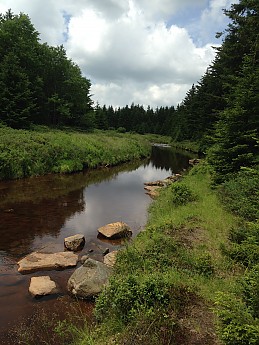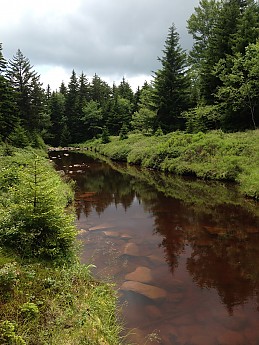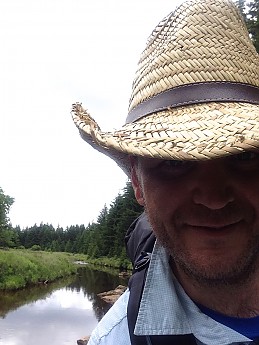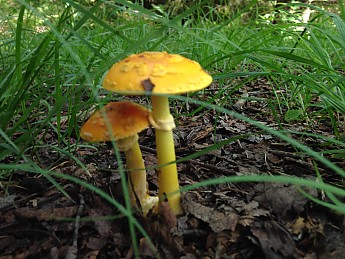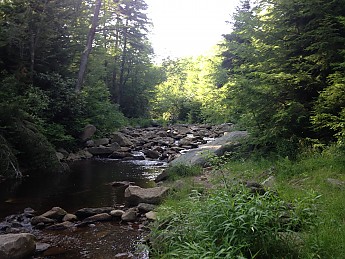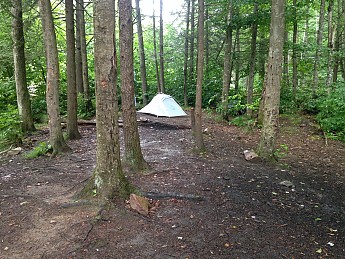 Weird the way this showed up; who needs a hammock when you can levitate?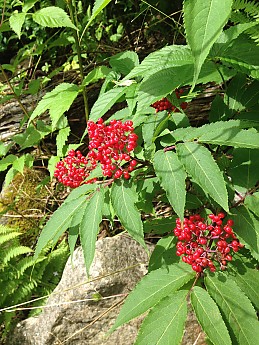 Not sure about this one...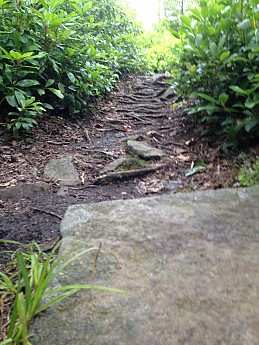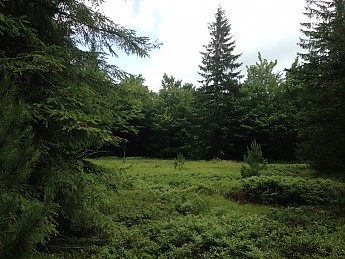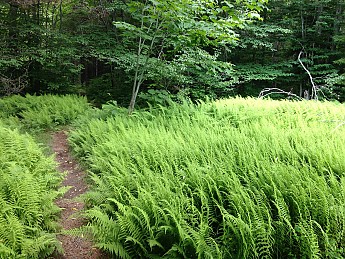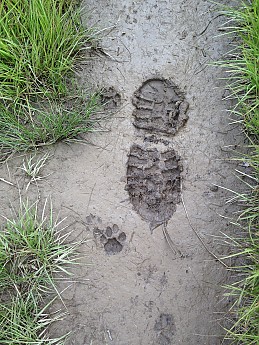 Ok, what do you think? 20+ lb. cat?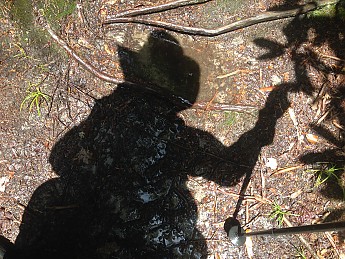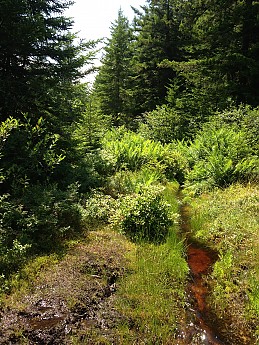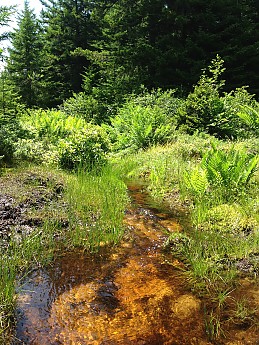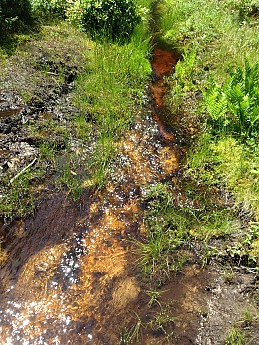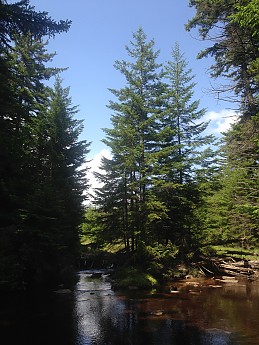 Winding my way along Big Stonecoal Trail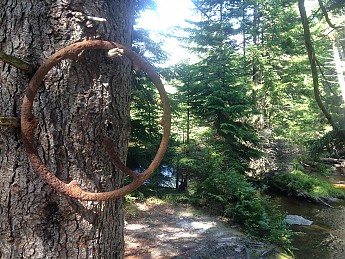 I didn't find any ordinances, but I did spot this artifact...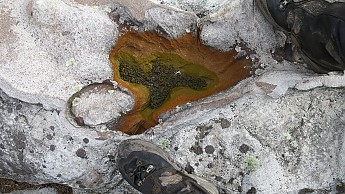 Back up on top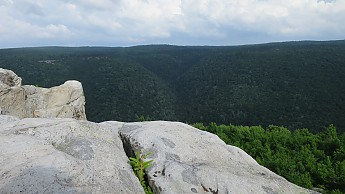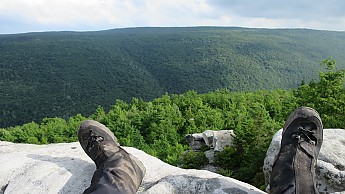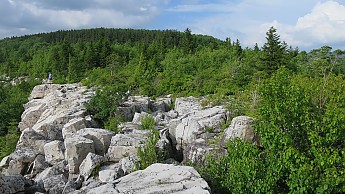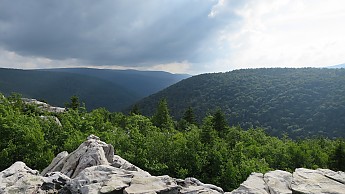 I couldn't safely stay up here long...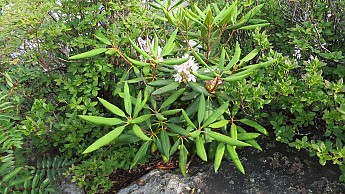 Blooming however, up top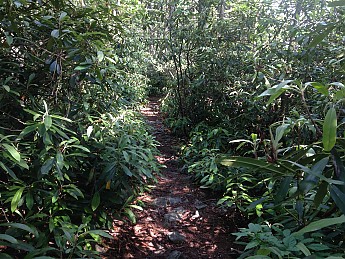 Back in the forest...
Rocky Point Trail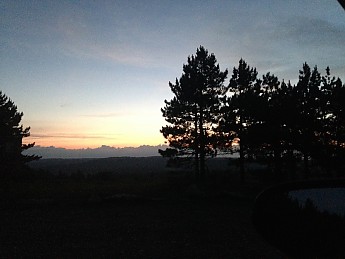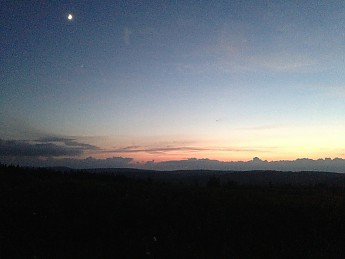 Goodnight, Moon!
-Sláinte