4:54 p.m. on August 8, 2014 (EDT)
FromSagetoSnow

TOP 25 REVIEWER
REVIEW CORPS
6,812 reviewer rep
1,679 forum posts
My friend from Mt Hood, two new friends and I cut a piece of Rainier this week. 
The route up the DC was in fantastic shape and the weather was unbelievable. 
We camped out the night before the climb and got to know each other since JB and I were the only ones to have climbed together before.  After some debauchery, shamelessly hitting on a cute park ranger and an aborted attempt to climb a tree with crampons and ice axe we settled in for the night.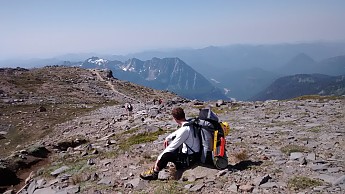 JB taking a break on the hike to Camp Muir.  The only weather issue on this trip was sunburn.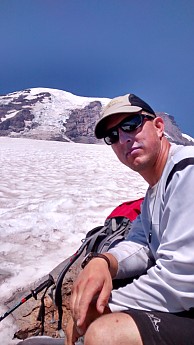 Still hiking up to Muir. My good old zinc/titanium sunscreen served me well.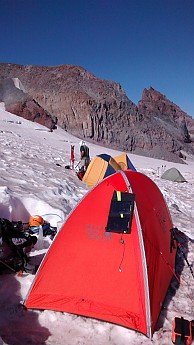 My little slice of Camp Muir.  JB and I shared my MH Direkt and RA and Germ shared their MSR Dragontail.  The Goal Zero solar charger worked fantastically in the snow and direct sun.  We made water, gorged on MH dinners and pepperoni (too much pepperoni) and turned in at 6pm to enjoy some restless alpine "sleep." 
11:30 we woke and at 12:00am we were roping up for the summit.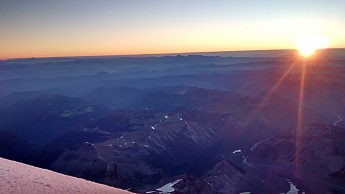 Sunrise found us about 800 feet, elevation wise, from the summit.  Unfortunately, that was the vertical limit of RA, the elevation had done its nastywork on his metabolism so we set him up with puffys, a sleeping pad and a picket and continued to the top.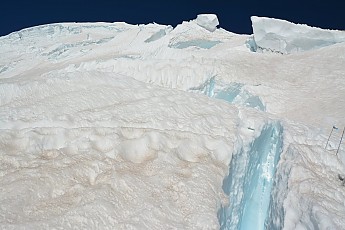 Straddling a nice little crack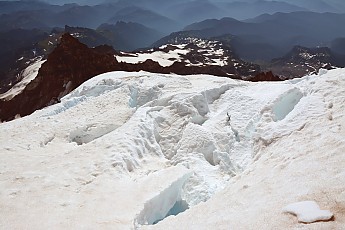 More spicy ice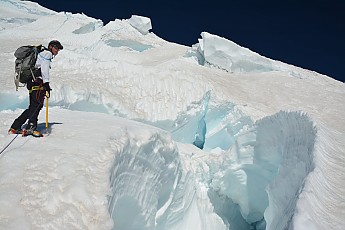 There was one ladder we crossed but I chose to keep the camera stashed during the crossing.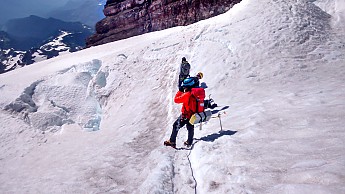 The rest of the team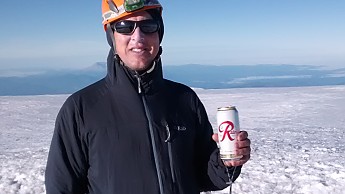 Rainier on Rainier.  I gave the mtn a sip, saluted my rope team and enjoyed the rest. 10 mph winds made the summit seem like paradise. 
Adams and St Helens over my shoulders at the summit.  We hung out up there for a half hour or so.  A 16 yr old girl summited as well while we were up there.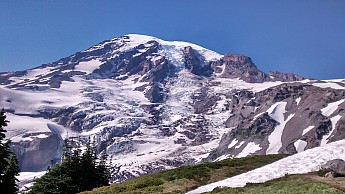 We retreived RA who was confused that so many passing climbers thought he was dead when he was simply napping.  Might have been funny to mess with them a bit. 
Hiking back down was a lot more fun because we could see all of the cool ice features and exposure we had missed in the dark that morning. 
Hiking down to uber-touristy Paradise parking lot we had to stop for several foreign tourists who wanted to take their picture with us.  It was kind of funny.  We milked it all we could to try to get JB a shameless hook up but to no avail. 
I can't wait till the next trip.