10:05 p.m. on June 22, 2018 (EDT)
LoneStranger

TOP 10 REVIEWER
REVIEW CORPS
9,709 reviewer rep
1,579 forum posts
Terrible fishing trip, but some very relaxing camping. I had reservations to do a 100-mile loop, down through BSP and back up via the IAT, until they called me to cancel my reservation at Chimney Pond due to 5' of unmelted snow. After considering doing a lower elevation route I decided to change my plan and just go fishing. Then the wind blew and I had no choice but to relax, eat good food, and enjoy the silence.
Long version with way too many pics to post here can be found on my site:
https://lesstraveledby.net/2018/06/20/solo-baxter-trip-june-2018/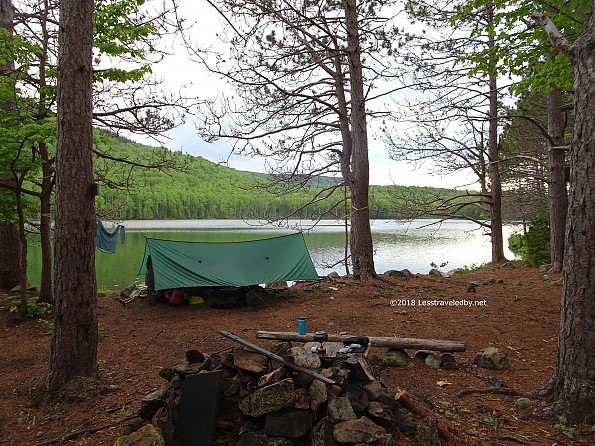 First night's camp at the Long Pond Pines site. I kicked up a moose shortly before I hit the turn off. This early in the year the animals are still thinking of the trails as being theirs. No pics because I was too close when I spooked him, maybe 10 yards or so. Rather than reach for my camera I worked at keeping a tree between us as he sniffed me and tried to figure out what I was.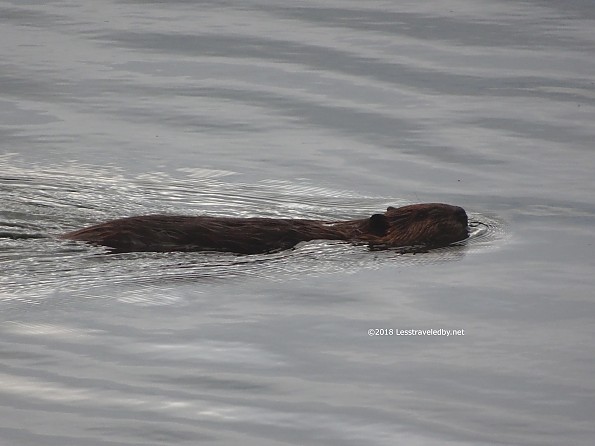 Got a few shots of this guy though. He has a house on the far side of the pond, but always swims over near sunset to make sure I'm not causing any trouble.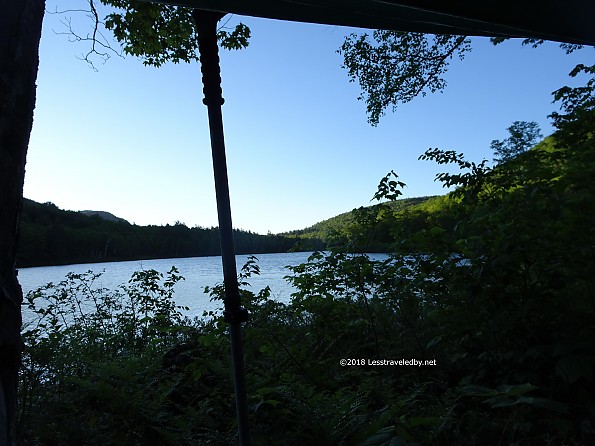 I moved over to the Middle Fowler South site for the second night. This shot is from the morning of Day 3. Light showers came through on both of the first two nights, but dawn was perfectly clear. I was in the hammock and just stuck the camera out of the bug net to shoot this. This trip was all about relaxing so I was in no hurry to get up.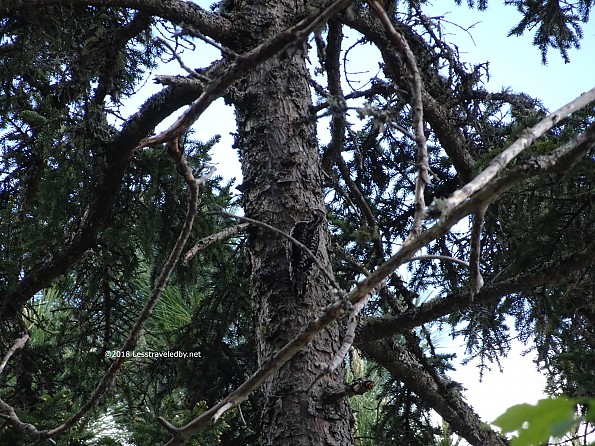 Back at Long Pond Pines that night I managed to catch this woodpecker right in camp.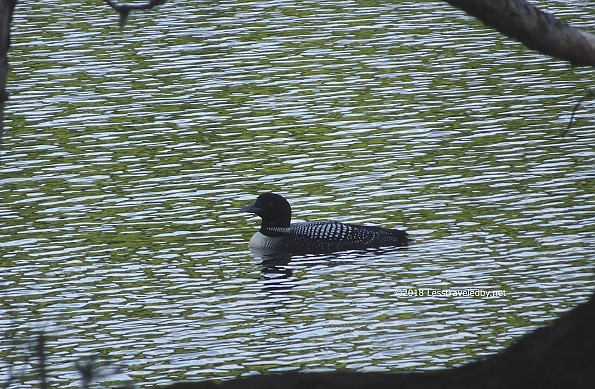 The loons were mostly peacefully swimming around during the day. Caught some great song that night though after some splashing fish woke me up.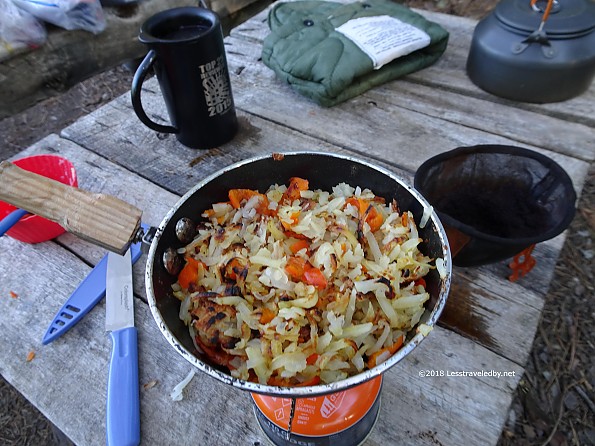 Breakfast on Day 4 was hash browns with red peppers. If you haven't seen my review of the dehydrated hash browns check it out. Idahoan Premium Hash Browns Being in no hurry meant I had time to enjoy mornings in camp rather than trying to get in miles. Different from the way I've been soloing the last few years and I mean in a good way heh.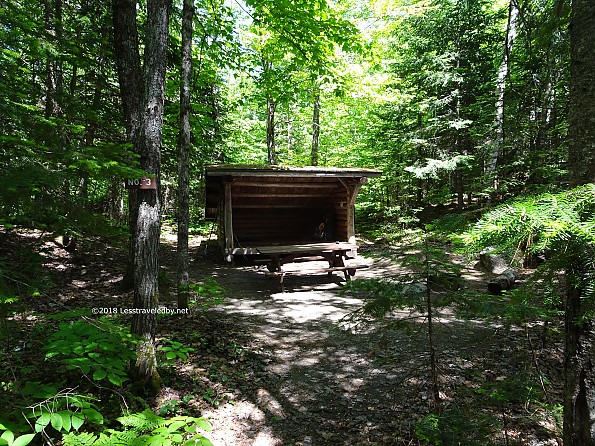 Had this walk in LT at the Troutbrook campground for my fourth camp. Lots of mouse poop in there plus an ominous dead tree hanging over it led me to hang my hammock about where I stood to take this shot. Neat site right on the brook and far away from others, but needs some TLC.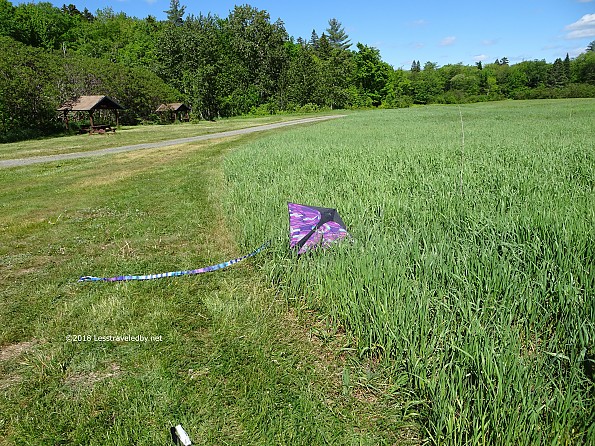 As if to mock me, about the only time the wind calmed down all week was when I put my kite together. Managed to get airborne a few times, but never for long. Maybe next trip heh.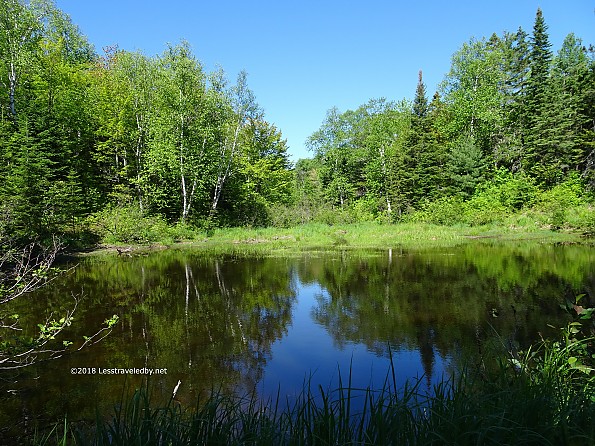 One of several spots where wetlands formed on the uphill side of the trail which follows an old logging road on the way out to Webster Brook. Depending on how well they drain some dry up, some remain vibrant like this and others become brackish deadwaters. Somewhere along here I kicked up a medium sized black bear. Bigger than you'd want to wrestle, but not so big you worry about him stalking you for your cookies.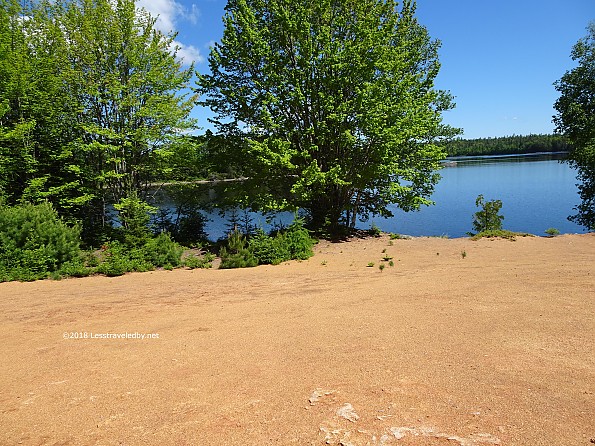 Since I had plenty of time I took the short side trail to the remnants of the sawdust pile on the lake shore. There was a sawmill that operated here for years which is long gone, but this sawdust remains. Wind and rain have flattened it and take some off the top each year. It is hard to describe what it feels like to walk on, but it is a bit creepy.


This gives a bit more perspective on how big the area is.
A bald eagle flew over my camp at the Little East LT, just above the trees, but I had no chance at getting a pic. These Common Mergansers were easier to catch since they were floating up and down the estuary where Webster Brook meets Grand Matagamon's Second Lake pretty much all afternoon.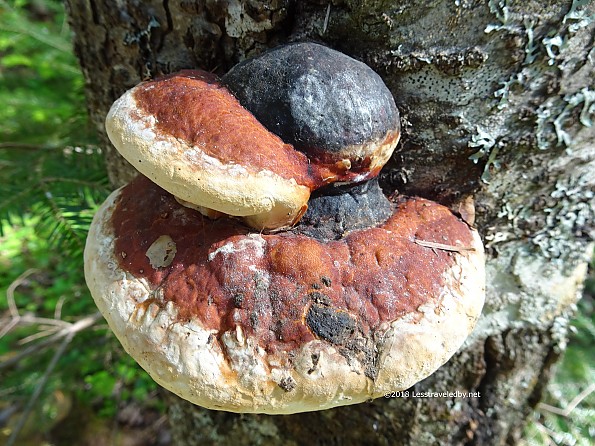 I did a little fishing up stream towards the falls, but the wind was blowing pretty hard. Hooked up one nice trout, but he came off the hook so easily I took it as a sign that he wanted to live and tossed him back. Most of the rest of the afternoon was spent taking Nature pics.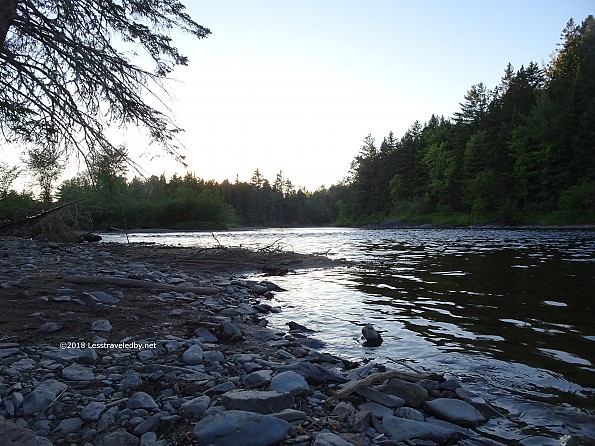 Tried a few more casts, but was sort of relieved I didn't catch anything. My belly was full and I hate to hurt a fish I don't intend to eat :)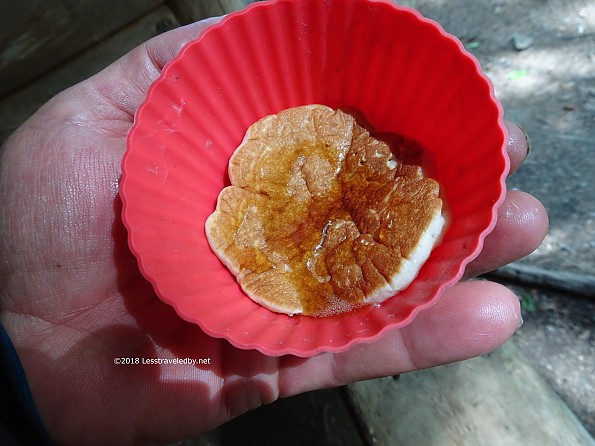 Breakfast on Day 6 was even more relaxing than other days because I had a whopping 0.5 miles to my next camp. I left at 11:45am after enjoying good coffee and pancakes with maple  syrup. Of course now eating cold cereal out of a bag is never going to be the same heh.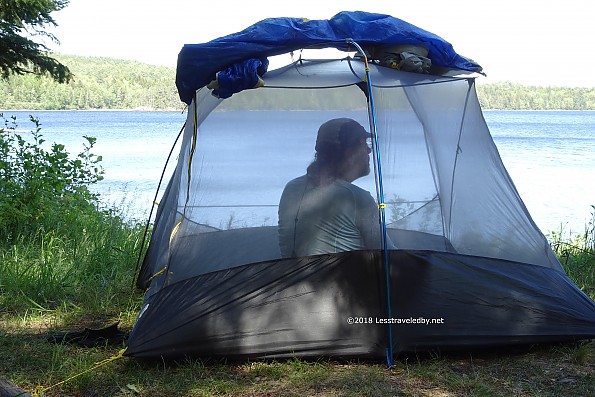 My last night was booked at the NW Cove tent site which was rustic to say the least heh. I couldn't find a spot to hang that had access to the breeze and since the day was warm I opted to set up the tent instead. A great place to spend a long afternoon listening to the breezes in the trees and frustrated bugs.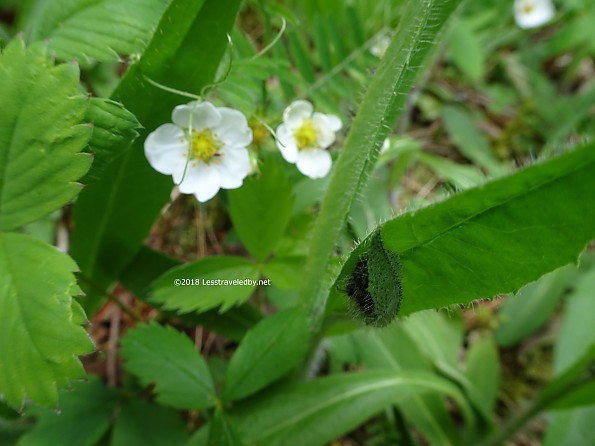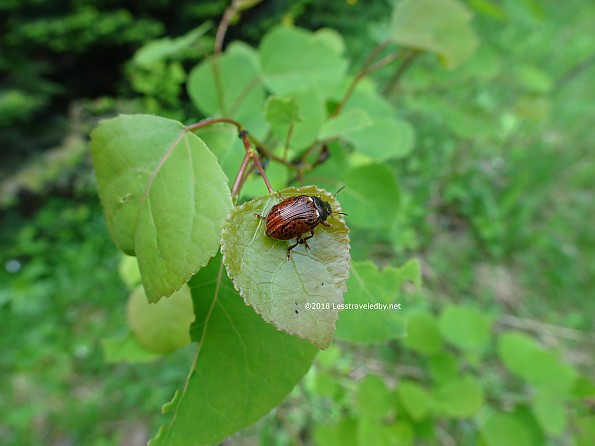 Not all of the bugs were troublemakers though. Thanks to the wind I actually spent a lot of time with my bug net off even though the bugs were definitely in season. In the forest or when the wind dropped it got ugly fast and there were a few inhalations.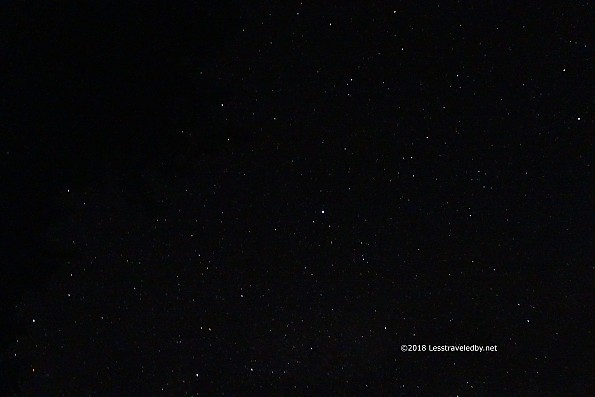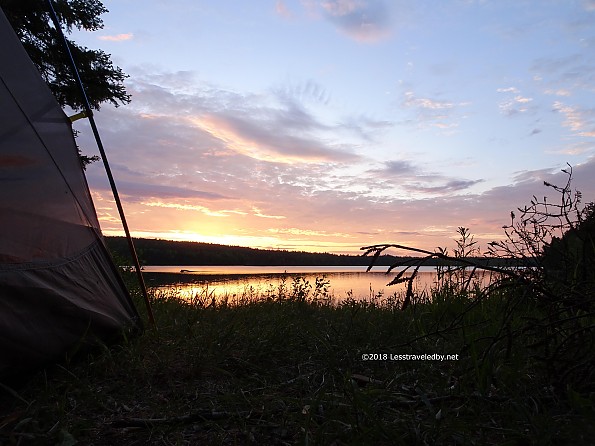 After such a relaxing trip I was well rested, so it didn't bother me to spend half the night taking pictures. I still woke up at dawn to take some more and shoot the live action portion of the video I posted last week. Then it was time to use my skill at getting out of Dodge. It was a warm, muggy morning with rain expected later in the day. I had about 11 miles to cover to get back to the scoot and a long ride home so my goal was to get moving.


I skipped coffee and breakfast, chugged some water and opened a package of special trail mix that is mostly pecans and chocolate with some espresso beans mixed in. Boom...6 miles in 2 hours heh. I took a break at the campground before hitting the road walk and still was eating ice cream two hours later.
After so many trips with big mile goals it was fun to relax and go slow. I also enjoyed carrying so much crap. On trail I started to write a few posts for my site; one of them is about the happiness of Ultra Loading with a focus on joy and  the other has to do with a note in my journal that says "existential crisis averted on Day 4" ;)
Definitely a great trip!! Hope you're getting out there and if you aren't, go!