Tipi Walter
295 reviewer rep | 1,444 forum posts
11:19 a.m. on December 21, 2010 (EST)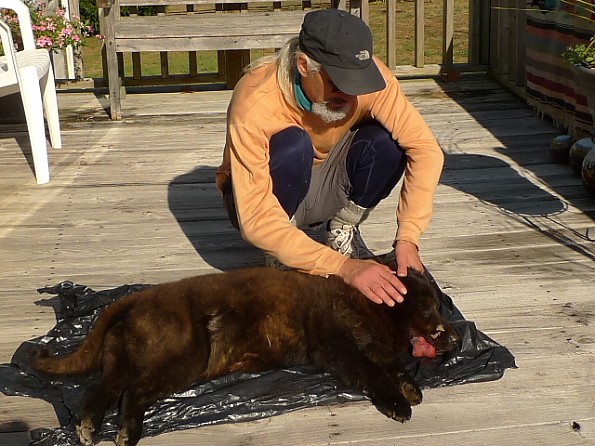 GOODBYE TO SHUNKA---On November 12th I lost my best backpacking buddy and faithful friend, so on November 16th I left on my next outing into the Citico Wilderness without him.  Here is the trip report.
TRIP 116  Nov 16-Dec 1  2010
A TRIP OF TEARS
FIVE HORSEBACK RIDERS AT COLD GAP
CHRIS PHILLIPS ON THE BOB
WIND AND RAINSTORM AT NAKED GROUND WITH JOHN PAUL AND STEVEN
SEAN AND JOHN ON THE BOB
BRUSH MOUNTAIN 6TH TIME
DISCOVERED RHODO LEAN-TO ON THE SOUTH FORK
ICE AND SNOW AT THE END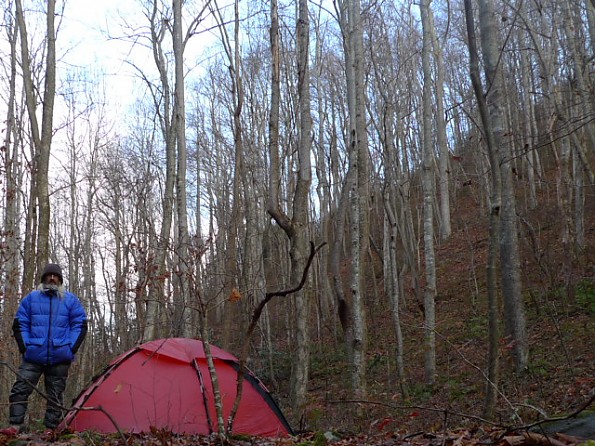 As you can see I'm in my full winter kit and testing out the parka and the down pants.  I entered the Citico wilderness at Grassy Gap and got caught in a mean wind and rainstorm so I set up camp after the first crossing.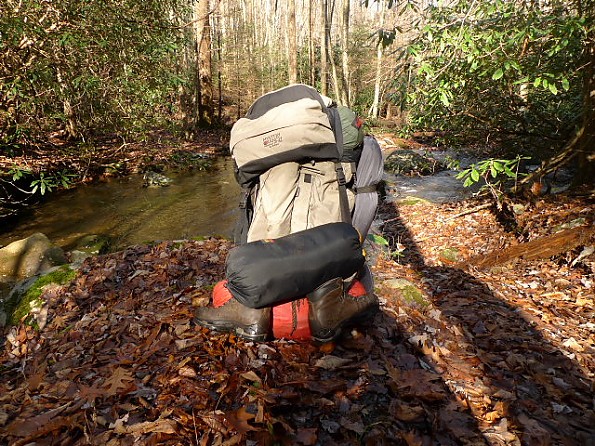 Hiking down Grassy Branch involves 9 creek crossings and here at number five I take a break with a fully loaded Mystery Ranch pack.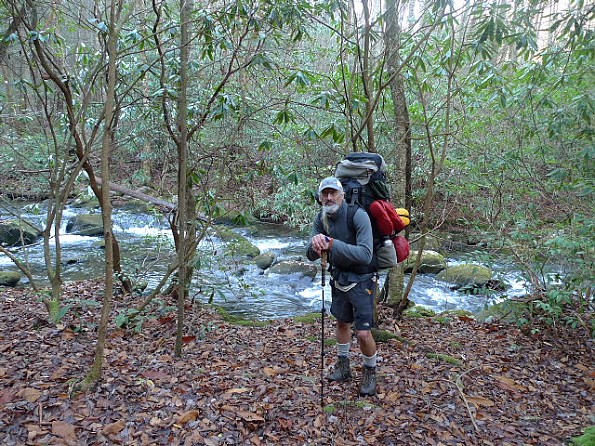 On Day 3 I leave a couple camps along the South Fork Citico and begin the 5 mile, thousand foot climb up the SF valley to a higher camp.  Crossing the creek behind me with a loaded pack was a bit of a challenge but I made it.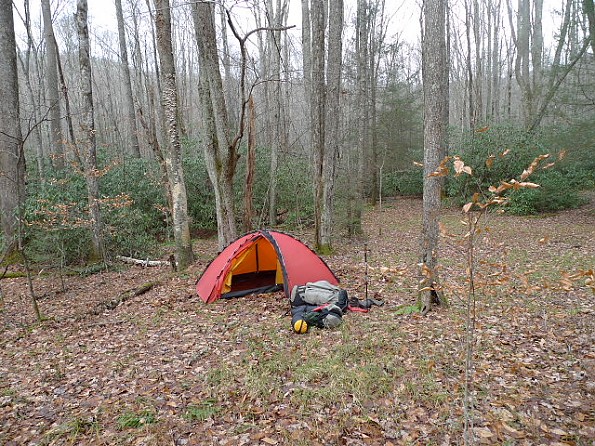 I make it to Iron Camp near the headwaters of the South Fork and settle in for the night.  It's a good place with clean water.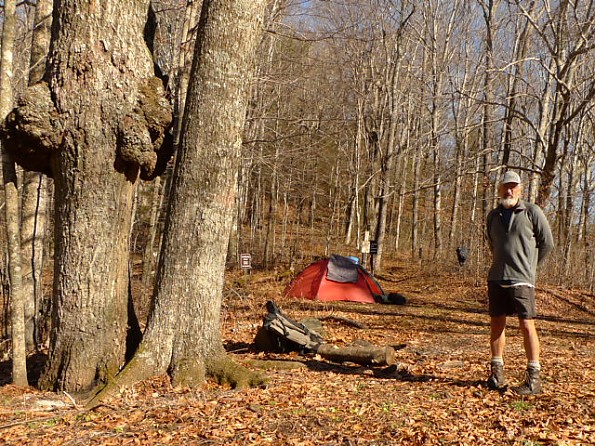 On Day 4 I leave Iron Camp and climb another thousand feet to a place called Cold Spring Gap.  I found water on the way up and only about 100 feet down the South Fork trail.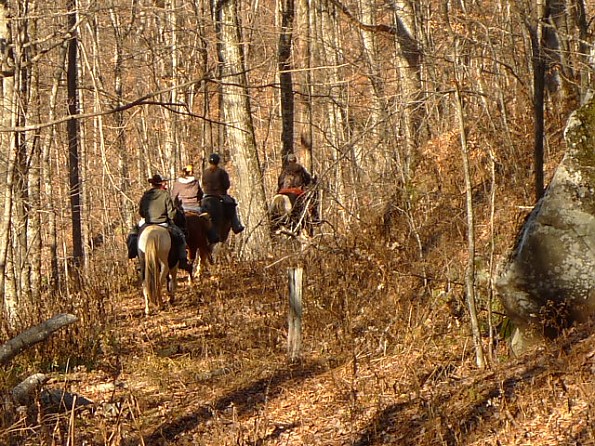 Around 3pm several horseback riders pull thru Cold Gap and I jump out of the tent and mention something stupid about Tom Berenger and Barbara Hershey.  Mullet-headed idiot motard, but it was all I could think of saying.  The leader thought they could pull a 6 or 7 mile ride down to Warden's Field but at around 6:30 they swung back in the dark and bailed.  The horses and the people were spooked. They should of just camped somewhere and finished their ride at first light.  Day Use Only types, I guess.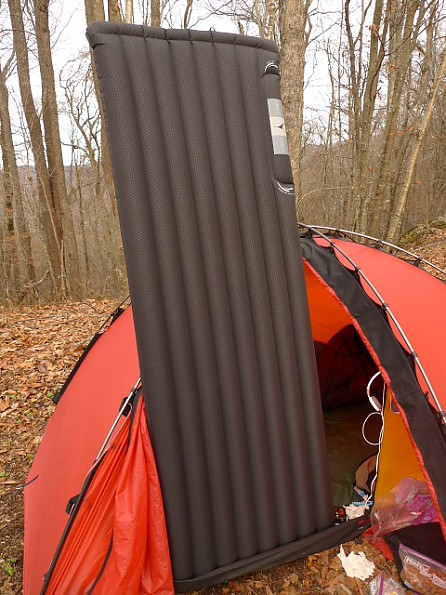 On this trip I brought out the Exped Downmat 9 and it was a vicious impediment to a healthy backpacking trip as all I wanted to do was sleep on the thing.  Very comfy but around 4 inches high so it pushed me up too high in the tent whereby my head and feet were easily touching the angled sides of the tent.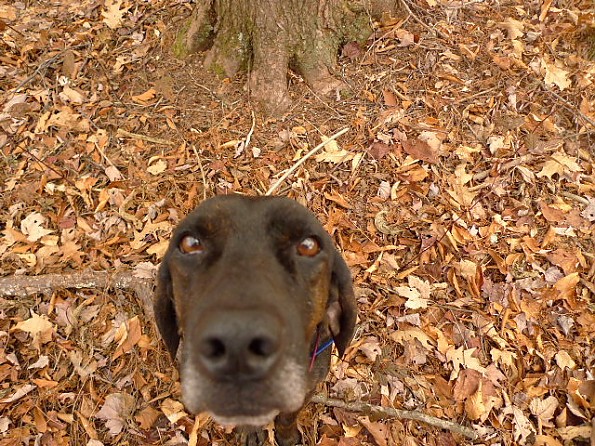 On the morning of Day 5 I run into a couple hunting dogs and they remind me of my old friend so I feed them some bread and we talk.  Later their hunter-owner came up and told me this particular dog did not like people and would not tolerate petting.  Uh, I spent about 20 minutes petting this guy.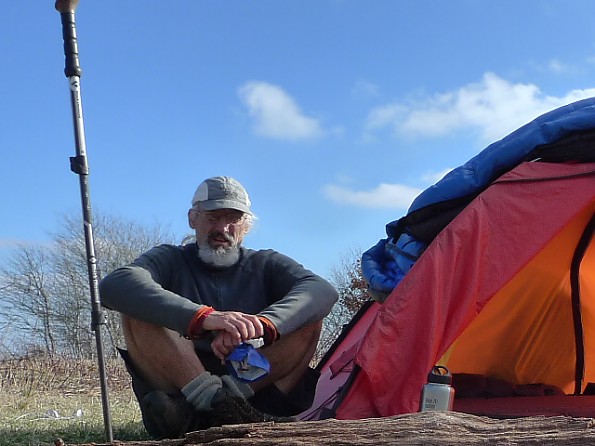 On Day 5 I leave Cold Gap and pull another thousand foot climb to the top of Bob's Bald where I set up the old Hilleberg.  Check out my Icebreaker merino tops.  (But don't look at the Kleen Kanteen---trying them out and they are TOO HEAVY!)

Near my Bob camp I hear some ruckus and go over and find Chris Phillips and his buddy Rich.  I first met Chris near the Hangover on a previous trip and so we jawed for awhile.  He's from Chattanooga.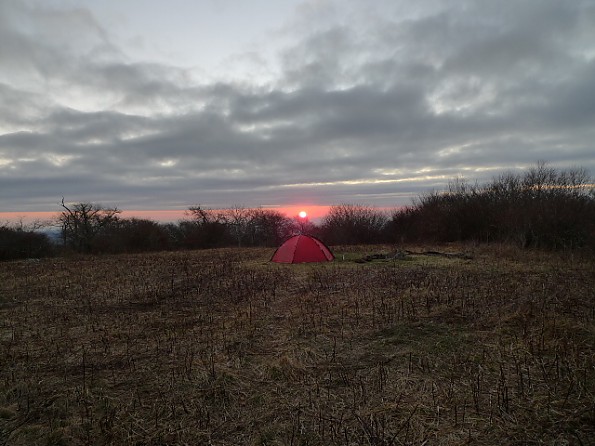 Little Mitten likes this shot of a sunset on the Bob at Raven Camp.  While peaceful, this exposed spot can kick your butt.  I've had my buttocks kicked many times here with high winds and blizzards.  Best Tent-Testing Facility in East TN.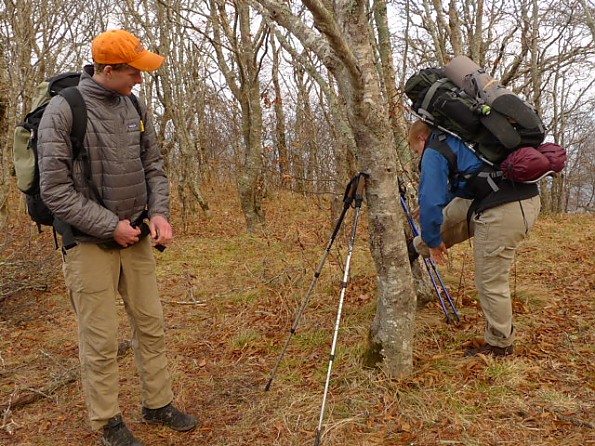 On Day 6 I go over and say goodbye to Chris and Rich.  They came up the North Fork and I convinced them to head back out on the Brush Mt trail---oops!  It's the wildest and most rugged trail in the Citico.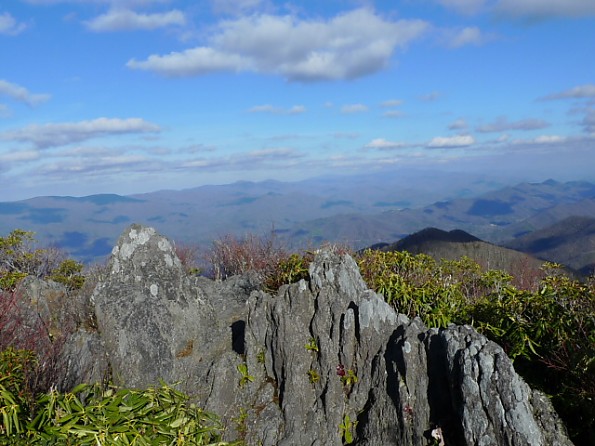 I leave the Bob on Day 6 and head over to the Hangover rocks where I dump the pack and check out the view.  The back ridge is the Appalachian Trail and Cheoah Bald.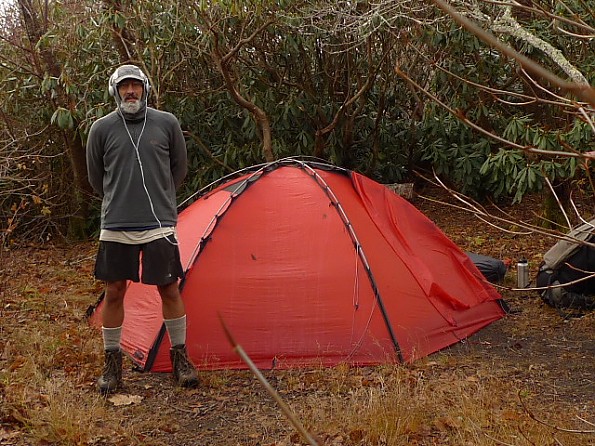 Near the Hangover rocks there is this place I called Airjet Camp after visiting some friends camped in at 7F in a Mt Hardwear Airjet tent.  We're at 5,000 feet now.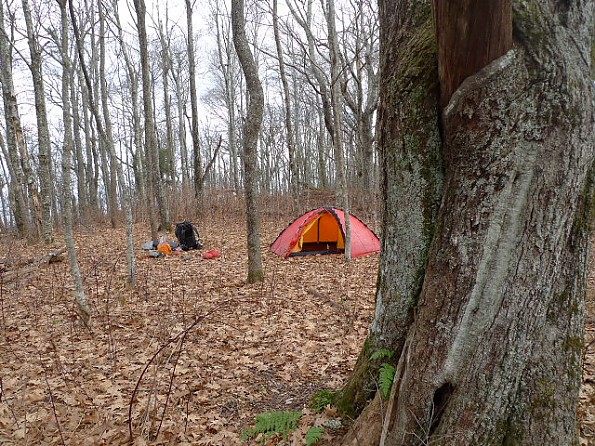 On Day 7 I drop several hundred feet on the Haoe Lead trail and reach another favorite site, Toad Camp.  It really reminds me of the Stillwinds Tipi ridge I lived on in NC for many years.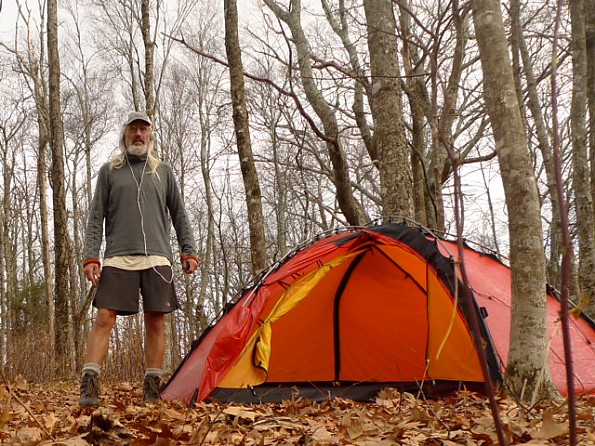 Old Uncle Fungus at Toad Camp.  "Waugh!  What yer lookin' at citified couch potatoes?!  I be dining with mountain lions and sleeping with griz!"  etc.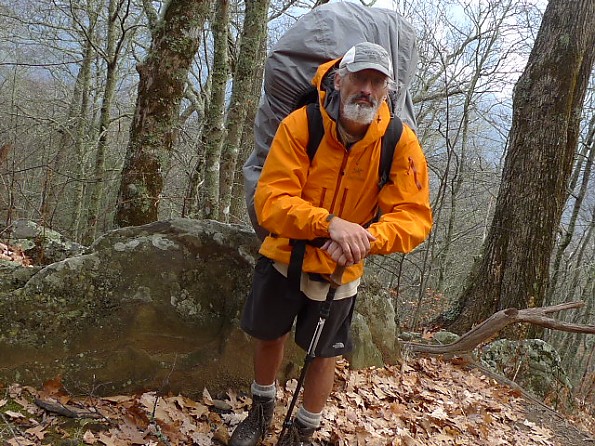 On Day 8 I take Haoe Lead trail to the Jenkins Meadow jct and fall about 3,000 feet to the Kilmer valley and Little Santee creek.  It rained all day but the trail eventually got me down.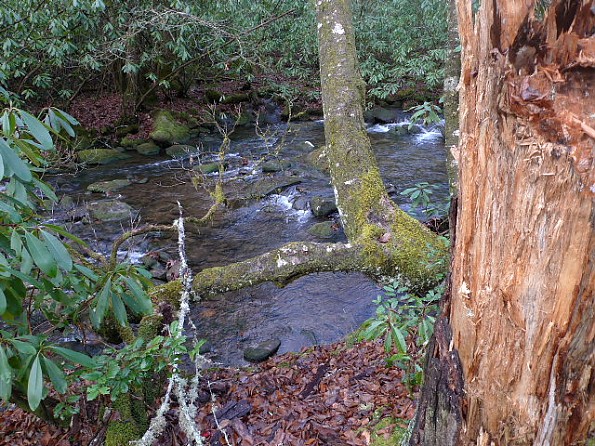 Here's the Little Santeetlah Creek and it's in a never, ever logged valley of the Joyce Kilmer forest.  You hardly ever see this creek when you humping the trail up the valley, the Naked Ground trail, but there are some nice campsites along the way.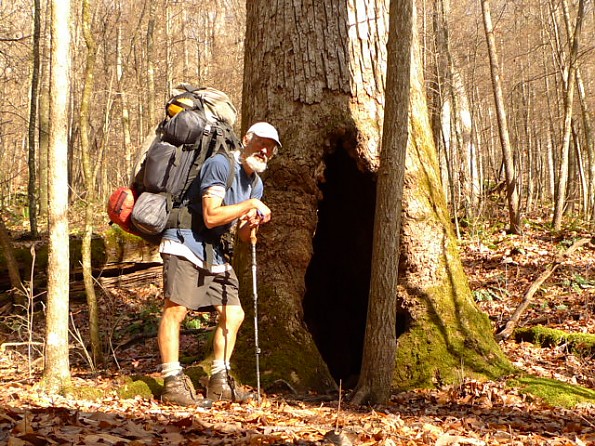 On Day 9 I leave the "Low Dog Camps" and start my 3,000 foot climb up the Naked Ground trail.  You pass right by this hollow poplar tree.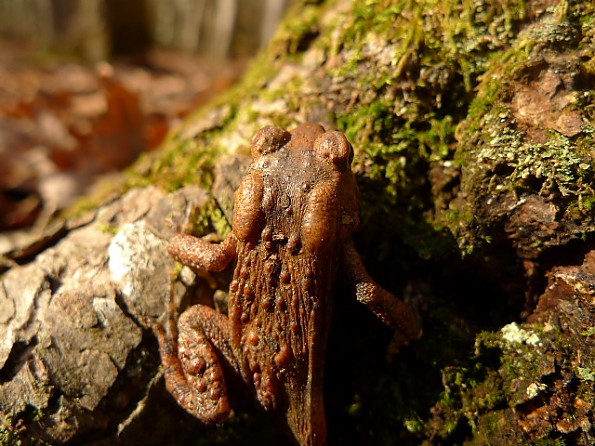 Along the way I get to meet this toad buddy and we hang out for awhile.  He's says he's damn happy to be out.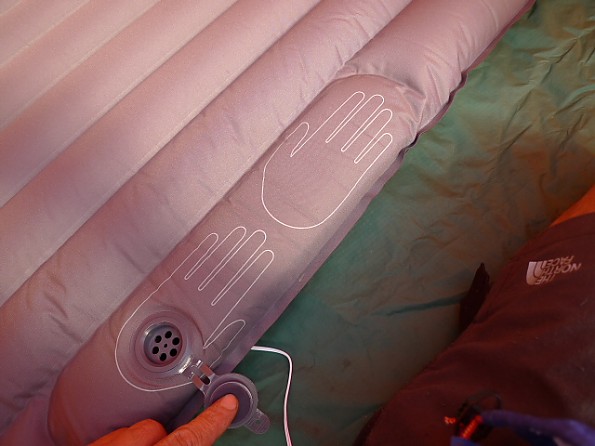 Here's a detail of the Exped pad with the built-in hand pump, much easier and better than the old stuff sack pump.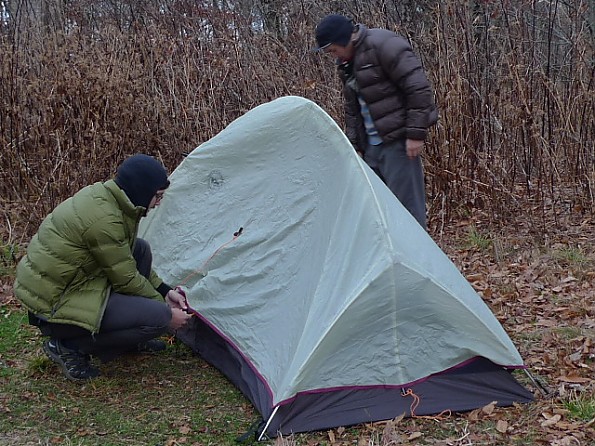 On Day 11 I climb up to Naked Ground and meet these two backpackers, Steven and John Paul, friendly guys with a Big Agnes tent.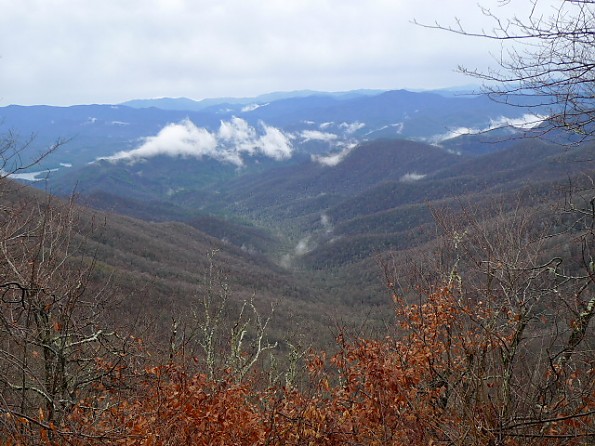 Naked Ground gap is around 5,000 feet and the valley I climbed up the day before is below.  It's the Little Santee watershed.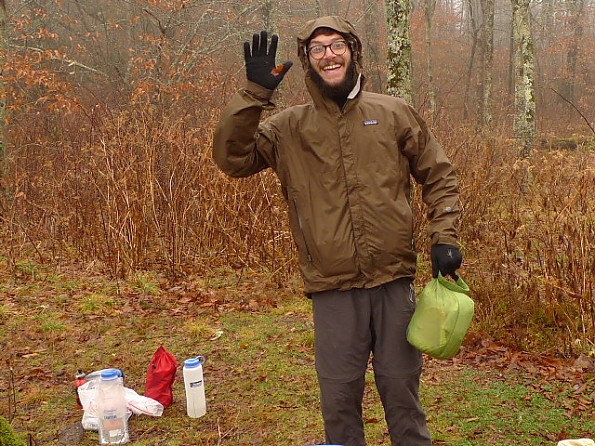 Here's a fotog of Steven getting ready to hang his food sac.  Friendly guy.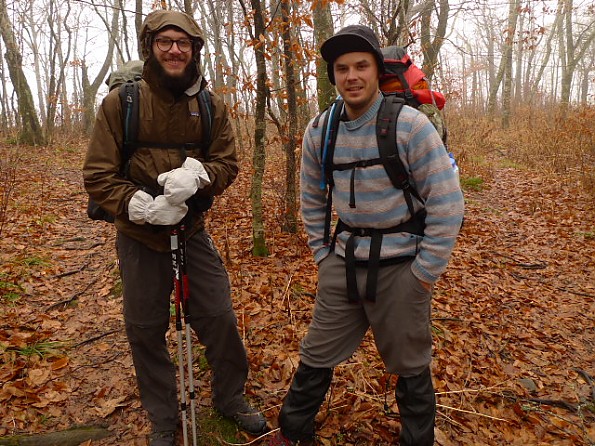 Steven and John Paul prepare to leave NG and descend the dreaded Nutbuster trail to Slickrock Creek.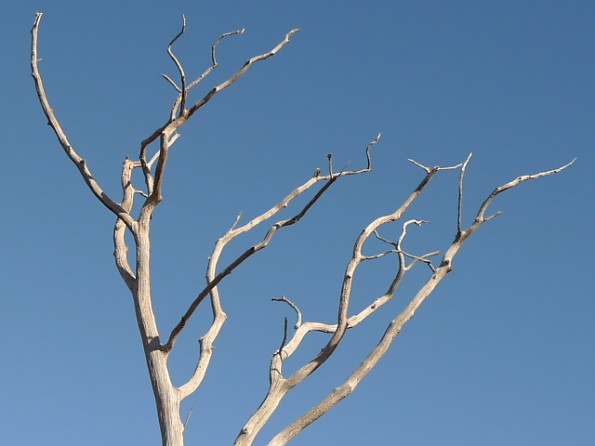 I leave Naked Ground and climb back up to the Bob where I take this shot of this high meadow tree.

Avid backpackers John and Sean on the Bob.  These guys knew me from Trail Journals and really uplifted my spirits.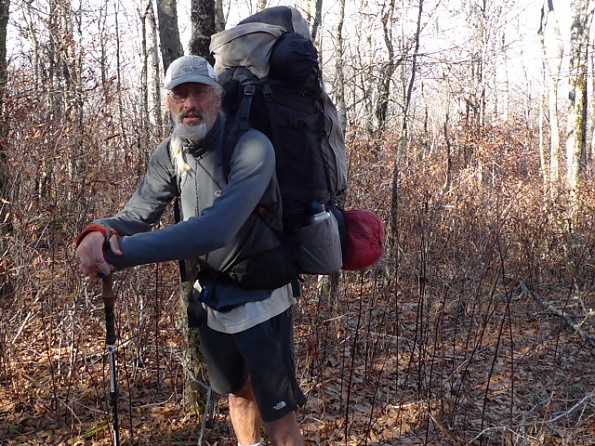 I finally leave the high ground and fall off the Bob and where am I headed?  Down the vicious Brush Mountain trail.  Everyone should hump the Brush Mt trail.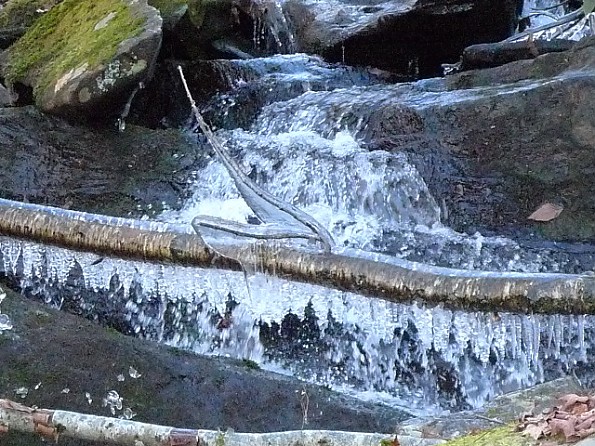 As I fall off the mountain I use a small portion of the BMT and cross Birch Creek where I check out the frozen water and the ice.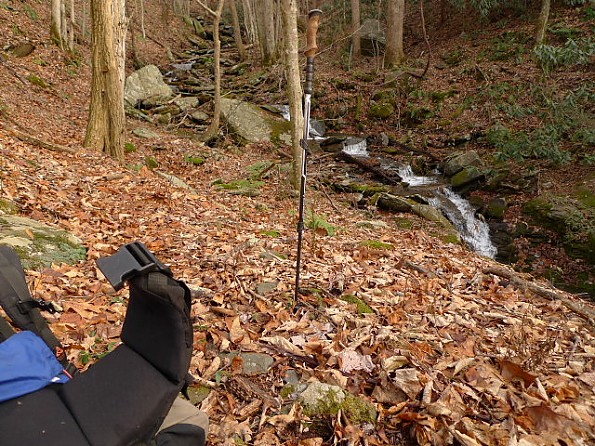 This is a rare shot of the middle of the Brush Mountain trail as it descends steeply along Brush Mt Creek, a remote place.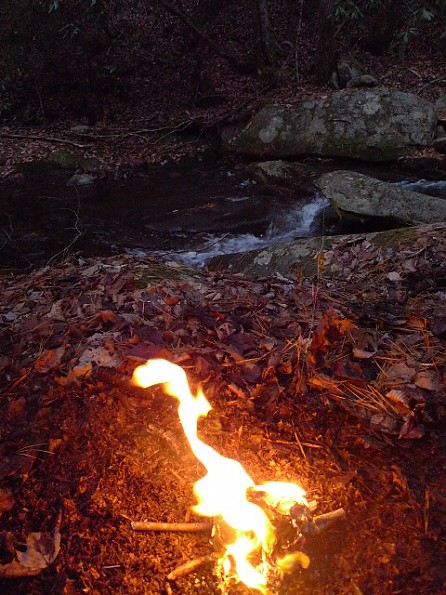 I find a campsite near the bottom of Brush Mt and burn all my trash from the last 14 days.  It looks like a cobra getting ready to strike!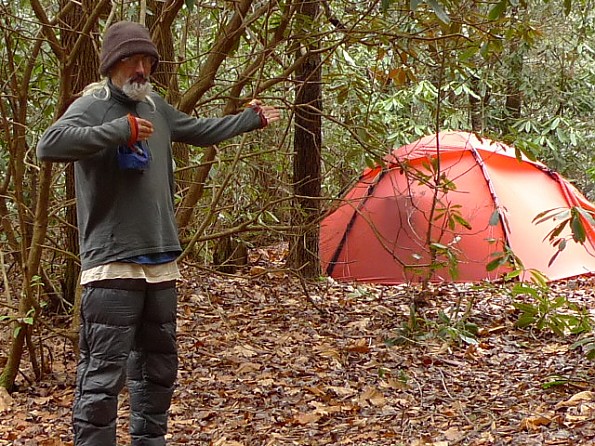 Brush Mountain trail hits the South Fork Citico where you have to cross and then you can set up anywhere.  Here I am at White Rock Camp.  I wander around and discover a neat lean-to nearby.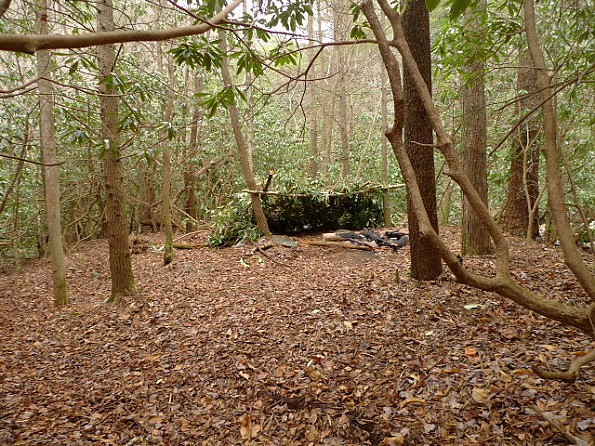 I notice a big firering and then this lean-to jumps out at me.  Somebody with a wannabe Tom Brown fixation comes out to play.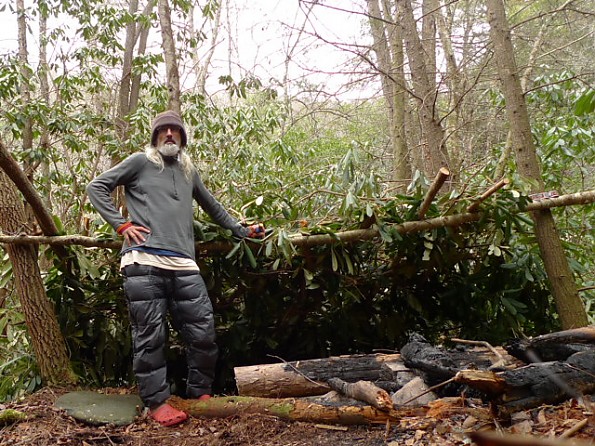 Somebody spent a lot of time killing small trees and rhodo to build this mainly nonfunctional thing.  They should of put a tarp down first and THEN the rhodo.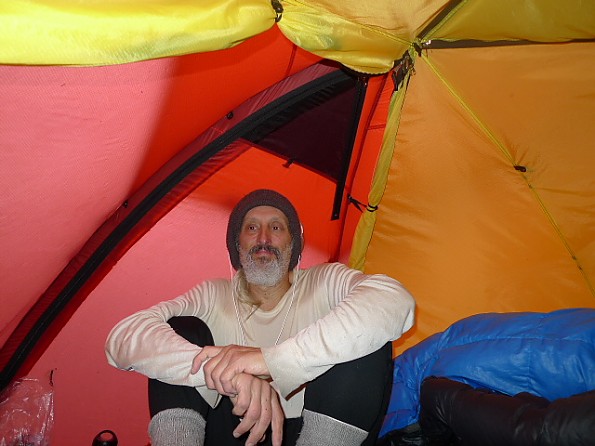 On Day 15 I get caught in a nasty rainstorm which floods the creeks and go up the Grassy Branch trail for my next day exit.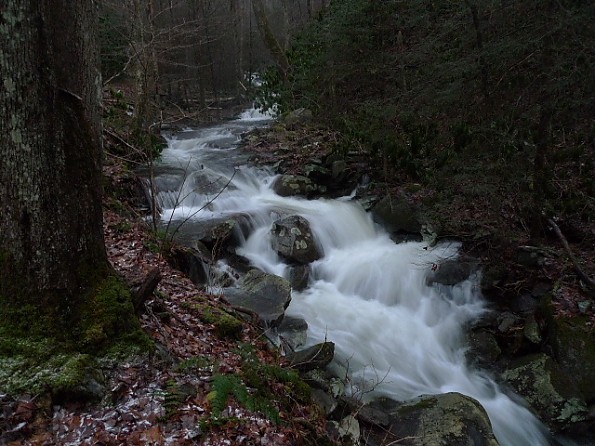 The usual placid Grassy Branch gets into flood stage.  My tent is right close to this fotog.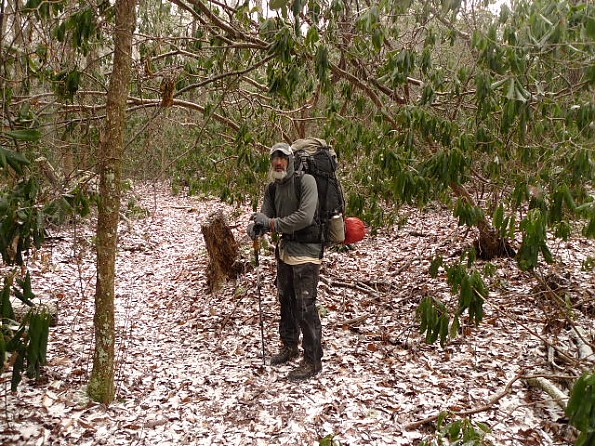 The next day, as usual after a strong rain, the air temps drop and it starts snowing.  Here I am on Day 16 and about ready to reach Grassy Gap and my exit.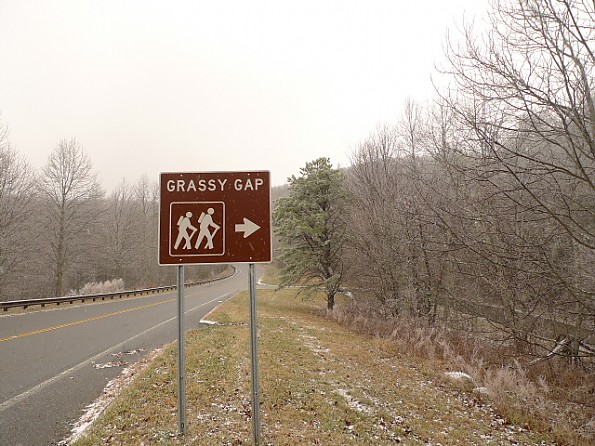 And so here's the last shot of the trip and it's where I wait for Little Mitten to come and pick me up.  So ends another backpacking trip, a trip with a few tears.