4:24 p.m. on February 24, 2011 (EST)
BigRed

TOP 10 REVIEWER
REVIEW CORPS
2,987 reviewer rep
946 forum posts
The weather forecasts called for Saturday rain all over southern California, even in Death Valley, but we figured if there was any place we could avoid rain it would be there. We were right. Somehow we managed to fit four people (me and my wife, daughter, and 84 year old father), a dog, camping gear, and food in or on our little Prius -- didn't do much for our gas mileage, but it handled the long climbs over the passes admirably.
As we came down into the valley from the east, our first stop was Zabriskie point, which looks out over some colorful badlands.


I put on my running shoes and took an easy 3 mile run down through Gower Gulch, a dry wash that bisects the badlands, while the others drove around to meet me.
It being a holiday weekend, the main campground at Furnace Creek, where there are actually trees, was full up, so we drove up to Stovepipe Wells where we found all the tent sites taken leaving only rocky spots between RVs with no tables. We somewhat pessimistically drove up to the Emigrant campground and were surprised to get the last one of the 10 sites there. It was cold and windy and there were no trees, but it had the not insubstantial charm of being absolutely FREE. And what a view!
The wind died during the night, and we had a leisurely breakfast then headed back down the hill to take in the Mesquite Flat sand dunes, which were already crawling with other visitors.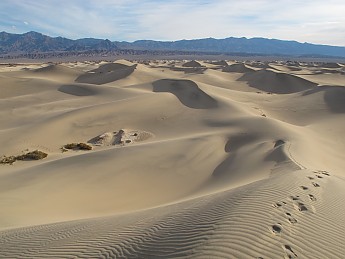 These were not only very beautiful, but it was also a whole lot of fun to run barefoot down the steep slip faces.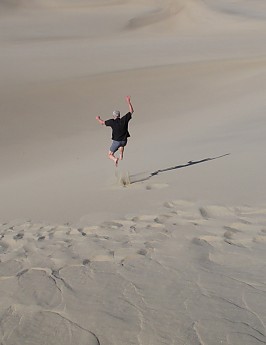 I ran barefoot back to the car in a long curving path through some less-traveled dunes. It was all so much fun that we returned earlier the next morning when I took a longer run, with lots of stops to take pictures (dunes, scenery, and wildlife tracks, and lots more photos from the trip in this photo gallery).
Then we headed to the salt pans, first the "Devil's Golf Course", except that I like to call it the Devil's Potato Field because it looks like a fresh-plowed field with a little bit of a salt problem.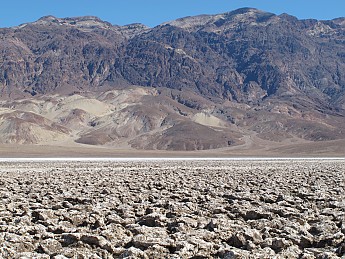 Then the big salt flats at Badwater, at -282 feet the lowest point in the western hemisphere, where we found these curious crystal growths.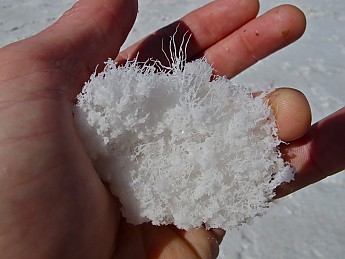 On the way back to camp we took a short hike through Marble Canyon, in the shade and cooling off fast by the time we got there.
After our second visit to the dunes on Monday morning, we drove back to Riverside by way of Lone Pine in the Owens Valley. The great eastern face of the Sierras was partly obscured by clouds, but we could see Whitney and a couple of other peaks poking through.
So -- another short car camping trip to a starkly beautiful place. I'd like to go back and spend more time, not least at the much bigger Eureka dunes and the mysterious Racetrack, where boulders wander around on a mudflat, leaving tracks behind them. Both those places are said to be accessible only with a high-clearance vehicle. I reckon a mountain bike would do the job, but just the jeep road part is over 20 miles each way, so it might be a good idea to have at least a tire repair kit and a lot of water. Winter seems to be a good time to go, although by March there should be more wildflowers in bloom.
(In case you missed the link above, more pictures here...)