6:48 p.m. on July 27, 2011 (EDT)
Patman

2,170 reviewer rep
2,143 forum posts
It's been so darn hot that I had yet to go hike in Big South Fork this year. The area is beautiful, with lightly used backcountry, but lacks any high elevation spots with which to cool off.
Despite the heat I decided to go for a quick trip (and anyway the hot hiking may be good training for an upcoming Grand Canyon trip which will surely be hot.)
Honey Creek is one of my most favorite hikes anywhere. The HC loop itself is only 5.6 miles but is a very slow and difficult trail. It's connected to the Burnt Mill loop (a 4. something mile loop) by a noncontiguous five mile section of the John Muir trail. So this entire hike can be done as a 19 mile day hike but I chose to do 1.5 miles on Friday night and the remaining 17.5 on Saturday.
So having Sunday obligations, I did my typical burst to the woods after a Friday at work.
I'm trying out two new things this trip: Aqua-Mira and a new Pentax WG1 outdoor camera.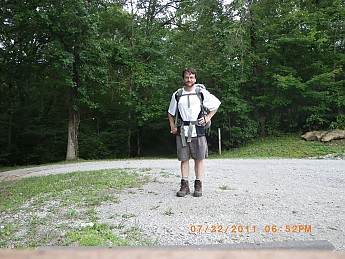 Not too late a start compared to some of my latest. I parked at the Burnt Mill Bridge parking area and started up the west side of the Burt Mill loop trail.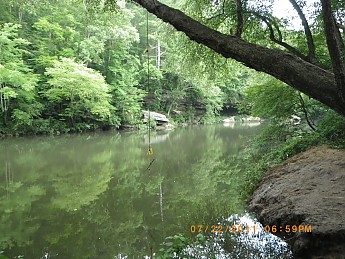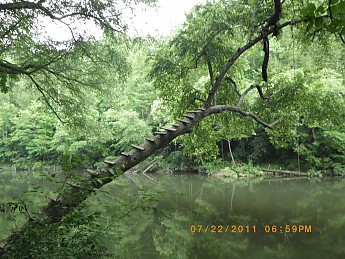 No one was swimming this Friday evening. Can it be too hot to swim? (that is the Clear Fork river).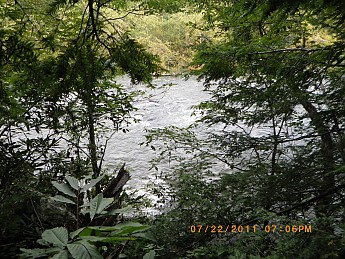 I've been hiking so many rocky trails lately I seemed to be flying on this relatively flat river side trail.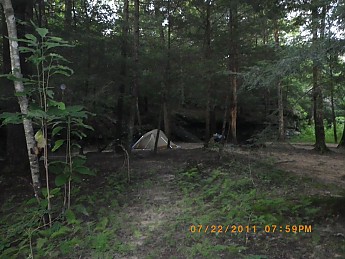 I stopped at the first large sandy campsite roughly 1.5 miles in. This site was a little trashy (being so close to the road that's always a possibility I suppose) but still a nice position. I had never hiked the John Muir-connector before and wasn't sure if there was a good place to camp on the route, so I stayed put.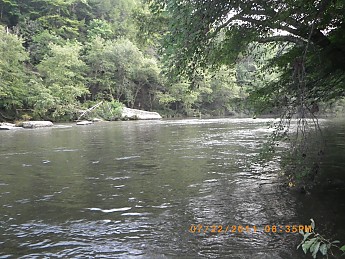 This is the view from the big sandy site.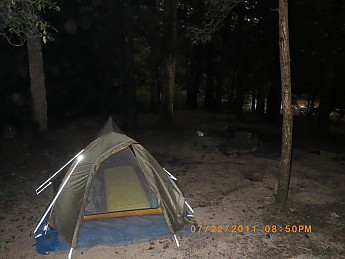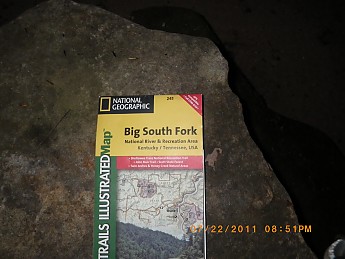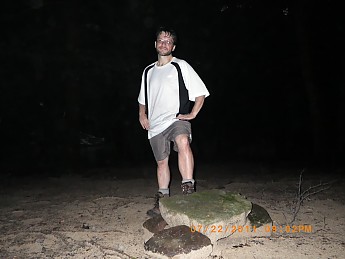 It was sweltering hot that night. I kicked around the area and tried to cool off as best as possible. I had only brought a synthetic tech blanket for sleeping and didn't even bother pulling it out of the stuff sack.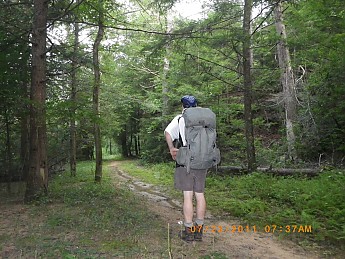 Packed up and ready to move the morning of Day 2.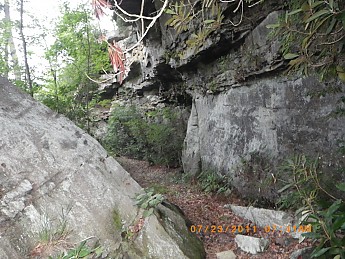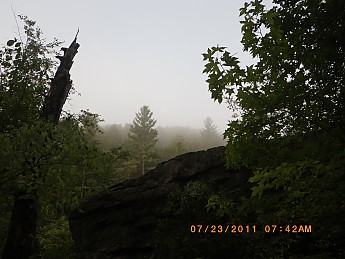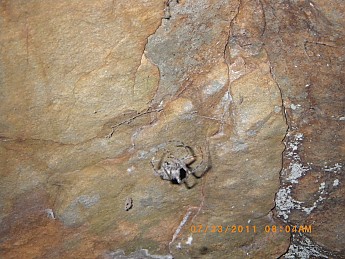 Pics along the Burnt Mill trail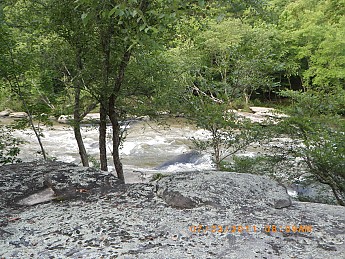 Nice white water. I rafted from near here to Leatherwood Ford a couple of years ago; it's fun in the spring when the CFS is higher….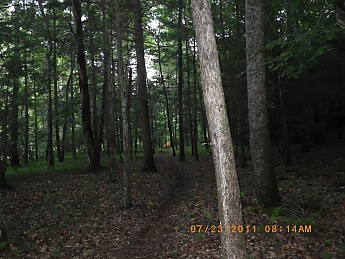 Well I did have a neighbor the night before after all (orange Marmot tent was about a mile upriver from me)….they had a big happy dog that barked loudly when it noticed me. Pretty sure I woke them up…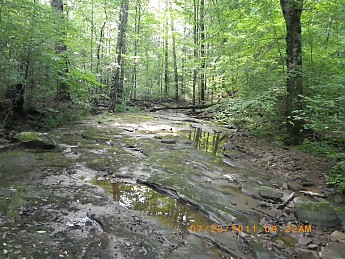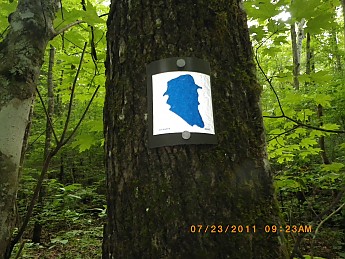 An old river bed on the John Muir Trail. John Muir had a blue head.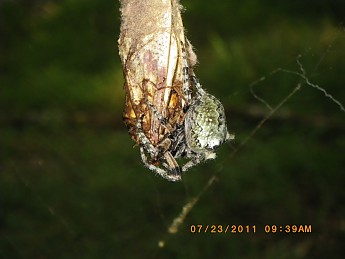 I like this spider. He got himself a nice fat cicada.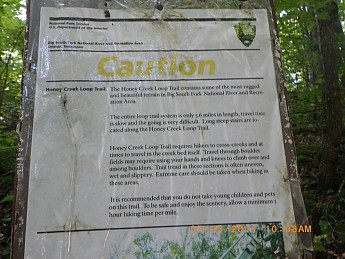 After losing the trail a couple of times I finally made it the Honey Creek loop! I like trails with caution signs.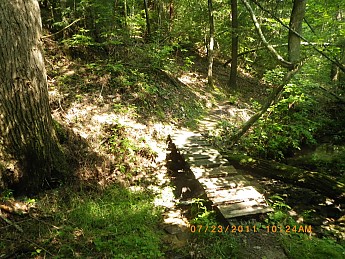 Starting the loop…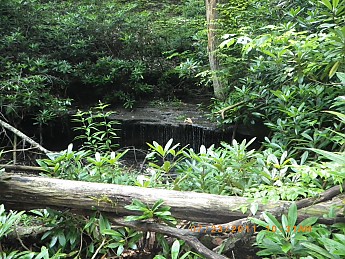 I like this little fall….got water and tried out Aqua-Mira for the first time.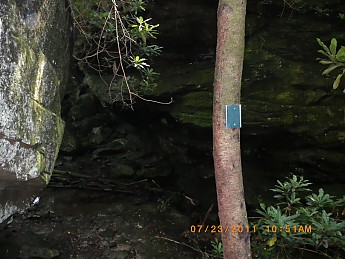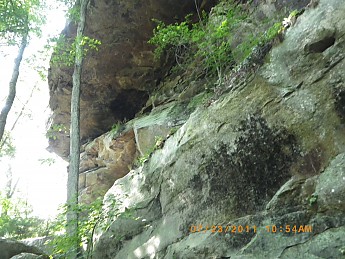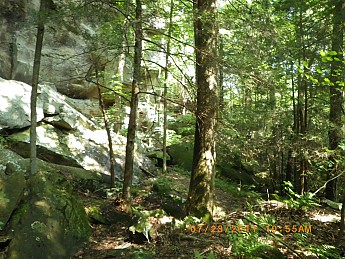 The trail passes through many geologically interesting areas…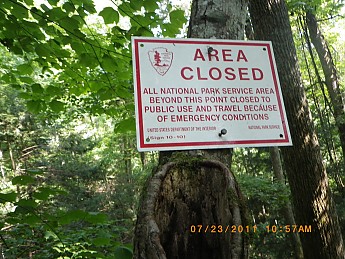 This sign has been up for at least five years that I know of. That's a long emergency.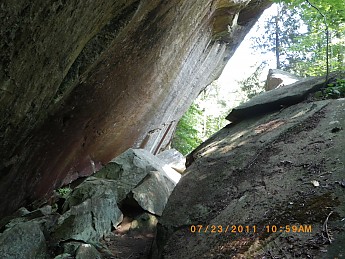 This section has large cliffs that I really couldn't capture well in photos.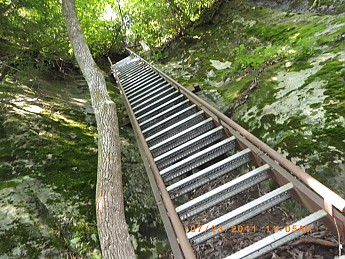 This ladder leads to a nice overlook but having many more miles to go that day I opted to forego the overlook climb….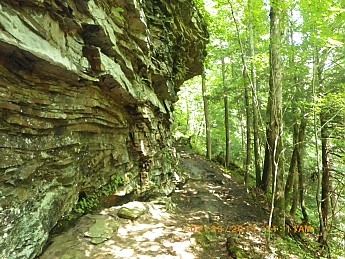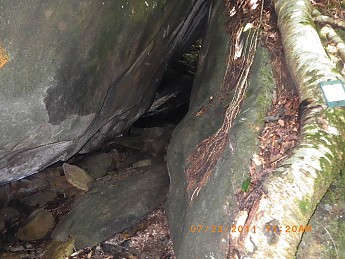 This trail is routed in a challenging way. There are sections where it's not obvious which way the trail goes (even despite the presence of trail markers at times). In this bottom picture the trail goes between the boulders.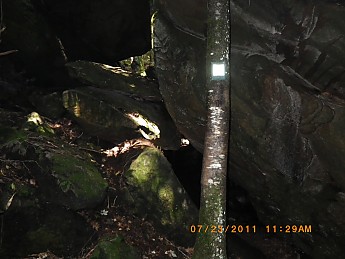 Lots of crawling on this route; I went to the right of the tree to squeeze through that crack.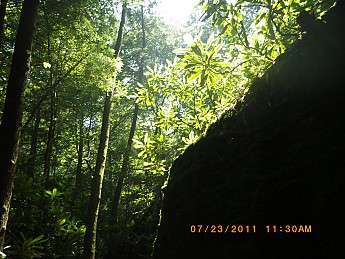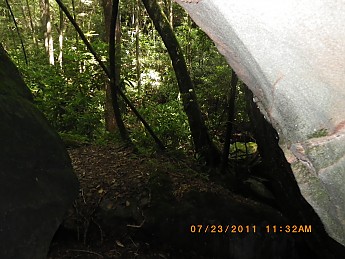 I just like these pics.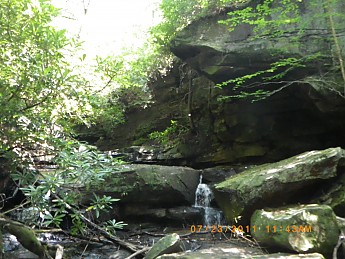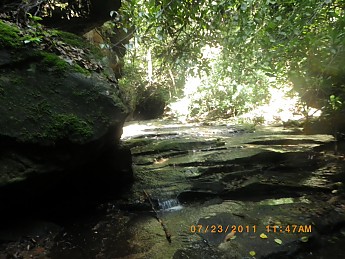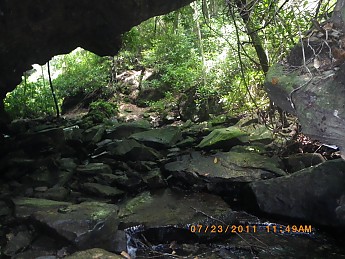 This is a challenging section where the trail actually follows a solid rock base creek bed (trekking in the creek). The challenge is to not slip and bust your rump.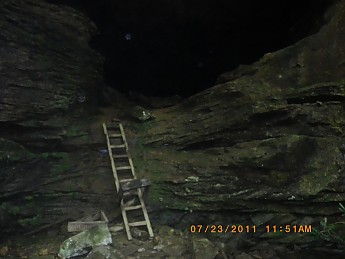 Made it to the first rock house; This picture didn't turn out well.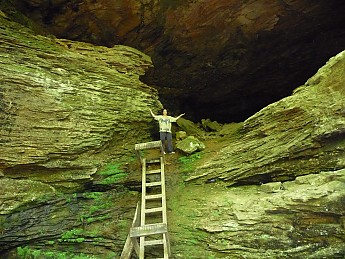 Here is a better picture from 2009 with the wife included for perspective. Hmmm, that ladder was in much better repair back then.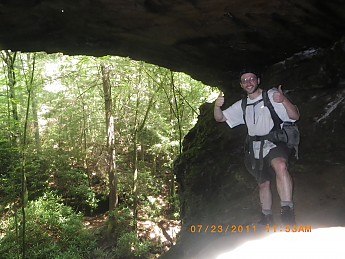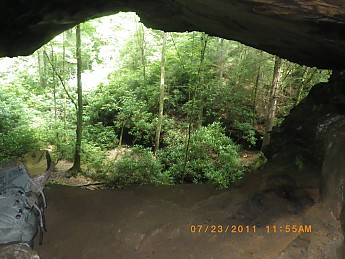 I went up in and it was a little cooler so I stopped for first lunch.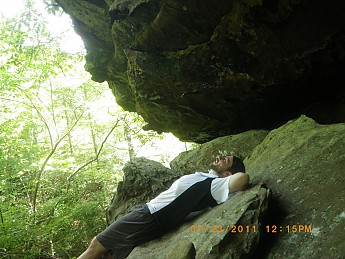 Relaxing on an outcropping accessed from the west side of the cave.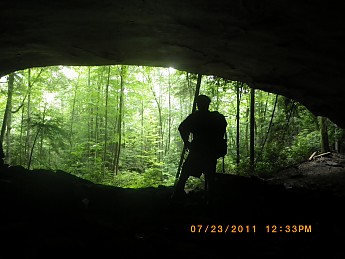 Another mile or so brought me tot the next big Rock House. This one is huge…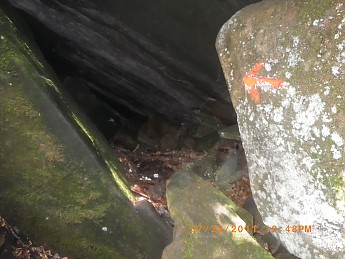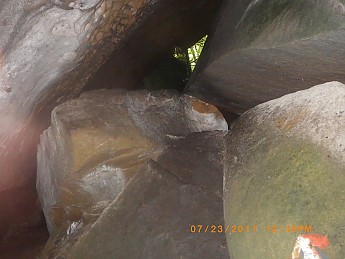 More excellent trail routing; You may to enlarge the picture to see the spray painted trail markers directing traffic in the boulders.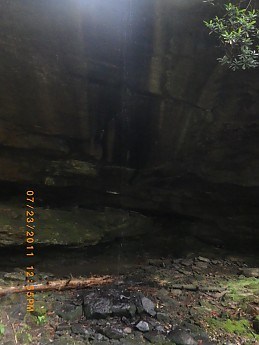 I stopped here at "Ice Castle Falls" (in winter that name is suitable) to take a mountain shower. It helped but man was it hot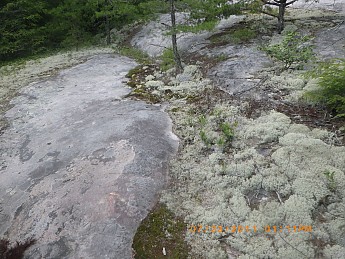 I like the lichen covered stone path.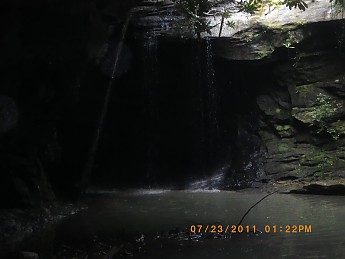 Took a side trail down to see Honey Creek Falls.
There was more to see on the loop but none of the pictures are any good. The new camera was less than satisfactory.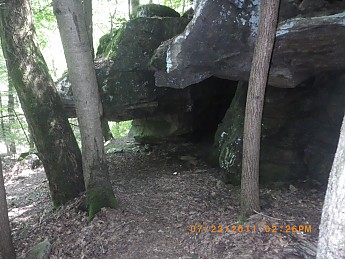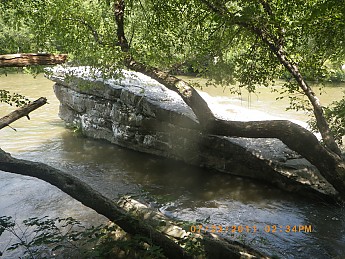 Skipping ahead, I had hiked back down the five mile John Muir connector and picked up the yet-to-be seen side of the Burnt Mill loop. I stopped and had second lunch on that big fine rock in the river.
Really a fine outing all-in-all.
This one was hard to capture in pictures but Honey Creek is a must-see day hike for anyone in the area; I highly recommend it.
Thanks for reading !