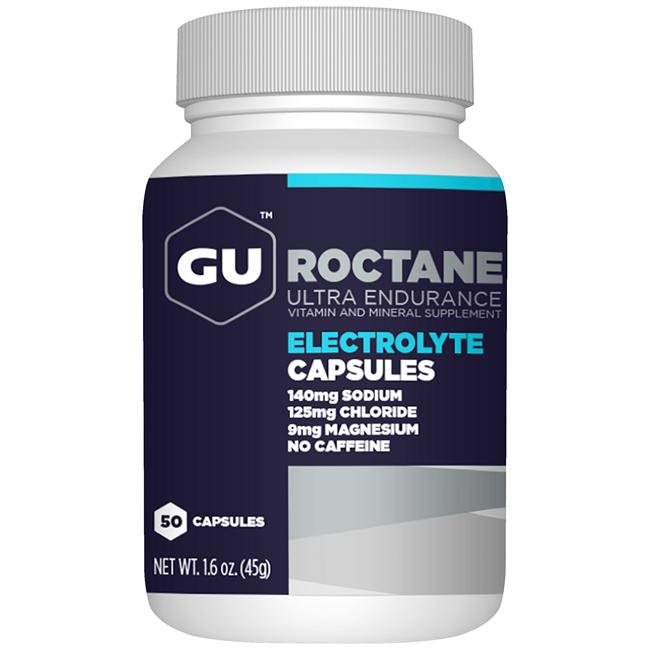 Retailers' Descriptions
Here's what other sites are saying:
Created to supplement additional electrolyte replacement needs, GU Roctane Electrolyte Capsules provide added electrolyte support on top of our hydration-drink products. Each bottle includes 50 capsules that are packed with electrolytes (sodium, magnesium, chloride) to aid in hydration by maintaining water balance and plasma volume. Vitamin D is important for calcium absorption and bone health. Vitamin B6 and ginger root may help to combat nausea. Take GU Roctane Electrolyte Capsules before, during, or after exercise to replenish electrolyte levels from any energy-demanding activity resulting in sweat loss.
- Summit Hut
GU Roctane Electrolyte Capsules. Electrolytes - There are several reasons to replace electrolytes during exercise. One is to help maintain plasma volume which is depleted by sweating, another to prevent hyponatremia from over-ingestion of fluids during exercise. Sodium is the main electrolyte lost in sweat, and along with magnesium and chloride are the only electrolytes with scientific data supporting the need for replacement during exercise. Vitamins - Vitamin D is important for calcium absorption and bone health. Low levels of vitamin D are associated with deceased exercise performance. Despite hours of training in the sun many athletes are still vitamin D deficient, making this vitamin an important supplement for health and performance. Vitamin B6 is a water-soluble vitamin, and has been shown to significantly decrease nausea and vomiting. Ginger- Ginger can decrease nausea and may boost the rate at which food can be emptied by the stomach. This may help prevent an upset stomach, bloating and nausea during hard training and racing. Not all athletes sweat at the same rates! A single serving Roctane Electrolyte Capsule offers just enough electrolytes to fill in the gaps from sweat loss. Only electrolytes with scientific evidence supporting supplementation during exercise have been included. Athletes don't need to supplement with every available electrolyte during exercise. Additionally, many athletes are not getting adequate amounts of vitamin D, despite a lot of time spent outdoors in the sun. Vitamin D in Roctane Electrolyte Capsules can help to supplement this deficiency. Vitamin B6 and ginger help to prevent nausea. Ginger can also enhance the rate at which stomach contents are emptied. Studies have shown a high prevalence, up to 90%, of gastrointestinal complaints during ultra endurance events. Vitamin D deficiency is common among athletes. In individuals that are vitamin D deficient, supplementation can improve exercise performance. Vitamin B6 can help combat that unwanted nausea when athletes push their limits to the max. A Roctane Electrolyte Capsule can be taken anytime you feel the need to replenish or prevent electrolyte losses due to exercise. It can be taken before, during, or after high intensity efforts. Some individuals need more electrolytes than others. The athletes that end each workout looking like a salt stick tend to need more electrolytes than others. These athletes can supplement the electrolytes that are already in GU Electrolyte Brew, Roctane Ultra Endurance and gels with 1-2 capsules/hour as needed to help replace electrolytes lost in sweat. Roctane Electrolyte Capsules contain multiple essential electrolyte which your body must replenish during endurance activities: sodium, magnesium and chloride. Roctane Electrolyte Capsules help to fill in the gaps with sweat loss that is unique to each athlete. Also included is Ginger Root which can help decrease nausea and Vitamin D and B6. Each bottle includes 100 capsules. For optimal results, it is recommended that you take 1-2 capsules per hour of activity depending on conditions, terrain, and one's physiology. Use in conjunction with Roctane Ultra endurance energy gel for added electrolyte supplementation. Always hydrate with 24-30 oz. of water per hour during training or racing. Ingredients: Sodium Citrate, Cellulose, Sodium Chloride, Ginger Root Powder, Magnesium Chloride, Magnesium Citrate, Magnesium Stearate, Pyridoxine Hydrochloride (vitamin B6), Cholcalciferol (Vitamin D).
- Tahoe Mountain Sports
Shop GU Roctane Electrolyte Capsules-123154 with Be The First To Review + Free Shipping over $49.
- CampSaver.com
Double down on the benefits of hydration by adding these Roctane electrolyte tablets to your regimen. They replace electrolytes lost during hot, sweaty workouts.
- REI
Specs
Price
Current Retail: $7.99
Historic Range: $0.95-$20.00

Reviews
Where to Buy
Help support this site by making your next gear purchase through one of the links above. Click a link, buy what you need, and the seller will contribute a portion of the purchase price to support Trailspace's independent gear reviews.