BackcountryViking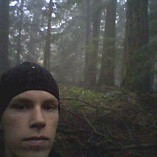 Full Name: private
male hiker
Victoria, BC
Email: private

Gear Reviews
BackcountryViking hasn't written any gear reviews.
About
Hey there Trailsplace,
been hiking since I was very young, and the outdoors have been and WILL ALWAYS BE a very important part of my life. One of my life rules is to learn and pass on the knowledge about the wild. friends have got me more into bush waking it and now I'm hooked, trying to find every epic lookout/summit, every mountain meadow and picture perfect "wild place" I can find. I love to just get back to the Canadien roots and just explore ever where. sounds like every other person who loves the outdoors but before I die I WILL climb Everest, but in order to do that I need some SERIOUS experience!
My "base camp" is in Victoria. Any books, Videos, courses or papers you guys think a fairly new guy should definitely know about, please don't hesitate to pass them alone, every tid-bit will be very appreciated. Also any good day/overnight/weekend hikes, summits please let me know.
Activities
Hiking
Backpacking
Snowshoeing
Trail running
Orienteering
Backcountry skiing

Canyoneering
Geocacheing
Canoeing
Mountain biking
Fishing