bheiser1
Reviewer of the Month: June 2013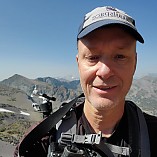 I am a:
hiker
Location
: Tuolumne County, CA
Occupation:
Sr. Program Manager and Photographer
Website:
https://billheiser.photo
Activities
Hiking
Backpacking
Snowshoeing

Canoeing
Kayaking
Photography

Vitals
| | |
| --- | --- |
| Height | 6' |
| Weight | 185# |
| Torso Length | 21-ish |
| Boot/Shoe Size | varies, usually 10.5-11 |
| Jacket/Shirt Size | Medium |
| Pant Size | 32-33W, 32L |
I am primarily a hiker, backpacker, and camper.  I work on weekdays, so most of my trips are 1-2 night weekenders, with occasional longer trips.  My longest backpacking trip so far (aside from spending a summer of mixed backpacking & roadside camping in my teens) has been a 30-day thru-hike of the John Muir Trail in 2012.
I've been doing these things since I was a kid when we went family camping and hiking in the White Mountains of New Hampshire.  There have been off-again, on-again periods of outdoorsy stuff throughout my adult life as a result of getting caught up in other life activities.  Over the past several years I've been making up for lost time - with the past two years being when I've done the most backpacking of any years throughout my life so far.  My travels these days are mostly in the Sierra Nevada of California.
In the coming years I look forward continuing this trend, and hope to find time to also do some canoeing, kayaking, and mountain biking.
Gear Reviews (25)
Forums
bheiser1 has started 155 forum threads (including 3 trip reports) and participated in 654 discussions. View all »