Christy Clark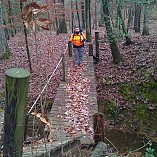 I am a:
49-year-old backpacker
Location
: Texas
Occupation:
Maintenance Administrator
Activities
"Newbie" Backpacker (started in September 2014). I love how relaxing it is to be outdoors. Although I complain when the hike is hard or the bugs are fierce and I don't sleep much at night because I spend my time worried about lions and tigers and bears...I truly enjoy seeing nature and spending time relaxing away from everything. I've never backpacked alone. I don't know that I am that brave. It's always been myself and my boyfriend and when possible his 2 boys.
Took on Big Bend for New Years 2015, I thought I might die on the climb up the Chisos Mountain but our experience was amazing and probably once in a lifetime.
Gear Reviews (9)
Forums
Christy Clark has started 1 forum thread View all »