Eric Owens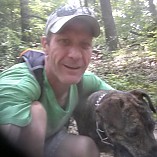 180 reviewer rep
5 forum posts
joined Sep 12, 2014


I am a:
52-year-old backpacker
Location
: OFallon, MO
Occupation:
System Developer/IT
Website:
http://about.me/myd0j0
Activities
Hiking
Backpacking

Canoeing
Kayaking

Vitals
| | |
| --- | --- |
| Height | 5'11" |
| Weight | 160lbs |
| Boot/Shoe Size | 9.5US |
| Jacket/Shirt Size | M |
| Pant Size | 32/32 |
After spending some time in the U.S. Navy, I now spend my week days as a system developer for an outsourcing account at AT&T. I work with MS SQL Server and VB.Net to deliver a web based solution that manages the account's day to day activities for project managers and network engineers. I built the system from the ground up.
The rest of my life is spent as a father of 3 children, one grown and having her own and 2 younger that are coming into their own as outstanding young people.
I've spent my whole life camping. Camper camping. Tent camping. Lawn chair camping (OK, maybe that had more to do with the beverage of choice at the time). I've been hiking for my whole adult life and just in the last year have taken up backpacking. And have fallen in love. I've been doing lots of small weekend trips and this past July did a week on the Ozark Trail. So far, I consider this preparation for a month long trip along the PCT, CDT, or AT. Perhaps even a South American trip to Patagonia.
Happy trails everyone and remember, Leave No Trace! Our kids can't enjoy it if we don't take care of it!
Gear Reviews (4)
Forums
Eric Owens has started 2 forum threads and participated in 3 discussions. View all »