Naresh Kumar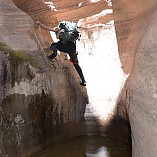 Full Name: Naresh Kumar
man
United States
Affiliations: Led the Outdoor Retailer Summer Market Cruiser Ride - 2011 & 2012
About
I'm down for any/all adventure-related shenanigans. "Adventure" loosely defined. I'm not by any means a "thrill-seeker," but if thrill's got game, we are hooking up for sure.
I know Utah better than I know any other place. Have spent a good amount of time in some amazing wilderness areas: spring to winter; north to south.
Currently living in Ely, MN and working with Outward Bound!
Activities
Hiking
Backpacking
Snowshoeing
Trail running
Mountaineering
Ice climbing

Rock climbing
Canyoneering
Canoeing
Kayaking
Mountain biking
Rafting

Vitals
| | |
| --- | --- |
| Height | 175 cm |
| Weight | 66 kg |
| Torso Length | average |
| Boot/Shoe Size | 10.5 US |
| Jacket/Shirt Size | M |
| Pant Size | 30/32 |