Ray M.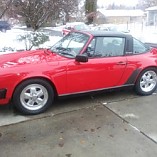 Full Name: Ray M.
man
United States
Occupation: Retired Deputy Sheriff
Email: private

About
I live in the Salmo-Priest Wilderness area where I do most of my outdoor camping and hiking. I'm an old scout that used to hike and camp every week. Now that I'm retired, I go into the woods every single day.  I taught wilderness survival to scouts and continue to practice and use survival skills in the woods.
I spend many hours reading and researching about the Grizzly Bear. I'm working on a few projects to help make camping safer in Grizz country(where I live now).  
Activities
Hiking
Backpacking
Snowshoeing
Orienteering
Canoeing

Kayaking
Mountain biking
Fishing
Ham radio
Banjo pickin