Zac Martin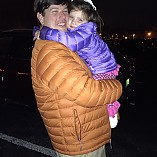 I am a:
48-year-old hiker
Location
: Birmingham , AL
Occupation:
Operations Manager
Affiliations: I have worked in outdoor retail management and operations for over five years as well as a lifetime of outdoor experience.
Activities
Hiking
Backpacking

Photography

Vitals
| | |
| --- | --- |
| Height | 6'4" |
| Weight | 240 |
| Boot/Shoe Size | 12 |
I've always been more comfortable outside than in. Maybe I'm just an old soul who isn't comfortable in modern urbanity. I live for my time outside and am fortunate enough to make my living in the outdoor industry. I'm a happy father and husband who is actively doing my part to educate and endear my part of the next generation to the stewardship and joy of our little place in the universe. 
Gear Reviews (1)