TrailFlex TF500 Harness System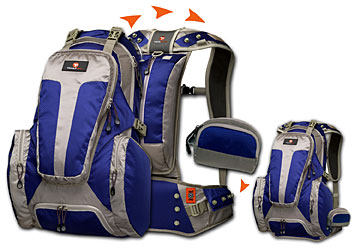 Do you fly fish one day? Hike the next? Bird watch another? How would you like to have one backpack in your overcrowded gear closet that adapts to each of your diverse outdoor activities? Now you can customize a pack that adapts to whatever you've got on the schedule, from day trips to multi-day backcountry outings.
With interchangeable components and an adjustable capacity, the TrailFlex TF500 Harness System allows you to attach and reconfigure several backpack and waist pack options and more than 20 custom-tailored gear pouches (including a GPS/radio pouch, camera pouch, binocular holder, organizer pockets, and medical kits) onto one torso harness.
It all starts with the TrailFlex TF500 Harness, which comes in two torso lengths (men's medium and long; a women's version is expected sometime in 2007) and has adjustable lumbar, shoulder, and sternum straps, and an integrated one-liter hydration pouch. You then can choose to add on either of two backpack versions—the top-loading Longitude or the panel-loading Latitude, both rated to hold up to 50 pounds—and any of a variety of gear pouches and accessories. After choosing where you'd like to attach particular pouches—using multiple snap-on attachment points on either the shoulder straps or hip belt—each pouch can be positioned to eight different angles for your own personal access preference.
In addition to outdoor-backpacking accessory components (available February of 2007), TrailFlex will offer fly fishing- (February of 2007) and hunting-specific components (available now), all of which work interchangeably with any TrailFlex Harness System, but sport different color schemes. That means you can add a fly fishing chest pack and organizer for mornings on the river, a binocular pouch and waist pack for bird watching, a GPS pouch and bottle holders for day hikes, or even a turkey seat and field organizer for hunting, all onto the same backpack. Mountain biking and dog training options will appear in the spring of 2007 followed by tactical and law enforcement versions in fall of 2007.
TF500 Harness System (harness with 1-liter hydration pouch)
Medium Torso (for 15-19") Weight: 1.8 lbs.
Long Torso (for 19-23") Weight: 2.2 lbs.
MSRP: $79.95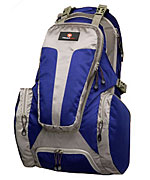 Latitude Backpack (panel-loading)
Capacity: 3,204 cubic inches
Weight: 1.6 pounds
MSRP: $59.95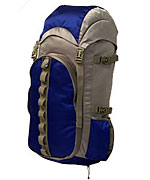 Longitude Backpack (top-loading)
Capacity: 3,857 cubic inches
Weight: 2.1 pounds
MSRP: $59.95
Modular gear pouches (sold separately) start at $7 and increase the pack's capacity and weight.