Celebrate National Trails Day on June 1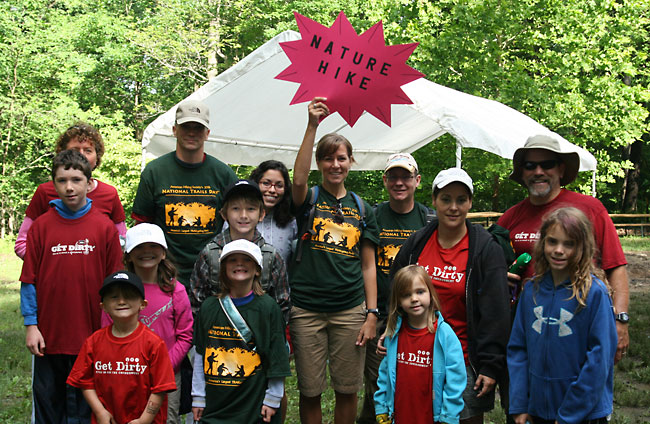 Saturday, June 1, marks American Hiking Society's 21st annual celebration of National Trails Day, a day devoted to appreciating America's trails and those hard working individuals who build and maintain them. In honor of this day, thousands of public events will be hosted nationwide, and tens of thousands of trail enthusiasts will be outside as they hike, peddle, and paddle through some of America's most beautiful areas.
With the total number of National Trails Day recreation activities increasing year after year, finding one near you has never been easier.
Events have a huge depth of variety, ranging from leisurely guided hikes to trail building, horseback riding, kayaking and more. Regardless of whether you consider yourself a hiker, mountain biker, equestrian, bird-watcher, or simple nature enthusiast, there is bound to be an event to fit your needs.
Many events offer family options, so even the littlest ones can participate.
Find the nearest National Trails Day event by visiting AmericanHiking.org and clicking on National Trails Day.
For more than two decades, National Trails Day has provided an opportunity for all Americans to get outside and reacquaint themselves with recreation trails and the joy of healthy living. It has served as an inspiration to learn more about the nature that surrounds us.
Join American Hiking Society and thousands of others on Saturday, June 1, for National Trails Day as we come together to explore, learn about, and celebrate America's trails.

About American Hiking Society's National Trails Day
American Hiking Society's National Trails Day is a nationally recognized trail awareness program that occurs annually on the first Saturday of June and inspires the public to discover, learn about, and celebrate trails while participating in outdoor activities, clinics, and trail stewardship projects. National Trails Day is a registered trademark of American Hiking Society.

About American Hiking Society
Founded in 1976, American Hiking Society is the only national, recreation-based nonprofit organization dedicated to promoting and protecting America's hiking trails, their surrounding natural areas and the hiking experience. It's also one of the outdoor and environmental nonprofit organizations that Trailspace supports. To learn more about American Hiking Society and its mission and programs, visit www.AmericanHiking.org or call (301) 565-6704.