Outdoor Retailer Day Four: Heat-It Up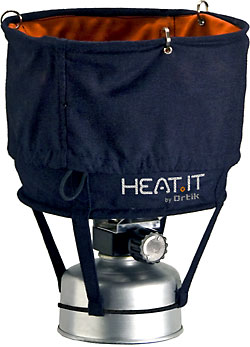 Heat-It is a new 138-gram (4.86 ounces) "all weather cooking system" that you use with your current backcountry stove and cookware setup to increase energy efficiency (up to 40% in non-windy conditions, even more in cold and windy conditions).
Made from a fire retardant textile, the Heat-It looks like a soft cook pot, and can be used on the ground or as a hanging system for big wall climbing or inside a tent. It has a drawstring closure on top for extra wind protection or to close the top making it a mountain oven for cooking bread or cakes. It'll also store your stove and cookware in your pack for transport.
The company, Ortik from Portugal, tested and developed the system over six years and introduced it abroad last year. They claim the Heat-It system will let you boil 12 liters of water in 7 knots of wind with 100 grams of fuel (4.86 oz, $65).