Outdoor Retailer: Eureka Chrysalis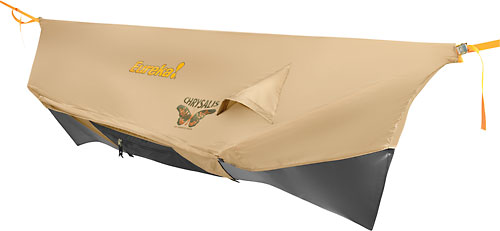 Hammocks have long existed on the fringes of the backpacking shelter market. Served by just a few dedicated niche manufacturers – Hennessey, Clark, Hammock Bliss, Eagles' Nest Outfitters – hammock campers may be surprised by source of the latest backpacking hammock: mainstream tent-maker Eureka.
The Eureka Chrysalis is a 4 lb. 15 oz., $200 hammock that the manufacturer says provides the "comfort of a hammock with the functionality of a solo tent." That functionality is achieved (at significant weight penalty) by the inclusion of two spreader bars, which together with a wraparound rain fly give the Chrysalis its unique, boxy look, which indeed resembles a somewhat squared-off version of a butterfly chrysalis.

At six feet tall, I found the Chrysalis to be just a bit short – lying down fully, I had to position either my head or feet below one of the spreaders. While there's plenty of clearance to do so, I could foresee eventually knocking my noggin on the bar when trying to sit up. Otherwise, the interior of the hammock feels fairly roomy, as the spreader bars prevent the sides of the hammock from squeezing in, maintaining a relatively flat sleeping surface. There is plenty of interior storage space for miscellaneous gear. Indeed, outboard of the spreader bags the floor sags to form a built-in gear loft. There are mesh-screened entrances on both sides of the hammock, which also provide ventilation, along with a pair of higher vents in the head area.
The Chrysalis will be available in spring 2009 with an MSRP of $200.