Outdoor Retailer: CamelBak Flow Meter
CamelBak introduced the Flow Meter, a digital water gauge that measures how much water you drink and how much is left in your reservoir. Now, you'll never have to wonder, "how much water do I have left in there?" And you won't need to take your pack off to find out.
The Flow Meter is programmable to monitor fluid consumption for your personal hydration needs. It calculates the estimated time until your reservoir will be empty, so you can plan future water refills. It can be integrated with any CamelBak hydration reservoir.
CamelBak's Jon Austen, director of product management, gave us a demonstration of the Flow Meter.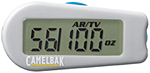 MSRP: $30

Available: October 15, 2009