Outdoor Retailer: Day Four Round-Up
Today we bring you a smorgasbord of gear from Outdoor Retailer, including sporks for one and all, mini 'biners that are the real deal, climbing dogs, and uniquely-shaped ice axes.
Apparently it was a climbing-focused day.
Light My Fire Sporks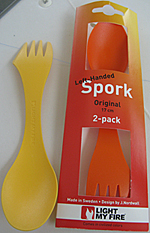 Light My Fire's bright plastic Sporks will soon be available for little kids and (drum roll…) lefties! The Left-Handed Spork will be sold in two-packs for $6. The Baby Spork will be sold in three-packs (or triplets) for $6.
The new spoon-fork-knife combos are expected to be available in October 2009.

Metolius Full Strength Mini Carabiner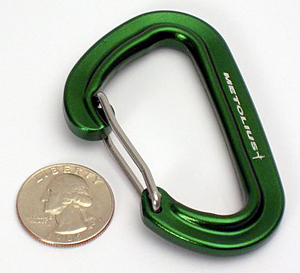 Designed for all climbing applications, the FS Mini Biner is a hot-forged, keychain-sized carabiner with full UIAA-rated strength. Weighing just under 23 grams, the fully functioning FS Mini lets climbers shed pounds off their rack without sacrificing performance. These hot forged rigs are ideal for quickdraws, cam and nut placements, or for attaching equipment, and the wire gate enables ease of use for clipping.
Available spring 2010, along with the FS Mini Wire-Gate Quickdraw.
Weight: 0.82 oz (23 g)
Strength: 22 kN / 7 kN / 8 kN (5175 lbf)
Individually tested to 50% of rated strength
CE/UIAA certified
MSRP: $7.50 (single), $43.50 (6-pack)
Ruff Wear DoubleBack Harness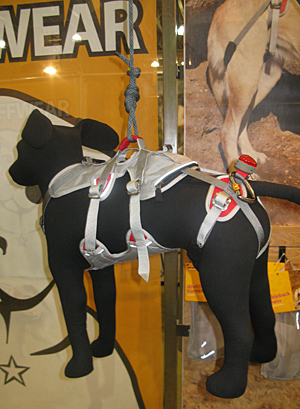 Because sometimes dogs need to rappel too, now there's the DoubleBack Harness designed for climbing, mountaineering, canyoneering, and lifting and lowering your dog in exposed areas.
According to Ruff Wear, makers of dog gear, a number of climbers and mountaineers wanted to use other Ruff Wear safety harnesses, such as the Web Master, as actual climbing harnesses for their dogs. But the Web Master was originally designed to to lift search-and-rescue dogs up and over obstacles, not as a genuine climbing harness.
As Ruff Wear got more and more inquiries they became concerned about the dogs' safety, and ultimately developed the DoubleBack Harness, a true, strength-rated climbing harness for dogs.
The adjustable harness is named for its double-back, two-tone webbing system that helps verify proper use. The back leggings fold up and stuff out of the way into a pocket for the approach. A blinking red safety light is located by the tail.
The Doubleback is available in sizes XXS to XL, sized by girth.
See a picture of the harness being tested on Ruff Wear's dogblog.
Available October 1, 2009
MSRP: $124.95
CAMP Mountaineering Axes
The Italian climbing company CAMP is 120 years old and still family-owned. The great grandfathers of CAMP's current management created the first axes and crampons for the Italian military. For 2010, CAMP is offering three new mountaineering axes. The X-Class, X-Tour, and the lightweight X-Lite (11.6 oz), all have a unique head shape to optimally position the hand over the shaft.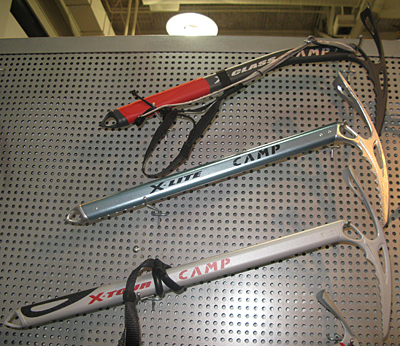 X-Class for alpinism and general mountaineering
Weight: 18.9 oz (535 g)
Lengths (cm): 50, 57, 65, 73
Adjustable leash

X-Lite for ski mountaineering, high altitude climbing, and adventure racing
Weight: 11.6 oz (328 g)
Lengths (cm): 50, 55, 60
Touring leash

X-Tour for general mountaineering
Weight: 18.3 oz (520 g)
Lengths (cm): 50, 57, 65, 73
Slider leash