Lost: On a Mountain in Maine
This blog is neither about: 1) the culmination of one of the most talked about TV shows ever, or 2) a classic survival story about a young boy missing on Mount Katahdin. It's about a hiking hat. A hiking hat lost on a trail in Maine.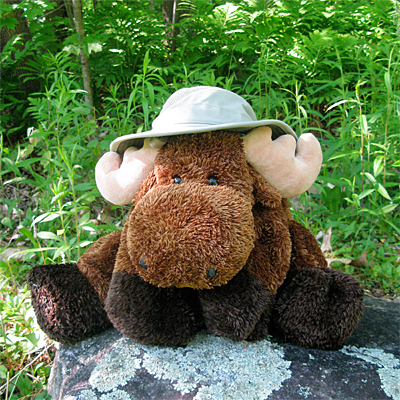 I am completely responsible for losing said hat on Thursday (if you're curious, it was a Tilley with Insect Shield I was testing). I wore it while hiking up Mount Blue, but after my kid, from her perch in the child carrier, yanked it off my head for the umpteenth time, waved it in my sweaty face, then dropped it, I lashed it onto the kid carrier, where it stayed securely all the way up the mountain and some unknown distance partway down the mountain. Sadly, once we returned to the trailhead, it was gone.
We ran back up the trail a ways; no hat. I came back and hiked the trail again today; no hat. I called the State Park office; no hat (though the lady I spoke with sounded genuinely sorry for me; I reassured her that I would be okay).
While it was a very nice hat (and I can report that the Insect Shield does work!), it was not an item of great personal value, nor was it irreplaceable (if it had been my grubby Trailspace hat, that would have been another story). It's my own fault for losing it. What bugs me is that someone came across a practically-brand-new hat on the trail, a hat that was not theirs, and decided to keep it.
The rules for dealing with lost items on the trail seem to be unwritten and situations can be highly variable and require a judgment call. So, here are my own basic suggestions for obviously lost gear:
For most non-valuables, like hats, lone gloves, a water bottle, I'd either leave them at the trailhead (assuming you know from what trailhead the owner came) or on the trail or a trail junction in a prominent spot, near where you found them, in the hope that the owner will return.
For valuables, like a camera, GPS, or wallet, I would take them and either contact the person directly (easy with a wallet or labeled camera) or hand them in to park authorities to do so, if applicable. If the owner was unidentified, I'd leave a note at the trailhead and with whatever organization oversees the trail to find the owner and hopefully return the item.
You should use common sense and some judgment. No one needs to pursue a wild goose chase to reunite a fellow hiker and his or her lip balm. But consider what basic level of action (or non-action, i.e. don't steal) that you'd want someone to take if the situation was reversed. At the least, give a fellow hiker a chance of getting back their own gear.
If you're not sure whether something was lost or left on purpose, leave it there, in case it was stashed for future use. If you're unsure and concerned there might be a lost hiker, you can always notify authorities.
Oh yeah, and label any gear you'd like returned to you (this only works if honest hikers find it first).
This is the first piece of gear I can recall personally losing (we won't count the ice axe a friend left in the snow on the top of Mount Washington). So I've had a good run. But, I can't help thinking that there is someone out there hiking around with a size-7 3/8 hiking hat that doesn't belong to him or her. I'd like to imagine it's a raccoon or moose enjoying a reprieve from Maine's black flies and mosquitoes.