Celebrate Winter in July: Backcountry ski/ride gear and gear care/repair products added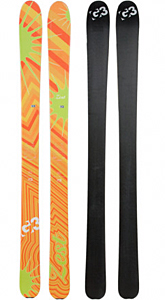 It may be 90 degrees and up in parts of the Northern Hemisphere, but some of us think about skiing or riding all year long. We're pretty sure we're not the only ones.
To support that passion for the white stuff, we've recently added nearly 500 backcountry skiing and riding products to Trailspace's Gear Guide, including AT, telemark, and nordic touring skis, boots, and bindings, ski poles and climbing skins, plus splitboards and helmets. Now you can write user reviews and share and research information on backcountry winter gear, regardless of the current snow conditions.
(In case you missed it, Winter Gear reviews and information already covered snowshoes, avy gear, pulks, saws, and shovels.)
So, if you're ready to explore a new ski or ride set-up for next winter, or if you're lucky enough to be out there somewhere (perhaps very far south) still skiing, check out the Backcountry Ski and Ride Gear in the Gear Guide.
On top of that, gear care and maintenance is a year-round necessity. (We devote an entire community forum to the topic.) Now you can research and review nearly 200 cleaners and treatments, repair and patch kits, and seam sealers for your gear, footwear, and apparel.