Denali Winter Wilderness Gear: Furry and Fleet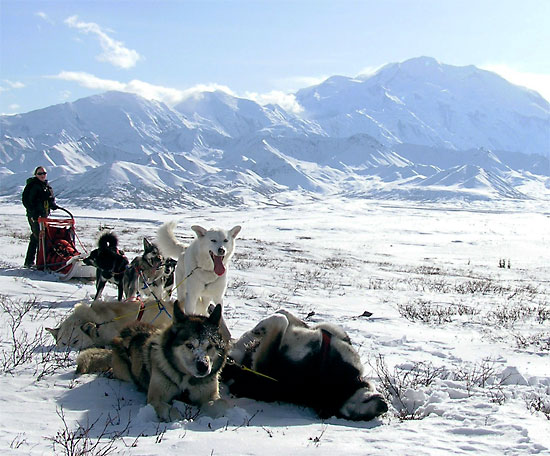 Denali National Park and Preserve's original two million acres are designated as wilderness area — no motorized equipment or mechanized transport allowed. That's a boon for backcountry enthusiasts, but come winter it's also a lot of frozen land for National Park Service (NPS) rangers to patrol.
Denali's first ranger, Harry Karstens, knew how to equip himself to cover the snowy, icy miles as he fought wildlife poaching back in 1921. Karstens founded a park kennel to ensure a reliable supply of healthy, well-trained, working sled dogs.
Ninety years later, the Denali kennel has about 30 Alaskan huskies and remains the only working kennel in an American national park.
Denali huskies continue to help NPS workers haul supplies, contact winter visitors, provide information on trail conditions, offer assistance, monitor use in a low-impact style, transport wildlife researchers, and help deter illegal activities like poaching or snow machines entering the wilderness area.
Sled-dog patrols last anywhere from a single day to up to six weeks. Rangers log about 3,000 patrol miles each year throughout the park's interior on the back of sleds pulled by NPS huskies.
Denali dogs have hauled thousands of pounds of materials and supplies for cabin building, restoration projects, and trail construction efforts. And trails made by sled-dog patrols are used by winter recreationists who want to explore Denali on skis, snowshoes, or with their own dog teams.
According to the Denali Kennels site, sled dogs have an uncanny ability to find a patrol cabin during a whiteout, and to feel a snow- or wind-obscured trail beneath their paws on winter patrols. They also don't run out of gas or have parts that freeze up. And, they help preserve a natural, quieter soundscape.
In summer, the kennel is the park's most popular interpretive program.
The sled dogs retire at the age of 9 and are adopted by active, outdoorsy families and individuals, who live in colder environments. (Check out the application online, complete with references.)
If you can't make it to Alaska to see Denali's working sled dogs in action or to ski or snowshoe their wilderness trails, you can get a peek at the newest kennel additions, Koven, Carpe, and Tatum. The three pups, now six weeks old, are named after Carpe Ridge peaks and can be seen on the kennel's live Puppy Web Cam.
Learn more about Denali's individual sled dogs, the kennel, and its history, or follow the Denali Kennels Blog.