Can a "Hunger Games" effect get more people outdoors?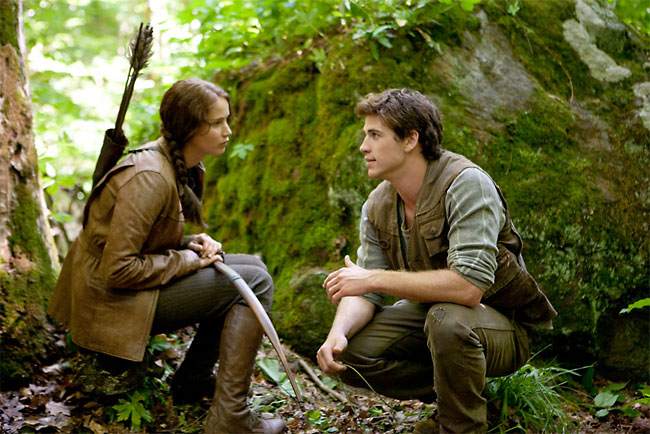 The first film in the bestselling The Hunger Games trilogy opens today, having set records for advance ticket sales. In addition to it being good news for Lionsgate film studio, could a young adult tale about a post-apocalyptic society inspire more people, especially kids, to get outside? Might it make outdoor survival skills and self-sufficiency cool for girls and boys?
North Carolina, where Hunger Games was filmed, is hoping for an increase in visitors. VisitNC has pulled together a list of 12 Places To Experience The Hunger Games (presumably not under threat of a fight to the death).
Katniss fans can explore DuPont State Forest, its 10,000 acres of waterfalls and forest in the Blue Ridge Mountains home to the Hunger Games arena. Or hike Craggy Pinnacle Trail with views of the North Fork Reservoir, which acted as the lake beside the Cornucopia for Katniss and Peeta. In Pisgah National Forest, District 12 pre-games scenes with Katniss and Gale were filmed at Coleman Boundary.
The film didn't use Nantahala Outdoor Center, but you can hone your survival skills in its wilderness survival school and workshops (via Gadling). Might we see more people working on their tracking, trapping, wilderness medicine, and archery skills due to a Hunger Games effect?
While survival and the skills to do so are major themes in post-apocalyptic literature, often nature is presented with a dreary view. It's dangerous, violent, off-limits, or even gone. Not a source of enjoyment or peace, like you or I likely find outdoors.
But, 13-year-old environmental activist Miranda Andersen shared some thoughts on that topic in her recent blog, "Miranda and the Apocalypse," with Richard Louv, author of Last Child in the Woods.
Andersen wrote:
So what could writers write about that shows an alternative future? A future that's not just about overcoming to survive but overcoming to actually create something better? As Richard reminded me, it's not enough to just survive.
I think we need more books and movies out there to kind of inspire us to make a positive future happen. But in some ways the dystopia books are good because they scare kids about what the world might look like and then scares them into doing something to make the future better. Maybe writers could also inspire them with images of a better future.
Andersen, who is making a film on nature-deficit disorder, is scheduled to give a TEDx speech on the topic. She's already made 10 short films and has been named one of five "Amazing Canadian Kids."
Pretty inspiring stuff, from a real kid in our own imperfect world.