10:25 a.m. on May 5, 2012 (EDT)
maxx

4 reviewer rep
106 forum posts
As time goes by, the cost of backcountry gear keeps increasing to a point where it's not worth buying gear anymore. Recentry I decided that I will make, or modify for backcountry use, whatever I can. I'm surprised how some of the stuff I made is way cheaper, lighter, and has better use than manufactured stuff, here are some things I made(or put to use):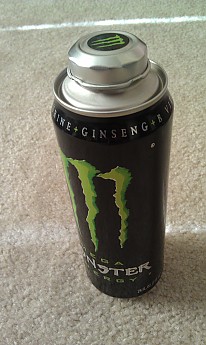 Nalgene bottles and water bladders seem to be the way to carry water in backcountry.  I carry two of those monster 24oz bottles, together they weigh 2.3oz, my old nalgene bottle carries 16oz and a single one weighs 3.8oz. Some advantages of the monster bottle are: you can use a steripen in them and the sun will not reactivate reactivate the organisms. If the water inside freezes, just use fire to heat the bottle, it's aluminum! Worse case scenario you can sterilize water by boiling it inside the can. It's so light you can carry extras.  They cost way less than nalgene or water bladders, and it comes with a bonus drink inside!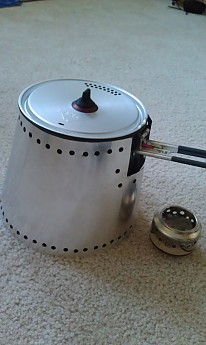 I contacted trail designs because they didn't make a caldera cone for my pot, they said it's because the handle contains plastic components.  I watched some videos online and bought some aluminum flashing from home depot ($10), stopped at a gas station got some beer cans($8), and made my own cone and stove! Together they weight 2.2oz, I got enough flashing left over to make a few more also! I put some fiberglass insulation inside the stove to absorb the alcohol and serve as a wick.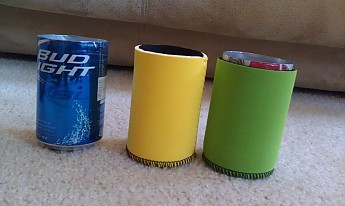 While drinking the beer I found another use for the can, why not make cups out of them? I went to publix and bought two of those neoprene beer can sleeves ($0.99ea) for insulation, cut the top of the can and sanded it down so it would not cut my lips in cold weather, two of them with sleeves weigh 2.2oz. Some advantages: It's insulating, so warm coffee in the morning stays warm longer.  It's easy to clean.  You can hold it and will not burn your hands with hot liquids inside.  Lighter and way cheaper than backpacking cups, and it comes with delicious drink inside!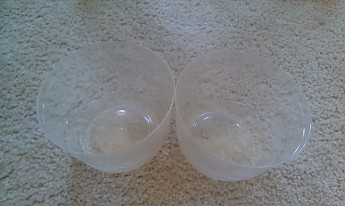 Rubbermaid food containers are dishwasher safe and freezer safe, got four 3.2 cup containers for $1.99, cut the top off, cleaned it with hot water and there you go! It even comes with measure marks on the sides, they are slightly flexible, durable, and can hold just about any backpacking meal I make. Two of them weigh 1.7oz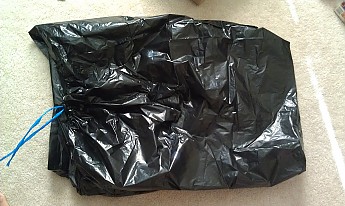 In the search for a perfect rain gear, I came across rain skirts/kilts online which will breathe better and be faster to put on than rain pants. The lightest ones are around 1.6oz for $55,  the cheapest ones are around $30, mine came in a box of 20 (hefty trash bags) for $5, are longer and more comfy(see my waterproofing backpack pics) than the light ones online and weigh 1.5oz, take that cuben fiber!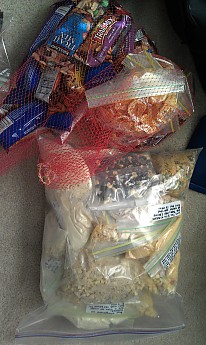 20 two gallon ziplock bag as waterproof sacks 0.7oz ea $6 for the pack, lightest sea to summit 8 liter sack which is the ultra sil nano whatever dry sack .8oz $20 ea.  Fruit mesh sacks weigh less than .2oz, very large, free, no competition. I also use mosquito head net ($3) to keep my clean clothes on and use as a pillow whenever there are no mosquitoes around =).
 
Some of this stuff I came up on my own, some ideas I took from other people online.  Whatever gear I do buy, I try to buy used if possible, if not then I use gearbuyer.com and other sites to try to find the best price, or take advantage of huge sales such as the Golite sale that is going on. So what have you made, or what have you done to combat this price hike extravaganza? Post pics and specs if you can!

If you want some more info on the things I made or need help to make your own send me a message, I tried to keep things simple here.