5:07 p.m. on November 20, 2012 (EST)
Living in Northern Virginia, we are close to so many wonderful areas.  My favorite place within a mile of my house is the area surrounding Claude Moore Park in Sterling, VA. There is a place I call the Overlook...a piece of property I have been going to for a decade, spending large amounts of time in a personal retreat setting that overlooks the entire region (it is the highest point in the DC area east of West Virginia Mountains). Sunrise is lovely, with views of rolling hills, valleys and distant mountains, while sunset brings distant lights of the entire area like fallen stars.
This hidden suburban island mount is a very private area, with an impressive front gate (that few can get through), a long, winding driveway leading up to a side trail that in turn winds back to my personal campsite.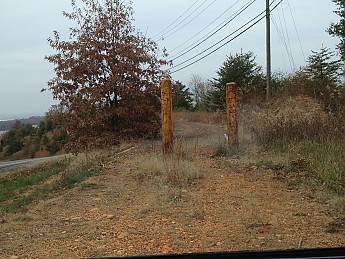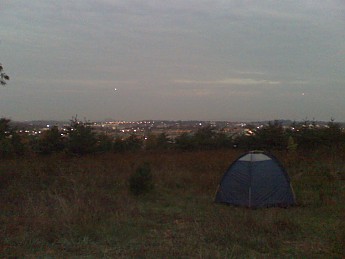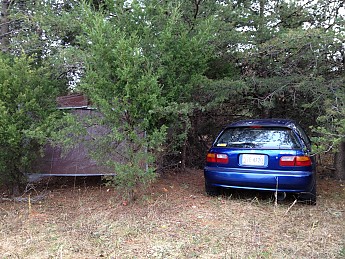 I choose to nestle in the middle of  one of hundreds of spruce/cedar groves with an attached natural protective garage (none of it is even visible by helicopter when I pull in).  I have 120 sq ft of tarp shelter with North/South protection, a full eastern view (thanks to clear 3 ml plastic sheeting) and a  flap door to my garage to the west. My four season hammock hangs inside -- complete with nightclothes and my favorite pillow-- and I have lots of other room for gear, to sit and meditate or write,  to make pine straw baskets, reed mats, or any other sheltered activity in perfect comfort during inclement weather.  There is plenty of room and ventilation for a safe/small metal hearth for my Trangia-style stove, A sunken cooler holds my water and other on-hand supplies. In a clearing outside the grove is my fire-ring and a natural bench. Other supplies (such as the 62 watt solaris panel and backup battery) can stay in my vehicle until needed. I heat my water with copper tubing coiled near the fire and cycling through my showerbag. I can cook, bake, boil, roast, grill, and  enjoy delicious french press coffee in the morning and hot tea at night. No more kids refusing to eat their veggies! Now they are  fighting with THEIR little ones. Ahh!
I have well over 800 nights in my current hammock...I ordered another as a backup after my noseeum netting required a few repairs and my silnylon tarp recently disintegrated from exposure. That is still a good run of consecutive nights, including 100 degree days with humidity, also snowmageddon blizzards, hurricanes, tornado and hail spawning supercells, and below zero temperatures (with windchill).
I did buy a cuben tarp but do not leave it there on site. Instead, I leave the large poly tarp in place, and the old hammock stowed in its skins. The sleeping bag, underquilt, cuben tarp and accessories stay in my vehicle when not in use.  While I have hiked the AT and camped all over the country,  I remain in love with this place as my personal temple.  It is not like Great Falls, it is mostly spruce and Cedar, and literally across the street from a Virginian hardwood and pine forest area (Claude Moore Regional Park) with pond, streams and revolutionary charm. Still, this mini-mount has its own unique charm... I think the charm is in the view and its secrecy, like a child's hidden fort.

For more than a decade it has been my go-to place, is my family's first evacuation site, and even has access to a fire hydrant 0.15 mile close.  The area is full of gorgeous huge rabbits and deer with 4-5.5" tracks. No hunting there, of course, and I, as the local "Ranger Rick" make sure of it. Just a delightful place to unwind from the stresses of Corporate America and the Beltway.
I'd love to hear about other people's little pieces of heaven.
d natural bench.  The area is rich in wildlife (birds, rabbits, raccoon, deer galore), and stays hunter-free!
Deer trails, sleeping thickets, favorite nibbling sites...it reminds me how I grew up walking in the woods with my dad as he tracked wildlife just for the fun of seeing nature on its own terms.