12:17 a.m. on June 5, 2010 (EDT)
GaryPalmer

244 reviewer rep
5,239 forum posts
Fried onions,bell peppers and potatoes...
For tonights recipe I used one medium sized yellow onion, one small bell pepper and three small red potatoes. Another faorite potatoe is the sweet or yam potato which adds a delicious flavor and color to the meal.
I start by sauting the diced onions in hot vegetable oil. I simmer them till they are a nice carmel brown. I season them with salt and ground black pepper. When they are soft and tender I add the diced bell peppers and potatoes. The potatoes take the longest to cook down to be soft. I add more salt,pepper, seasoned salt and ground sage and let it cook with a lid over it to hold in the heat and moisture. Then when all the vegies are done I take the lid off and let them dry out and the moisture to evaporate. I like them toasty brown.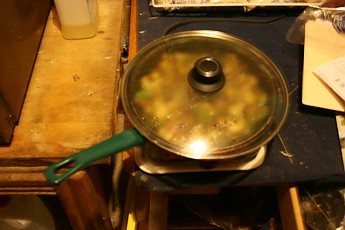 The lid on to saute everything. This is at home on my electric stove.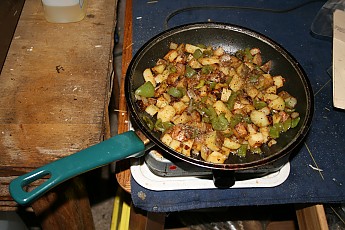 This after I have removed the lid and start to let the vegies dry out and roast.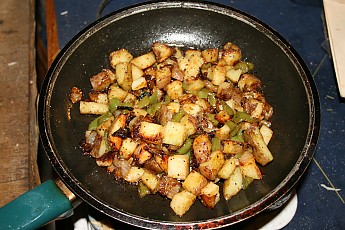 Now they are done, roasted and reduced by about half. At home here I turn off the heat and let them stop sizzling.
Smells delicious don't they? Oh, sorry you can't smell them. I love the smell of roasted vegies on the night air.
For backpacking potatoes, onions and the peppers keep best if they are kept dry as at home. In camp I hang the onions and potatoes in bug-netting bags to let them air. The peppers keep best when cool so I store them in plastic buckets to keep the rodents out.
If potatoes or onions sprout the sprouts are edible too. I like to sliver the potato sprouts and add them to soups. The onion sprouts aregood in salads and also sliced thin into soups.