10:42 p.m. on March 4, 2012 (EST)
Backpackerguy

0 reviewer rep
12 forum posts
Hello, all TrailSpace.com readers.
I have an internal frame backack that I recently inherited.
I am wondering if anyone has seen this pack before, and can help me identify the Brand and/or model. When I need an item for my hiking or camping adventures, I try to make it, and if I can't, then I buy quality gear, and take very good care of it. While I am not a "gear snob", I do like to know what it is that I do have.
Here is what I know about the pack:
It is made of denier nylon, it has 1 compartment (with an inner full-length sleeve on the back-side, for what I presume might be for stiffenners / a CCF sit pad?).
It has 2 compression straps on each lateral side, and 2 on the front side. The 2 front-side compression straps buckle at the top by the shoulder strap, and go to the bottom back side for securing items on the bottom of the pack. 
The main compartment is zipper-accessed from the front, with a 2" wide VELCRO overlapping closure. The TOP of the compartment is double cinch-corded for weather-proofness. Also on the front are straps for hiking poles, and the front sides each have what look like a water bottle sleeve about 4" deep.
The length of the pack is 28" from the bottom seam to the 1st cinch cord. There is an additional 10" of nylon to the 2nd / top cinch cord.
The base measures 34" in circumference - what size pack would this be? 
Main pack color is grey with navy blue trip.
The 2 shoulder straps have a connecting chest strap, there is 1 top hanging loop strap, and there is 1 zippered compartment on the exterior of what would be the right hip belt pad. 
It seems to be a 'bomb-proof' pack in excellent condition.
I'm not a gram-weenie so I don't have a gram scale, and the bathroom scale pegs it at 3# - - - - - which is a far cry lighter than the Dana Designs LongBed External Frame pack I am selling!
It has NO mfg markings, no tags, nothing to identify it at all. If anyone can help me identify it, I would really appreciate it.
Thanks,
Backpackerguy
Font LEFT view: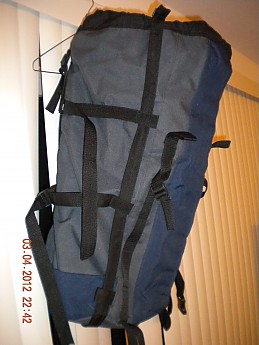 Front RIGHT view: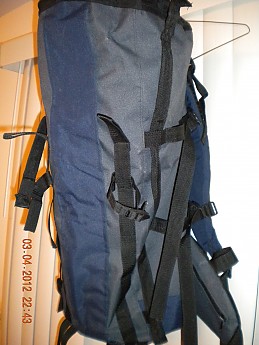 Front CENTER view: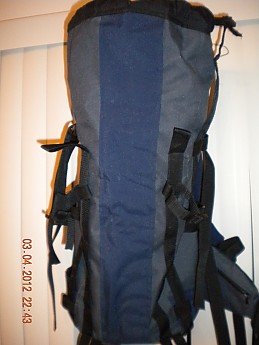 View of Main Zippered Compartment, w/ Velcro closure: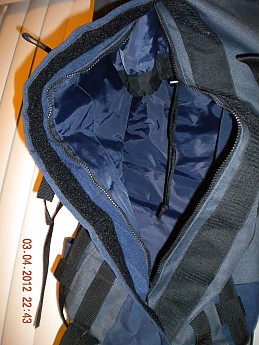 Back view: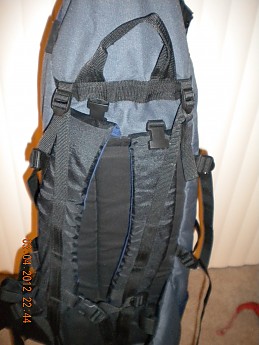 TOP view of main compartment: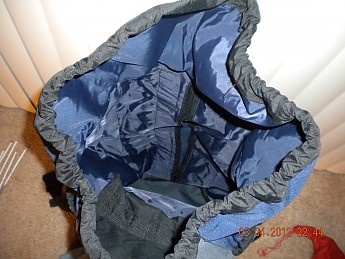 Flat on the floor, BACK view: