6:12 p.m. on May 16, 2012 (EDT)
EtdBob
179 reviewer rep
192 forum posts
I'm selling a Sierra Designs Clip Flashlight 2 tent with footprint.
I purchased this tent early last year, and my wife and I have used it on one trip of four nights duration.
Of course, I have set it up a number of times in the yard as well, learning to pitch it properly and to dry it out after our trip.
There are a great many reviews of this tent posted here so I don't think I need to go into to much detail about it as it is a classic tent that has been in production a very long time. But just so there is no misunderstanding this is a lightweight, non-freestanding backpacking tent. We're selling it because my wife really doesn't like it, she has been spoiled by our much roomier  ( and heavier ) Eureka Timberline tent, and we have  experienced considerable condensation in this little tent once or twice.

 Since I'm the beast of burden that carries the tent my wife really doesn't care much about how much they weigh, and since I do indeed like having her along, it looks like I'll just suck it up and carry a heavier tent.
I'd keep it for silo use as it would make a very fine shelter for one individual for backpacking or cycle touring, but left to my own devices I'm primarily a tarp kinda guy, and I've already talked my wife into sewing together Ray Jardine tarp kit for me!
So, one lightly used Clip flashlight with footprint, 175.00 shipped ( continental usa only ).
No holes, rips, tears or stains. I'll gladly post closeup photos if someone wishes them.
The Flashlight in use on our  Long Canyon Loop trip last year -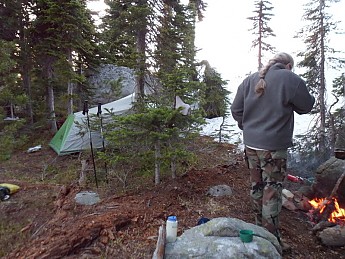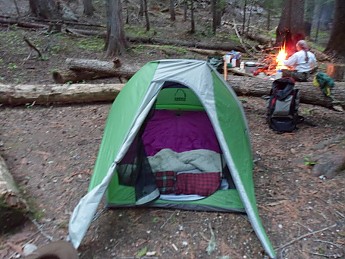 I checked Google, and it looks like the cheapest you'll get a new one is 180 bucks, and the footprint runs about another 30 bucks. Shipping would be about twenty bucks on top of that for a total of about 230 clams, so 175 shipped sounds like a good deal.
I'll have to dig around and see if I still have the little pouch the footprint came in as I ever used it. It's to small for easy packing and I keep the footprint attached to the tent all the time anyway.
Anyone interested?