3:54 a.m. on July 21, 2012 (EDT)
apeman

0 reviewer rep
1,340 forum posts
Hey all. I just picked up a cool TNF expedition base camp tent for $75 off of Craigslist but I'm at a loss as to what model it is. I think that it may be a tent made for a special expedition based on one of there standard models a long the way. I'm thinking this tent is late 80's early to mid 90's.
The tent is a true round dome with the wall's measuring 106in. across the tent from wall to wall along the bottom of each wall at the floor. I would guess the total square footage to be around 62.5 sq ft.+/-.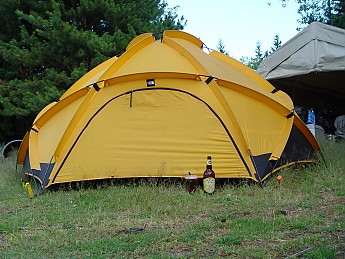 The body of the tent is six sided with all sides measuring 64 in.  along the floor corner to corner.  It takes 6 poles to hold up the tent body and 3 poles to hold up the rain fly/vestibule for a total of nine poles.  The poles are black Easton poles measuring 183 in (15ft 3 in). The poles are 7075's (.340).  One pole was missing when I recived the tent.
I checked all the lables and the only place of manufacture listed anywhere in the tent is "The North Face, 2013 Farallon Drive, San Leandro, CA  94577
Black label above the front door.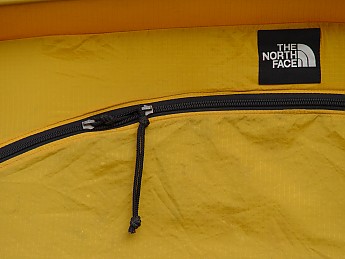 Single snow tunnel on the side of the tent.  The tunnel measures 23in. across.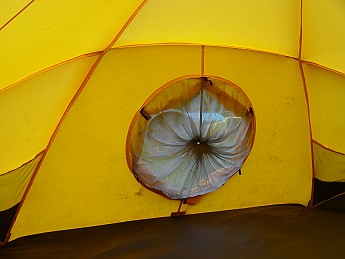 The floor opening meausres 16 in. acrosss.  It does not have a screen like the side wall snow door/tunnel.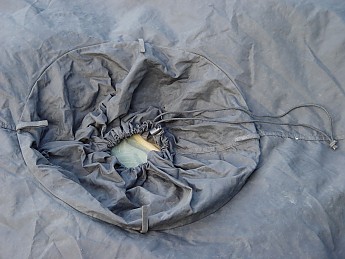 Vent at the top of the tent measures 35 inches each side.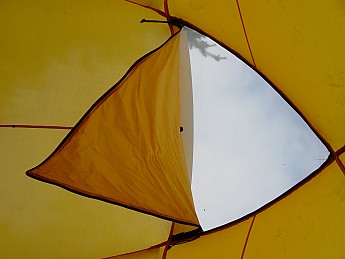 The vent is in the exact center of the top of the ceiling.
The ceiling vent with the loft clipped in.  The loft is a buckle in style type and all sides are equadistance so that there is no wrong way to try and buckle the loft intoi place.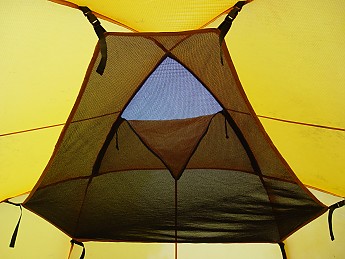 The loft measures 37 inches on the longer sides and 12 in. on the shorter sides (corners)
I've never seen a TNF logo with the statement "Fine Alpine Equipment". Did I miss this along the way? The only other thing I can think of was that this tent was made for a specific expedition. I will be contacting TNF this coming week to see what they think if you if no one here has any thoughts.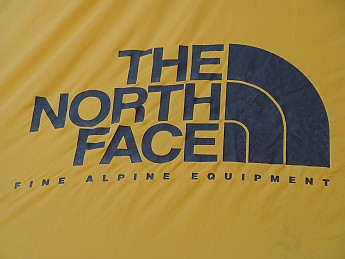 Anybody know anything about this thing.  Thanks