2:19 p.m. on August 8, 2012 (EDT)
5bblbrewing

0 reviewer rep
8 forum posts
Full disclosure: I am newly registered on Trailspace (this is my first post).  I wanted to list this item on a site geared towards like-minded individuals, rather than craigslist or ebay.
I am selling my floorless Helsport Varanger 8-10 Lavvu Tent (Tipi Tent), in EXCELLENT condition, which I purchased from Tamarack Outdoors in 2010.  I originally purchased the Varanger to use while kayak camping but have sadly moved away from the water and have been been unable to use it as much as I'd like.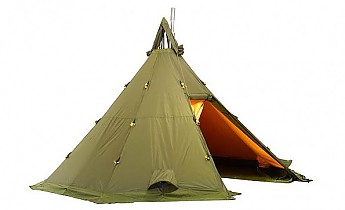 This tent is designed to sleep 8-10 people.  It is a palace for four!  This tent would be ideal for winter camping or car camping but is beyond what a reasonable person would backpack with.  The original product description from Helsport can be found here:
Varanger was crowned test winner in an extensive lavvu comparison by norwegian outdoor magazine villmarksliv, varanger is our new fully loaded model. the outer tent is made of a specially developed fire retardant Helsport rainguard® which is ideal for use in lavvu. the opening has protected double zippers and fire retardant mosquito mesh. Two Helsport AirflowII® ventilation ducts combine with an internally adjustable top opening to ensure sufficient airflow inside, preventing condensation and improving air quality. the aluminium centre pole is light and makes for easy set up and the many guy line points increase stability during high winds. a drying rack are included.
Compatible with Helsport Lavvu Oven
The opening has protected double zippers
Two Helsport AirflowII® ventilation ducts on the floor
Adjustable top opening to ensure sufficient airflow innside
Drying rackare included.
Extra equipment: ground sheet and inner tent
New guy points for all our tents. The guy line is looped up and attached in the elastic webbing in a simple and easy way.
Helsport Rainguard® Flame retardant outer tent
Aluminium Center Pole
Persons: 8-10 Area: 17.0m2  Weight outer tent: 4.8kg Peg weight: 0.9kg Pole weight: 1.3kg
Price is FIRM at $500 which includes shipping within CONUS (insured).  Will only accept PAYPAL.  If interested, feel free to call me at SIX FIVE ZERO - THREE EIGHT ZERO - FIVE EIGHT NINE EIGHT.  Serious offers only. 
V/R,
Greg