3:36 p.m. on April 30, 2013 (EDT)
pillowthread

2,243 reviewer rep
1,357 forum posts
Hey!
Up for your consideration is a lightly-used Hill People Gear Tarahumara Backpack/Compression Panel, and a like-new Runner Kit Bag, in Ranger Green. Both the Original Harness and Runners Harness are included, along with a gaggle of G-clips, extra strapping, and a stabilizer strap. Also included is a length of hi-vis Spectra cordage on the bottom of the pack, to secure a puffy or something.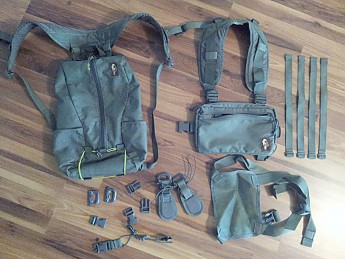 This is hard-use Operator stuff, made in the USA. Built to shine in the most severe conditions, this is the type of gear that could save your life if you needed it to. Everything is 500D Cordura and 1" mil-spec webbing. The backpack holds around 800 ci (daypack size), and the chest rig will hold maps, bars/gels, knives, and a GPS.
The chest rig counterbalances the backpack, eliminating the need for a hipbelt. This system is made for moving quickly through harsh, thorny, rocky terrain.
No holes, nicks, scuffs, tears, or abrasion on anything; the Tarahumara has a bit of discoloration from use, and would look like new if you wanted to scrub it down a bit.
I'm gonna put it on the HPG Forums in a few weeks--and they will buy it--but I wanted to give you all here a crack at it first...
This kit was $300 shipped to my door. I'll let it go for $200 shipped, OBO.
I only accept Paypal, and can have it in the mail the day your payment clears.
Thanks for looking, and please feel free to PM me with any questions or concerns!