11:09 p.m. on April 30, 2011 (EDT)
apeman

0 reviewer rep
1,330 forum posts
You pay exact shipping and I'll send them to you.  First come first serve. Once someone wants it (them) I'll Box them up and take to the shipper on Monday and get shipping price.  Pay pal or snail mail is fine
1 - Primuula Express stove top coffee maker.  I'll copy instructions for you, but it's so easy to use that you can't mess it up. Nalgene bottle to show size.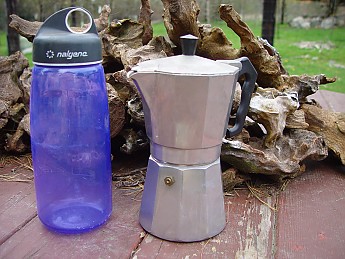 GENUINE US MILITARY Cold Weather Bear Coat Fleece Jacket / Liner. Nicknamed the "Bear Suit" this coat is used as the middle layer of the U.S. Army ECWCS (Extreme Cold Weather Clothing System). The coat is composed of synthetic fiber pile and is designed to fit snugly.  Although it is designed to be worn under the Military Goretex Parka it can also be worn by itself and is still very effective against the cold.
 Made to be worn under combat conditions in some of the harshest of climates, ECWCS clothing provides long-term comfort across a wide range of temperatures. 
The best system for extended outdoor warmth and comfort.  Great for cold weather work, hunting, ice fishing, snowmobiling or duck hunting-

100% polyester inside to keep you warm
Zipper front closure
Two expandable breast pockets with velcro snap flaps
Two front insulated hand warming pockets
Black nylon reinfored shoulders and underarms
Nylon panels under the arms to allow breathability
Size: Medium (fits 37 - 41 inch chest)
Armpit to Armpit 21 in
Cuff to center of Armpit 21in
Cuff to neck line 28 in waist aproox. 38-40 in
BEAR SUIT BIBS
ECWS MILITARY ISSUE
MEDIUM
SHORT - REG
31-35 inch waist
29 1/2 - 32 1/2 inch inseam
100% Polyester Fiberpile
GOOD TO VERY GOOD USED CONDITION.   FUZZBALLING MAY BE PRESENT BUT NO RIPS HOLES OR TEARS SPOTTED!
These bibs are  to be worn underneath lose fitting cold weather clothes.  Extremely warm the wicking action polypile draws body moisture away from body while retaining body heat.  Zipper down entire length of both legs and around crotch.  Black elastic suspenders with plastic snap lock clips.
Brown bear items are extremely warm and great for cold weather hunting or any cold weather outdoor activities.  The legs on these are designed short so that they would come to the top of high top Army boots.
Bottom of pant leg to center of crotch 23 in. (The legs on these are designed short so that they would come to the top of high top Army boots).
Both these items are warm, warm, warm.
I will post when they are gone.