3:07 p.m. on July 24, 2011 (EDT)
Morgan

95 reviewer rep
3 forum posts
This is a rare Holubar sleeping bag, down, winter weight, perfect condition except for very minor stains. Beautiful, lightweight, trail-tough, great loft, smells new.
80" long, 64" body compartment, about 29" across shoulders. Will have weight in next couple of days--just ask.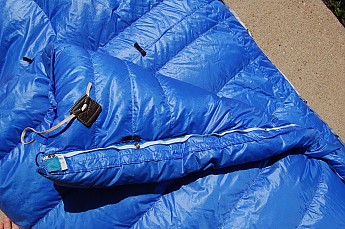 I acquired this bag as part of a gear buy from the original owner, who proudly said he never once stored it stuffed. I have always stored it open and hung full length as well, and the loft is like new. 
I've been told it's an early Royalight model, but the only label is the Holubar one, so I can't guarantee that  (I do know it's not the Ultimate). It has all the details you'd expect from this great company, though:
Extremely tough shell that may be the brand's original French nylon--it's ABSOLUTELY down-proof (not a feather in sight, ever), and has not even the tiniest pull, pill, snag or rip anywhere on it.
Excellent loft, equivalent to my -15 and -20 degree bags.
Sturdy zipper that runs perfectly, with tabs inside and out.
Full-length draft tube with snaps on the inner edge to further seal out cold.
7 pad-lock loops on back plus 7 more on the front for bivy.

One fault: a handful of very faint stains. The only more obvious one is about 1/2" x 1" on the back. The photo below is on the part of the back with 2 noticeable stains, but I couldn't get my Nikon DSLR to take a picture in which they showed up--they're really subtle. The bag has no grunge, and it smells new. 
My honest opinion as a gear-head: I expect this bag will last through a solid ten years of hard use, or decades more of careful use. It's at least 30 years old and has clearly been used, but it has absolutely no visible sign of breakdown in any seam, zipper, or face--quality like that just keeps on going. I've held onto it for over two years without using it 
because I love beautifully made gear, but my place is too small to keep everything I'm a sucker for. If they'd go camping with me, I wouldn't hesitate to put my little tea-sipping Southern grandma or my big, lug-headed nephew in it.
Price: Make me a good offer. You pay shipping, cheapest method unless you want it fast.