6:45 p.m. on June 15, 2011 (EDT)
-chase-

0 reviewer rep
108 forum posts
Hey all -
Just to give a bit of background...
- I bought a North Face VE-24 - from the late seventies, early eighties used.
but the thing is it had been well used and unfortunatly been packed and forgotten and when a storm flooded the garage where it was stored - got soaked and sat for a while... a good while.
I picked it up pretty cheap and of course the first thing i noticed was this thing is still in good shape - dispite all the mold and mildew.' and pealing waterproofing.
So i washed in one of those heavy duty commerical washing machines 4 times with 4 gallons of Lysol and Pinesol to kill the mold and mildew and soap of course which - got rid of the mold and mildew and all - every smiggen of water proofing.  Thousands of flakes from the old water proofing all over the place when i pulled it out of the washing machine - it got every where!
Okay so - it was clean but needed water proofing again and i checked every were and listen to all - including posts here on what to use. heard all the pro's and cons of all the methods for two years i waited before desiding what to do.
I heard about Nikwax - and the paint on types
But working with the boating industry - they have a couple products they use. and i just re-waterproofed the tent again with out the slipperyness of silicone based products. or the added weight of the paint on products.
And it worked beautifully! I tested it with a couple five gallon buckets of water dumped and then thrown on it and - no leaks what so ever.
The products -
Aquatechs - water repelent
and finally Starbrites water proofer.
Now i have confermation from someone that used the Starbrite product on a sunshade - which is a lot looser weave than nylon and he said it lasted about 18months on the back of his boat - in  the sun daily before he had to re-apply it. so i think it should do pretty on a tent not in the sun every day. and it states on the package - it is for tents - nylon etc etc.
I used a spray bottle and applied it outside - it is not a water based product so be sure to do it outside - and don't wipe your eyes after you get it on your hands... burns for awhile if you do. Found out the hard way.
It states as well it is not a silocone based product.
Anyway - i waited along time before making my desision on what to use to re-water proof my tent. I chose this stuff.
I put two coats on the fly - two on the bottom and part up the sides.
Took about a gallon to do all my gear including sleeping bag - tent - packs - a coat and i still have enough left to maybe put another coat on the fly if needed down the road.
and i really didn't think it worked - no weight added - didn't feel like anything was on the fabric... no after smell either btw.
but like i said - i tested it - and wow worked great for me.
So for anyone worried about re-water proofing your tent - if all else fails or your nervous as i was on what to use.
Try either or Starbrites waterproofer or Aquatechs water replent or both like i did.
At the time of this writing costs about $45 a gallon.
thought you all might be interested in hearing about it - if someone hadn't tried it and posted about it before.
this is the North Face VE-24 incase you wondered what kind of tent it is or what it looks like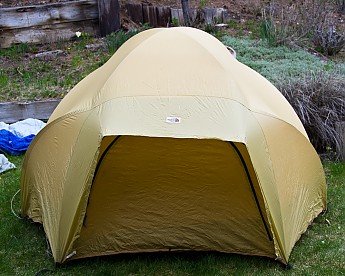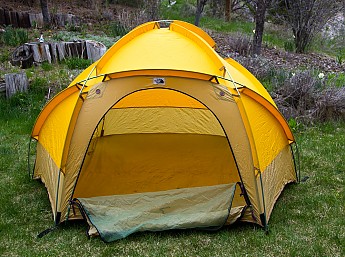 total cost to repair it to pretty much new.
$80 bucks including tent - washing -  2 gallons of mildew killer - a gallon of water proofer
well i hope this helps some one
see you on the trails
chase