7:44 p.m. on September 20, 2011 (EDT)
apeman

0 reviewer rep
1,343 forum posts
*******WARNING, If you do not like long drawn out stories of boots and sordid boot tales, please disregard this posting, this posting will contain many "words" and pictures, view at your own discretion************
A Tale of Many Boots, not unlike a "Tale of 2 cities" only different
My personal quest to find the perfect boots for my fat Hobbit like feet.
Once along time ago (35+ years) in a land far, far away (Denver/Boulder Colorado) I had a Pair of Lowa Boot's, their name escapes me as I write this as it was well over 30 years ago. They were wonderful and I wore them as my daily boots for many years, about 5+/-. When I was at the Univ. of Colorado's rec center while living in Boulder I left them in the locker room after playing some racket ball and by the time I went back they were long gone. I ended up going back to Denver, back to the same little boot shop where I had gotten my first pair of Lowa boots. The shop was owned by an old German Boot guy who came to America and opened his little boot shop on East Colfax in the bad part of town. I was now back at the shop which had been passed down to his son, kinda cool, a father son business. Luckily the same boot people who had been working there were still with the store. They did not have the same boots that I had and been in love with and, had fit me so very well, but they still had some that  were the next model up in that line of Lowa.  It is interesting to note, that back then, in the 70's, some manufactures keep the same modles of what worked for many, many years.  They were still selling the same models they just did not have the one I bought I my size in stock.  As I have always believed that you get what you pay for I bought the nicest boots in the store that I thought you could hike in. I'm know kida remembering that the salesman my have tried to talk me into a lower model at the time as these were climbing boots not hiking boots.  We thought they fit at the time but in fact I never have been able to get them to fit over the years. At first I thought they were just to wide in the heal, but I now realize that as a foot must flex so must the boot flex with the foot. Their great in the toe box area and into the arch but wider in the heal area. Even after 15 years I ended up finding the original sales person who sold me my second pair of boots in the first boot/mountaineering shop I walked into in downtown Denver, they say it's a small world and sometimes it is.  I have a strange protrusion on the back of my fat little hobbit like feet and I thought that was the problem. I had the boots adjusted and thought I was golden as they felt great in the shop. I was wrong and should have had him do a proper fitting. I did not do that as that was more money than I though it was worth as I thought I had found the problem. It would have been money well spent. Lesson learned.
Here are the Lowa "Civettas" that I bought after my first pair of lowas were stolen from me.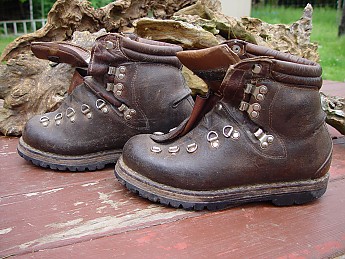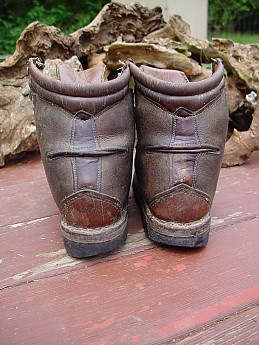 Jump forward to 2011 and I still have the Lowa boots that I had been trying to figure out on and off for the last 30+ years, and now have. I figured out that they were called the Civetta's. They are in the same model line as the Lowa Triplex and are the next boot in the model line after the Triplex. I have finally come to the conclusion that they will never be hiking/backpacking boot. There are purely mountaineering boots as they have wood soles and do not flex at all.
I was in REI two weeks ago and went to the boot section where I heard a salesman answering some boot questions for a couple of young guys. After a number of thoughtful questions one of them asked "so, can these boots be resoled" the sales man replied "yes, yes they can but its really expensive to do as the soles are glued on and really by the time you need new soles it's just better to buy a new pair of boots". "What" I thought, more throw away stuff. As you probably know by now it's sometimes hard for me to contain myself. So I interjected into the conversation that in the old days we had single piece leather boots and I had known some people who had their soles replaced up to 5 times and were still wearing the same boot's. As so often happens, all their eyes glazed over. I could hear their thoughts. Wow, who would want to keep resoling a the same "old" (boring, ugly, leather boots) pair of boots when you "can" go and spend $250-$570 every other year or three and have the newest coolest boots (with all there pretty colors and everything) made. I sighed and walked away after having my feet measured again just to make sure nothing had changed. I'm still a solid size 9 EE.
So like everything else I do I've begun the quest and delved into boot knowledge. It is much the same as tent knowledge, backpack, backpacking/camping stove knowledge, etc. First off is the rich history of boot knowledge. As there was not a chance in Hades that I was going to buy disposable boots I decided that I would gather together some of the finest old school boots that I could find at the moment and see what I could do fit wise after much reading.  Nights of reading.  When I finally decided that I would sample some of the finest leaterboots evermade  I turned to Ebay.   I did set limits however. As the boots I looked at REI were in the $250-$570 range I figured I would give my self that amount to buy boots. More ore less I figured that I could by between 6-8 pairs  if I sayed in the price range of $35-$400.  I would like to find a light, med and heavy weight boots to meet my different wants and needs and desires. I decided that I would not spend more than $100 on any pair of boots and would try to keep it around $50 per pair. The other parameters were they had to be new or at least not broken in.
A month previous to going to REI I bought a pair of Pivitta Article 8's from a Trailspace member for $50. Sounded promising but the fit was way wrong. Long enough but way, way to thin.
So it was on to EBay where I next I bid on a pair of what appears to be a model of Lowas called the "Alpspitz", on Ebay. They are of unknown size as it appers Lowa did not like to mark some of their boots. They are believed to be size 9-10. Boots came and more boots came but not the Lowas. Two weeks later I emailed him to inquire, where he informed me he went away for 10 days and forgot to let anyone know. Sighhhhhhhhhhhhhhh
A week later I found these almost new "Lowa-Eiger-Hiebler-Triplex" boots on local Craigslist.  Further investigation tells me they are from the mid 70's. Antiques now and the Big brother of in the same model line as my Lowa Civetta's.  Just like the Civetta's they are not acceptable for hiking/backpacking due ot the fact that the will not flex because of their wooden soles.


Notice the original red laces.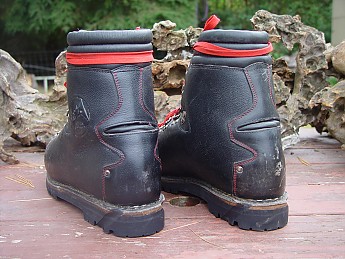 I know that I will most likely not use these but they were just to cool to let pass by.  IMHO these belong in a boot musume.
.
Then I found the unnamed Pivettas that are much like Pillowthreads Pivettas 5's but a little different. They are size 10.5 AA.  If you know the model name of these boots please let me know.
Notice the original red laces with the boots. The newer round black and white laces are far better than the original red round laces.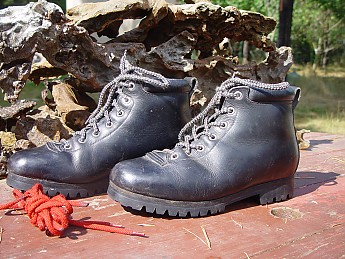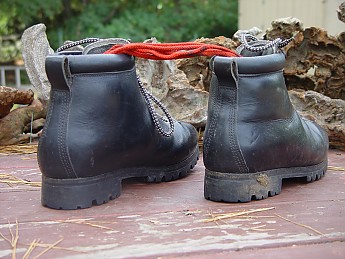 I went ahead and bought these a bit big as Pivetta's seem to run so thin, and well, it's not like I was at REI and there was a selection of sizes, eh. These are really nice boots that have appeard to have been used very,very lightly and never used again. Brands new boots that appear to mostly have been worn inside as for as I could tell.  Notice how Pivetta does not use stitched welted soles but rather screws the soles on and I would guess glue as well.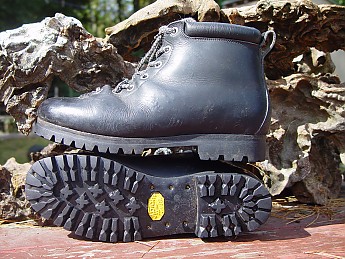 If you can see in the picture there are eight screws in the heal, six in the mid section and 3 in the toe area. Same with the Article Eight's Pretty cool. We "will" examine the different soles of the differnet boots later.
So, the first night I had my new boots and no where to go. Well, as I learned the proper way to break in a pair of boots/shoes was to jsut start wearing around the house and I did.  I first tried a single pair of thin wools socks. Good for a few minutes but then much too loose. I kinda figured they woud be like this as I bought them half/full size larger to copensate for the thinness of the Pivetta line of boots. Next I tried a second pair of socks as pictured below. The thinner pair of socks are on the top of the thicker pair.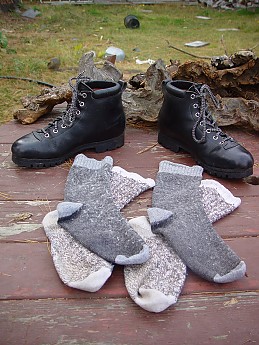 I wore these boots for 9 Hrs doing things around the house and around the property doing chores, working in the garden and playing with my puppins. Any boots that can last 9 hrs on my feet makes it to round two..........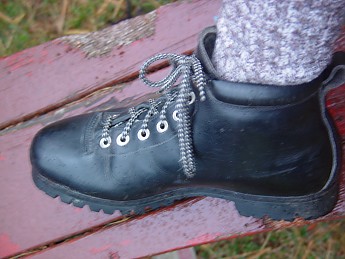 I felt that with a little work these just might be good boot's, that might fit my fat little feet. They fit well but there were still to thin in the ball area. But not too thin, Just a little thin. So out come the cedar shoe/boot stretchers.Here they are in the closed position.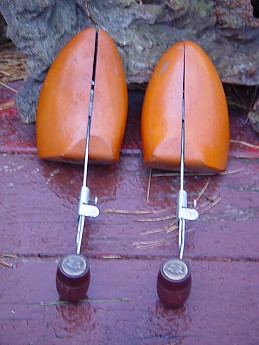 These boot/shoe horns allow me to make a pair of shoes that don't fit me, fit me. I like these. Bought them from the Goodwill years ago and they allow me to by shoes that are my size(length) and stretch them out to fit my fat feet. These are in the closed or thin position.
These are in the open position, They also pivet in the middle so that one has a wide range of adustments, meaning any combonation of adjsutments regarding the top and bottom is possible.
Here they are all the way open.  Notice the one on the left where the bottom is more closed than the one on the right as well as the top being open widder than the one on the right.   You can get these for $7-15 on ebay. A very handy tool to have. As they often won't stay where I want them width wise I use shims to keep them in place.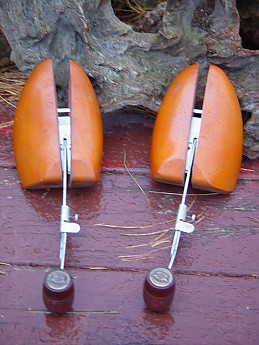 Here was/is the best way I can come up it to mark the problem areas of the front half of a boot.  I'm shure others have thought of this before me as it's so simple and works so well.  The Vibram soles allow the rubberbands many differnt fine adjustments and they will not move once buried in the sole of the boot.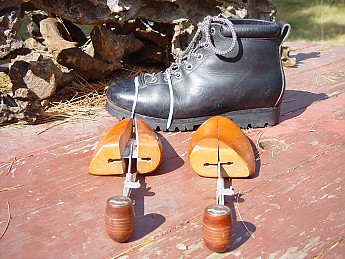 So,................................., the next day a pair of unknown model name Zamberlan's, size,10,  arrived in the mail. (thanks for reminding me about them Jake W).  If anyone know the model name of this boot please let me know.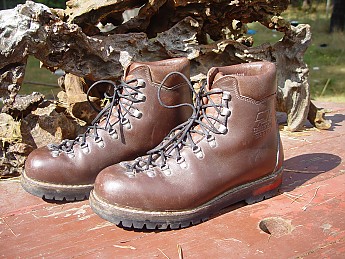 These are really good looking brown boots of the shape that I am more accustom to.  The Itialian Zamberlan's are bigger and bulkier (being more like the Lowas) than the Itialian Pivetta's and the Fabiano's.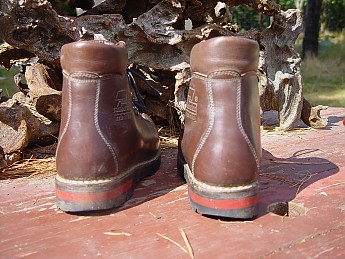 Notice that there is very little wear to the toe and heal.  Very, very little use and not even close to being broken in.  I would guess there to be less than 5 miles if even that on these boots, much like the Pivetta's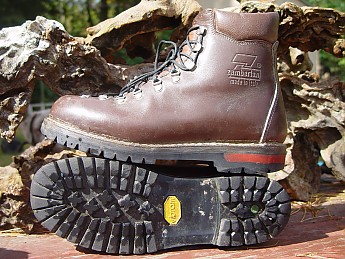 Notice the laces on them.  I believe these to be the original laces, Brown.  They are smaller modified oval shaped laces not round ayet not flat.  They work very well.
I decided that with these boots I would try the exact same socks that I had found sucess with when wearing the Pivetta's.  On went the socks.  I forgot how much preperation and adjusting of socks occures when prepeparing to put on and pair of old school leather hiking boots.  Then the lacing.  I forgot how much preperation there was in lacing/tightning/tying hiking boots like these, as well  as there are so many different styles and ways to actually lace the boots so as to fine tune the fit.  Where the Pivettas are more a shoe like boot, and they lace and tie just as quick as a good pair of leather shoes, the more bulky Itialian Zamberlan's laces take much more tightning, adjustments and final tying technique.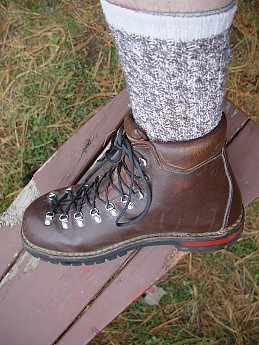 When I finally got them all situated and tyed properly, It was like AUHHHHHHHHHHHHHHHHHHHHHHHHHH, butter.  I had forgotten the feeling of feet my when surounded by this style of big bulky style of Hiking boots.  I forgotten the light sqeek of new leather that these make.  The sqeek is not like that of cheap shoes/palstic shoes or metal on backpacks but rather the nice low sounding squeek of fineleather being broken in.  It is a very pleasant sound.   It is much like the sound of new riding leathers the first time or two out.  These boots are really comfortable, really nice.  They are a heavier boot than the Pivitta's and I was unable to keep them on for now longer than 4 hrs.  It was not that they were uncomfortable, to the contrary, they still felt like butter after 4 hrs., but alas,  they were getting mighty warm.  These may be my cooler weather boots where as the Pivitta's, if they pass the final tests, may be my warmer weather boot's.  Im thinking the Fabiano's will be the same or very similar to the Pivetta's and I can't wait to find a pair. 
I picked up a pair Raichle's of  Ebay that arrived today.  These are size 9 and I got them a little small,since it's not like I'm at REI and have much choice as to whats offerd,  to see if I could make a boot work with the least amount of wool socks.  Like a properly built tent needs proper ventilation  you have to properly vent boots if you wish to not to build up condensation in the form of sweat.   I do remember that before treating my boots they were much better able to transfer mositure then after waterproofing/treating.  In those days we used a beeswax paste and I still have a can of the paste from the the day.  The next innovation seemed to be a silicone paset.  I much prefered the beeswax paste as the silicone past sealed the boots and made them unable to transfer moisture in either directon, in or out.
More later.....................................................................