9:44 a.m. on November 29, 2011 (EST)
Patman

2,155 reviewer rep
2,129 forum posts
So what is good performance from a tent (any tent) regarding extended rains?
I'm really curious after reading some recent posts and specifically spurred by this statement from Mike in his bivy topic:
mikemorrow said:
 my TNF Canyonlands wich failed me on one trip last year. After 3-4 days of nonstop rain it started to drip.
I'll admit that I've been mostly a fair weather backpacker up until the last two years or so and so I don't have a great deal of foul weather experience. This makes it hard to judge for me.
On a recent trip (My last Trip Report in fact), I found myself in a steady rain for about 16 hours at about 3500 ft in Eastern TN.
This was the spot it happened: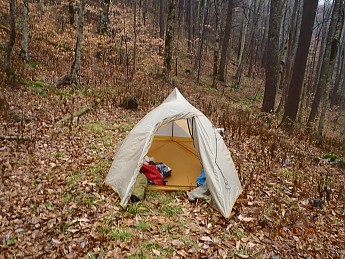 The tent was on a grassy spot (actually on the trail) and had the Big Agnes foot print under it. There was water running down the trail and under the tent as the rains picked up.
I was mostly dry but my tent did seem to "sweat" ever so slightly from the floor, but more disturbingly I had jtwo big drips inside the tent. Not steady flow but only two total drops of water. I was pretty alarmed at that though. This was the longest I had ever stayed put in a rain; I've used that tent in many storms with no drips but never for that long.
I called Big Agnes and asked their tech support if I needed to re-seal something or the like and they said that condensation was normal in rain for that long of period and that it sounded to them like the tent performed well. When I awoke with a drip on my face I didn't feel like it performed well.
But maybe it did given the tent and scenario?
Thoughts?