5:24 p.m. on October 4, 2013 (EDT)
Joseph Renow (jrenow)

1,679 reviewer rep
705 forum posts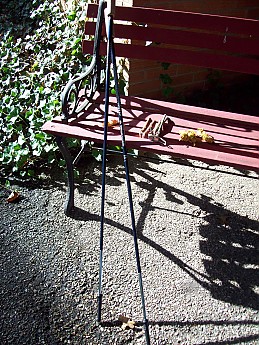 I was a quick convert to trekking poles…I think it took me less than an hour after use. One of my favorite pairs available commercially is the Black Diamond adjustable Alpine poles…but these and so many fail to live up to my expectations…and so like I do with a lot of things I started looking into making my own. My goals were fairly simply…lightweight…durable…cheap…but these factors are not always conducive…but everything started to come together when I ran across this: http://jasonklass.blogspot.com/2008/12/diy-gear-project-homemade-carbon-fiber.html.
The pair I made have a combined weight of 7.2 ounces (less that ½ the weight of my BD poles)...which makes them easy to swing with every step…it is as near to not having poles as I have ever experienced! The tips are Carbide Flex Tips by Eastern Mountain…the poles are carbon fiber golf club shafts sourced from a local golf-shop (I chose the most rigid pole they had in carbon fiber as I knew rigidity was the one sacrifice I was going to be making with these poles)…and the cork handles are fishing pole fore-grips by Corkspecialties. The total cost for the project (including shipping) was 57.00US…almost 1/3 of what my BD poles cost!
There are a few things my poles lack…the poles are fixed for those who like to fiddle with their poles while their walking…but I never adjust my poles after setting them to the right length…and actually prefer fixed poles unless I am flying. The poles also lack straps for those who like to be tied to their poles while walking…but a pair of straps could easily be added (I would source them through someplace like Gossamer Gear…4.00US). The poles also lack baskets and shock-stuff…but I have never used these things…and have never understood the compromise in weight for shock-assistance?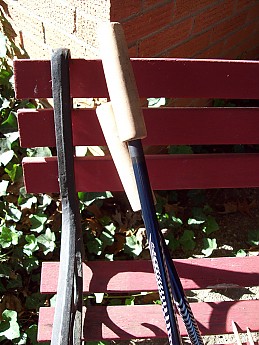 I have trekked somewhere in the neighborhood 900 miles on varied terrain (asphalt-rock-mud-ice)…and my love for these poles has only increased about a bazillion times (apparently the love of these poles by others has also grown…as I find these poles continuously missing from my garage!). Unlike Jason's pair of poles…my poles required no glue (I drilled the handles with great care to ensure a tight fit)...and I have not had any problems (I would not hesitate to use glue if it was necessary). If anything…these poles have only got better with use…as the poles are now well seated into the tips.