10:40 p.m. on June 9, 2014 (EDT)
Anytime I get something new, I usually wind up testing/assembling/disassembling the heck out of it at home before it comes with me on an overnight.
While being a ground-dweller isn't new, non-freestanding tents always take a little practice. This season I'm using an LHG Solo Wedge as my primary shelter. 
My bad back has made me a lightweight, or weight-conscious backpacker by circumstance, and designs like these made too much sense not to try.
This hasn't been out enough times to merit my full review, but I like it enough to make an initial report.
You won't find as much about these tents online as you will with some others. 
Came home today, and for kicks and giggles, decided to set it up in the "front yard" of my townhome - keep in mind that's a severe overstatement. Wanted to see how the diamond shape did in spaces with smaller footprints. Well enough that this tent could call two of its friends over to hang out, if it wanted. 
So, here's a simple walkthrough and an excuse to post some photos of a much underrated tent from a quality cottage manufacturer (Judy, if ya come across this, feel free to use whichever pictures you'd like).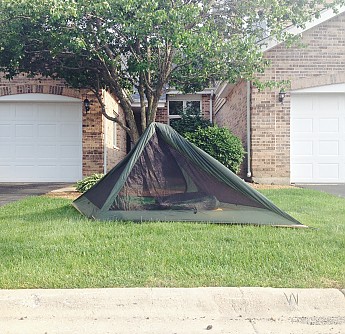 Love the design, which is a riff on a pyramid shape.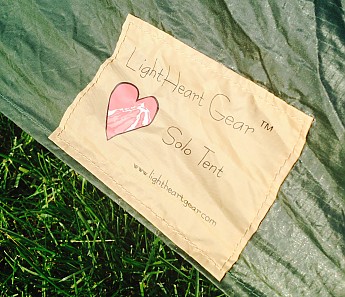 You can pitch it either with 2 adjustable trekking poles, or 2 adjustable aluminum poles. An optional third pole is the easiest way of propping the "wedge" into the awning position...more on that later. 
I opted for the tent poles: they weigh eight ounces less than my trekking poles did, and lack the carbide tips that can punch right through silnylon. For those wondering, the carbon fiber awning pole sold by LHG only adds an ounce - well worth it. Again, more on that later.
The tent has three main "modes," as I like to call 'em.
1.) "Star Gazing" Mode.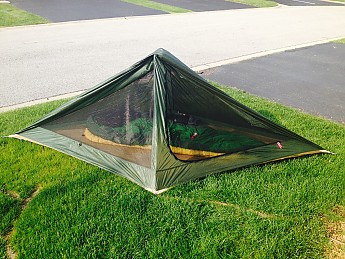 Pull the front fly up and over.
Fold or roll the overlapped fly halves toward the middle.
The roll secures itself over the ridge peak with simple tension.
This opens the interior mesh walls on all 4 sides. 
I should note, this pitch only requires 2 stakes.
(Yes, the wedge is purple, and yes, the zipper pulls are bright pink. You think I'll ever complain about visibility? Nope! No, I won't. Ironically, the bright pink reads so well against the forest green, that I'd gladly put pink pulls on all my tents if I could. Security about one's masculinity, however, is NOT included.)
2.) "Storm" Mode.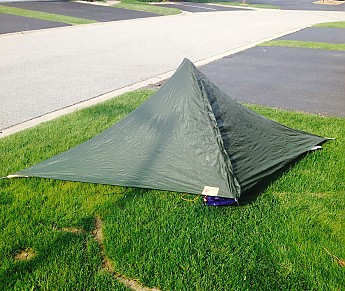 This is the tent with both the front and rear vestibules staked in their lowest positions. 
This pitch can be done with a minimum of 4 stakes - I'm using 6 here, because all four sides of the canopy are staked down. 
There are a multitude of stake-out points on this tent. I ran out of stakes before I ran out of stake-out points. For gram weenies, four stakes are the bare minimum to pitch this tent with the fly. Without the fly, two stakes. Six stakes is the number I use, and allows you to secure all four canopy corners and the two vestibules.
The front and rear vestibules are slim, here - an empty pack can lean against the canopy (or some hiking shoes likewise propped against the wall), but beyond that, you'll want to take advantage of the interior square footage.
3.) "Porch" Mode.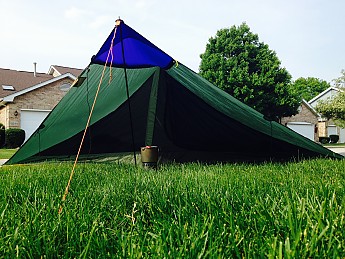 The front fly has two zippers.
One opens and closes the fly for entry/exit.
A second reveals a wedge, expanding the front fly and creating a "porch."
It can either be propped with a pole/stick, or tied up and away.
It's big enough for a person to sit under, or - daresay - cook. Responsibly cook. Don't go firing your Dragonfly stove under this thing. Silny doesn't like it when you do that.
It opens up the interior, too!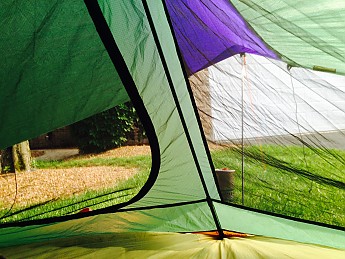 It's a really great working space, and provides truly overheard protection - the triangular pitch of the roof even creates a drip line that diverts rainwater down and away.
The interior takes some getting used to. If you grew up in a diamond-shaped house, well, I'll speak for myself. It's spacious - the ridge pole that connects the main poles makes the center wide enough you can sit straight up in it - and I'm 6' tall!
But there's plenty of room. Even for a full-length sleeping pad like mine.
Torso-length pad users will be able to fit their pad and pack where my full pad sits, and that opens up the short sides and the head for whatever you'd like.
There's even a small mesh pocket for eyeglasses or things necessitating easy access.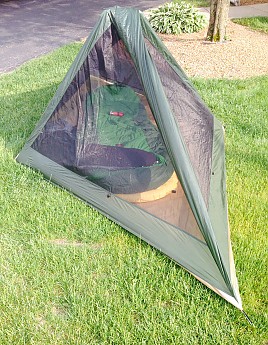 Here's a look inside, with the front fly and mesh doors tied back on the loop-and-toggle attachment. The lantern hangs from the top zipper pull, my 35L internal frame pack is behind the pad, and the foreground's completely empty. Maybe this is the excuse I'm looking for to finally get another dog.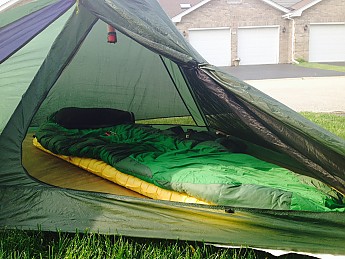 In summary? I love this tent, and this ain't even the current design!
Judy's since updated the heck out of these things (she's a very forward-thinking and adaptable designer)  I'm sure if there are any problem I find with this tent, she'll more likely than not have solved them with her current model.
Really excited to call this my home away from home.
Judy, ya done good!