8:16 p.m. on September 11, 2011 (EDT)
apeman

0 reviewer rep
1,338 forum posts
So...................I got these canoes and I guess it's time I got them in the water.  I haven't been in a canoe for a few years but I like being on the water and it'll come back fast, kinda like riding a horse.  In fact I think once I get back into one I'll kinda move more of my emphesis to canoes as a mover of gear rather than my legs.  I love hiking and small jaunts into the wilderness but my back and knees are not as young as they once were.  Getting the canoe's out with an emphesis on being in the back country, fishing, bringing a cooler of beer and food,  using my favoriate tents and a host of other reasons leads me to ask you all what ever you want to talk about regarding canoeing.  Books, stories, ideas,places in Washington that you all know about, equiptment, building canoes.  Feel free to talk of anything you want regarding anything that has to do with canoeing.  Below are the canoes that I currently have. 
I've had the Sears (the red fiberglass boat) about 10-12 years and the Colmen for about 4 years. They are both wide and long and both have transoms that are rated for a 5 hp motors.  I realize that motors are not human propelled.  I'm very much interested in hearing about what you think if that's ok, if not,that's fine tell me everything you wish.
The Colman  Ram-X- Scanoe is on it's side on the left.  The older fiberglass Sears & Roebuck is one the right.  Both are 15 ft 4in.  The Colman is 4O in wide while the Sears is 36 in wide.  The Coleman is rated at 660 lbs while the sears is rated at 700lbs.  Thats alot of gear and a long time out in the wilderness if one wants.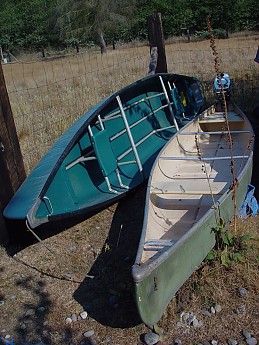 This is the bottom of the Colman Ram-X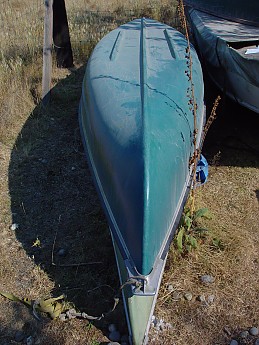 The difference in the ridges on the bottoms (I'm sure they have a name) is obvious.  I belive the Colman (Above) will track a little eaiser and maybe a bit faster than the Sears below which I would think will turn a bit better.  Is that correct?  What else should I know.  I may take one out tomorrow just to play.  I do have the requset life jackets and some fine paddles that I refinished a few years back.  I will be getting a good life vest to take my dog out in.  I plan on doing a vast amount of fishing.  I have a number of 2 1/2-5hp two strokes and a number of 12 volt electric trolling moters.  I'm sure I'll have many more questions but that should do for now.