7:19 p.m. on February 17, 2011 (EST)
Like Walking Around in Heaven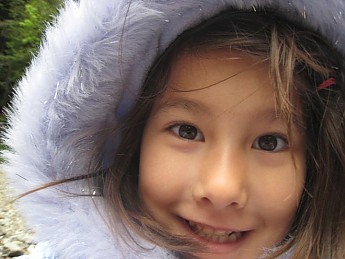 Always try and look your best. That's what I do. Do you know I nicknamed my coat "Sugar Plum." Lucky for me. If you think that's bad, my Dad refers to his jacket as "Pumpkin." Do you know that a fahrung Dad let's you play in the rain and stomp in puddles? It's almost like he's from a different culture.
Mom was packing for our summer trip to Thailand. The weatherman said there was a storm. We drove from San Francisco and headed up a path the woodcutters built. We saw tree stumps 12 feet wide and counted 107 banana slugs. It's my job to warn Dad and Belle every time I see Poison-Oak. Belle was soon captured by a flower. She has a good heart. Next, we met the guardian spirit of the woods and asked him to slow down the storm.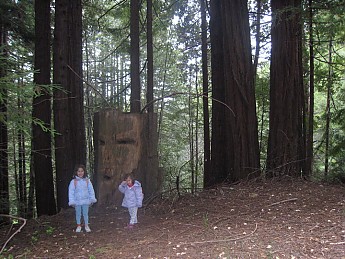 I'll never forget the smell of a redwood forest; rich, earthy decay, leaves and wild animals. Smells like Daddy.
The crooked trail brought us to the river; wide, deep and swift. I held my Daddy's hand while crossing so he wouldn't slip. I let him carry me at the deep part.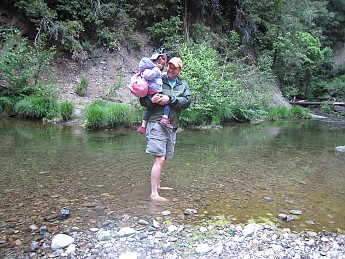 I didn't want him to float away! Belle was so cute, she held on to Dad's hat so he wouldn't lose it. On the other side was dark forest.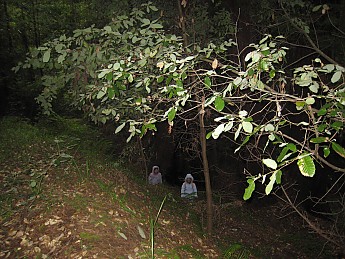 Dad let us pick the campsite—with a big tree stump for a table. The mosquitoes found us as soon as we stopped. Dad pitched the tent and we played with crayons. Dad cooked dinner. The mosquitoes left when it got cold. When I dropped my food Belle shared her pasta. Belle is a good sister. Dad says he went to school with the Diskin sisters. They never fought about clothes, toys or boys. Now their kids know each other. Cousins are fun. I know that.
            After dinner, Dad said don't worry that he would start a campfire but only after dark.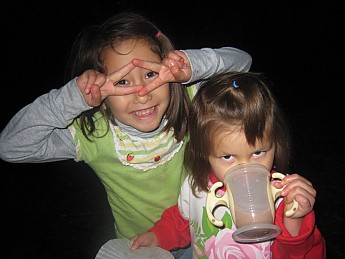 The forest got scary and melted into blackness. I sang a 20 minute song combining everything Disney. Then I sang, "You are my sunshine, my only sunshine, you make me happy when skies are grey." Belle sang harmony, "I'm gonna take your sunshine away, every last bit." She was kidding.
In the tent, we slept like a starfish, our three heads nestled together and our legs pointed north, south and east. Belle doesn't wake up until she smells breakfast. We ate sausage and poptarts, danced and did jumping jacks to get warm. Belle and I decided to ask Mommy to take us to Sushi Boat in Japantown.
            On the way home, you could smell the rain coming, like fresh laundry. It sounded like musicians warming up. Crossing the river was just as exciting. We started to hear the rain hitting the tree tops. The wind moaned but we were happy. 50 years between us, and not one lick of common sense.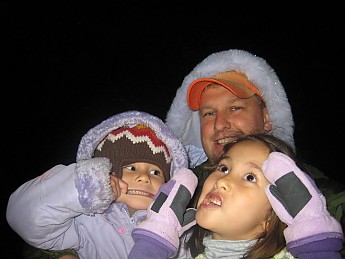 We were walking in the rain and splashing in mud puddles, together. Belle and I touched the bumper of the car, we were back safe.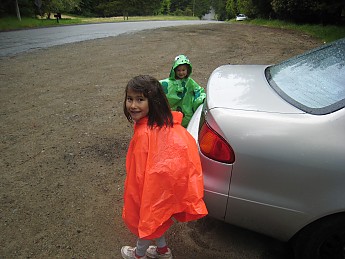 My favorite part was the campfire and singing. It's not easy, though. I have to pretend to forget the words. If I sing, "You'll never know, dear, how much I love you," the tears fill his eyes and cover his face. Dad says they don't make raincoats for that and into each life some rain must fall. I don't understand his tears. What's better than being together, safe and dry under raincoats, in a beautiful redwood forest? It's like walking around in heaven.