8:49 p.m. on March 27, 2011 (EDT)
A tent mate whose memory a decade hasn't erased…
The zipper slowly dragged around the tent door, like plastic fingers on a chalkboard. Squinting, I read 5 a.m. on my watch, then heard my name whispered in a stern stage whisper. "Trevor! Trevor!"

Rolling toward the door, I saw the tent mate I'd met yesterday when our kayak guide summarily paired up the solo clients.  "What?" I rasped.
"Don't get up. I can't sleep anymore, so I'm going out to read."
"That's fine, Steve," I said as he painfully worked the zipper back around to its home. Moments later, the plastic teeth were grinding again.
"Trevor!"
"What?" I growled.
"Should I make coffee?"
"Whatever, Steve."
"But no one else is up yet."
"Then make enough for yourself."
"OK, good idea."
Zipping. Minutes pass. More zipping.
"Trevor! Which bag is the coffee in?"
I rarely go adventuring alone. But we've all found ourselves driving solo to the trailhead due to the whims of spouses, bosses and weak lumbar vertebra. So now I stood on a Lake Superior beach, partnered with Steve, who, for soon-to-be-clear reasons, tended to go it alone.
Our week-long kayak tour began with a shake-down cruise, where I saw Steve, a 6'5" dead-ringer for Jeff Goldblum with the feet of a man much taller, awkwardly rocking in his boat. He called out to our guide Heidi, who didn't appreciate questions about the enormous star tattoos on her calves and was decidedly not angling for tips.
"Heidi," Steve yelled. "My feet are bent sideways inside my boat. They're not cramping up yet, but they might start at any point."
Heidi scowled over her shoulder. "Move them around. It's fine."
"No, Heidi. Good suggestion, but I've tried that. I've had this problem my whole life. Do you have a larger kayak?"
For the next 30 minutes, Heidi wedged Steve in and out of three more boats on the beach. None suited him until Heidi finally dragged down the head guide's personal kayak. "This is a pricey boat," she growled as Steve folded himself into the cockpit. "It's the best we have. You'd better not mess it up."
"Oh, yes," Steve said as he settled into the seat. "You can really feel the quality."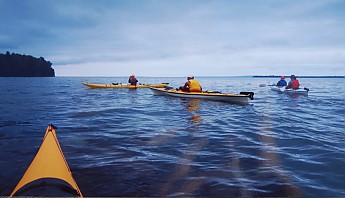 An hour later, we ventured into open water, a stiff breeze buffeting us from the port side. "Heidi," Steve yelled. "My boat won't go straight."
"It's the wind, Steve," Heidi yelled without looking back. "We're all feeling it."
"No," Steve said. "I thought of that. But the wind is from the left, and my boat is turning left. So it can't be the wind."
"The wind's pushing the back of your boat, Steve. It's fine."
"Well, I guess that makes sense," Steve said. "I'll try it for a few minutes, but we may need to get me a better boat."
When we struck out the next morning across a mile of open water, a westerly breeze stirred three-foot swells under us, and a steady drizzle stung our faces. My hands were going numb when Steve called out from behind. "Heidi, I don't think I'm hypothermic yet, but I'll let you know if I think I'm getting that way."
Steve was yelling something at me about his poor childhood circulation when a white tandem kayak pulled up, paddled by Tom and Susan, out on an anniversary trip. Tom, a shaggy guy with a penchant for wandering around camp naked while enjoying a smoke, looked at me and said, "You've heard of the Donner Party, right?"
I nodded uncertainly. Tom pointed his dripping paddle in Steve's direction and said, "That guy's first."