9:14 a.m. on February 6, 2013 (EST)
GaryPalmer

244 reviewer rep
5,249 forum posts
Overnight hike, going up Lower Bear Canyon in the Catalina Mountains NE Tucson. In Friday, Out Saturday. Moderate to easy hike in, elevation gain 700 feet. Camp at base of Seven Falls on sandy bench at base of falls. Packing light just pack, s.bag, rain fly and poles, pad w/ tarp ground sheet. 2 water bottles w/water filter, One dinner, one breakfast and a lunch. 
Take city bus to 4 miles of TH then bicycle to TH and hike 3 miles to falls in morning. Its a black granite with quartz intrusion, seven water falls/cascades with pools of various sizes in between and sandy bottoms. All wade deep. Top of highest  falls 700 feet above the main creek bed below.
Popular trail in Sabino Canyon Recreation Area. 
Picture's from last winter hike there.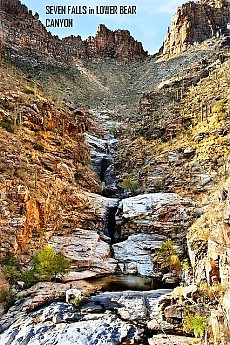 b
I camp at the bottom near the green tree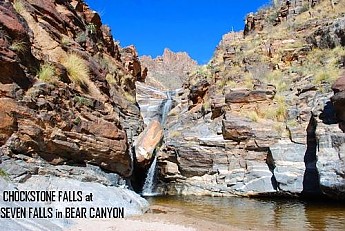 Fifth falls from bottom with huge chock rock. There is a place to climg under the rock behind the white falls. Water is about 4 feet deep.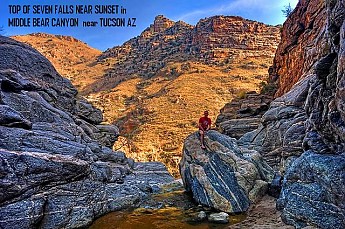 At top of highest falls looking east with beautiful black granite and white quartz rocks and formations. Late afternoon.
Canyon continues north for about 23 miles meandering towards the top of Mount Lemmon. There are another set of falls called the Seven Cataracts 8 miles upstream from Seven Falls. 
The water flows almost year round, best in winter and spring with snow melt from top of mountain. Seasonal, it drys out in the Fall before the late Monsoon rains come to regenerate it.
I will post pictures from this weekends hike later.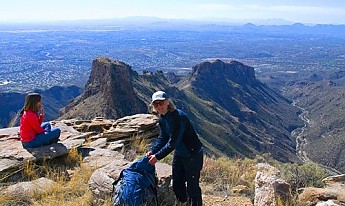 View from day hike up Bear Canyon from Seven Falls 2 miles on Thimble Peak Ridge. Bear Canyon is on left behind girl in red. Right canyon is called Sabino. Tucson is in distance with Blacketts Ridge and Thimble Peak in center of picture.